The Fifteen Minute Spring Wreath DIY
Making a spring wreath with a grapevine base and faux flowers is a fun and easy DIY project. Plus you can make this in fifteen minutes!
Spring is also a time of renewal and rejuvenation. As the days grow longer and the weather warms up, it's the perfect opportunity to refresh your home décor with bright, cheerful accents.
The 15-Minute Spring Wreath
One of the easiest ways to bring a touch of spring into your home is by creating a DIY spring wreath. Imagine that you can make this spring wreath in just 15 minutes, and how this quick project can uplift your mood and brighten your space.
I have made wreaths for years and I really want to encourage you to give this a try. It really only takes fifteen minutes and it looks amazing. hanging just about anywhere in my home.
Before I share how to make this, I wanted to share four reasons why I think you should make a wreath and also share some of the past spring DIY wreaths.
Why You Should Make Your Own Spring Wreath
A Budget-Friendly Decor Solution
One of the main benefits of making a DIY spring wreath is the cost savings. Store-bought wreaths can be pricey, especially if you're seeking high-quality materials. By making your own wreath, you have complete control over the materials you use, and you can often create a stunning piece for a fraction of the cost.
A Creative Outlet
A 15-minute DIY spring wreath project allows you to express your creativity and customize the design to match your personal style. Whether you prefer a minimalist approach with simple greenery or an extravagant arrangement with an array of colorful faux flowers, the possibilities are endless. Plus, creating a wreath from scratch gives you a sense of accomplishment and pride in your work.
A Therapeutic Experience
Making a DIY spring wreath can be a relaxing and therapeutic activity, perfect for unwinding after a busy day or week. The process of choosing materials, arranging them, and securing them to the wreath base can help reduce stress and promote mindfulness. Plus, with just 15 minutes of crafting, you can quickly reap the benefits of this calming activity.
A Unique, Personalized Gift
If you're looking for a thoughtful and unique gift for a friend, family member, or neighbor, a DIY spring wreath is an excellent choice. A handmade wreath shows the recipient that you put time, effort, and love into their gift. Plus, with just a 15-minute investment, you can create a beautiful, one-of-a-kind present that will be cherished for years to come.
How to Make This Spring Wreath
Here's a step-by-step guide to help you create your own beautiful spring wreath.
Materials you'll need:
Grapevine wreath base (available in various sizes, I used a 12″)
Hot glue gun and glue sticks (optional)
Instructions:
Prepare your faux flowers and greenery by trimming the stems with wire cutters. Leave enough stem (about 4-5 inches) to secure the flowers to the grapevine wreath.
Plan your design by laying out your flowers and greenery on the grapevine wreath before attaching them. You can create a full wreath with flowers all around or opt for a more asymmetrical design with flowers on one side. Experiment with different arrangements until you find a design you like.
Start attaching the flowers and greenery to the grapevine wreath using floral wire. Tuck the stems into the grapevine and secure them by wrapping the wire around both the stem and wreath. Be sure to pull the wire tight to ensure a secure hold.
Continue attaching flowers and greenery, working your way around the wreath according to your design plan. Layer the flowers and greenery to create depth and visual interest.
If desired, use a hot glue gun to add extra security to any loose flowers or greenery. Be careful not to use too much glue, as it may be visible once the wreath is complete.
If you are enjoying my blog, you can sign up to receive my blog updates here. .
Once all the flowers and greenery are securely attached, examine your wreath and make any necessary adjustments to the arrangement.
Attach a ribbon or twine to the wreath for hanging. You can either tie it around the wreath and create a loop or use a hot glue gun to secure it to the back of the wreath.
Hang your completed spring wreath on your front door, wall, or any other desired location, and enjoy your beautiful, custom-made decoration.
On this blog, I may sometimes use affiliate links, which means a small commission is earned if you make a purchase via the link. The price will be the same whether you use the affiliate link or go directly to the vendor's website using a non-affiliate link.
More Spring Wreaths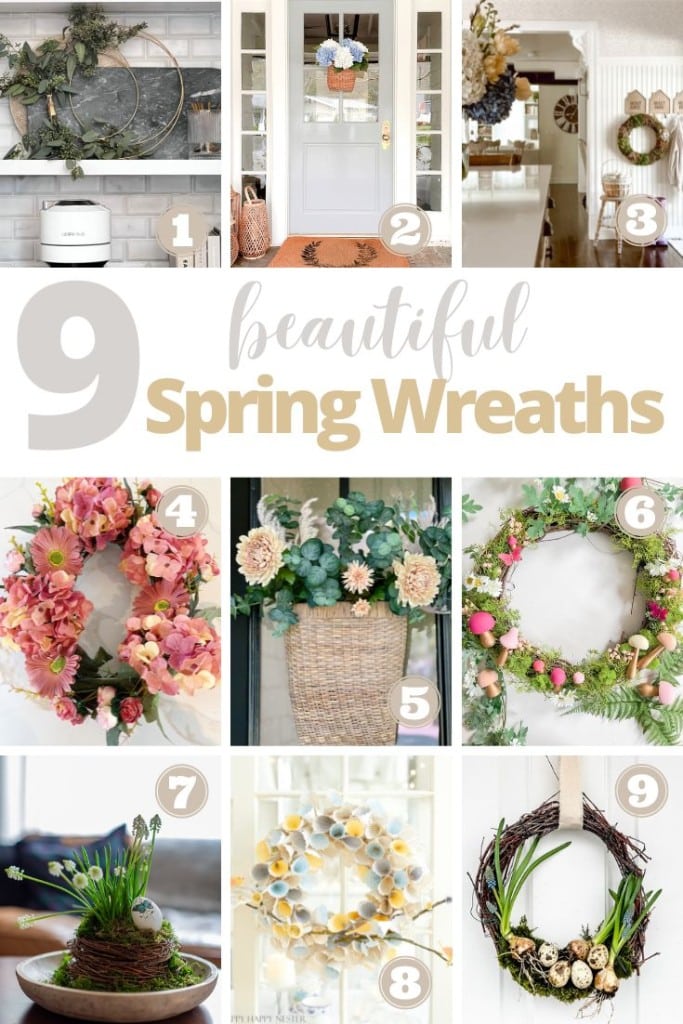 Blogger's Best Spring Wreaths
Watch My Amazon Live
Click here to watch any of my Amazon Live shows. All shows are recorded.
I want to share this show with you as many of the deals featured in this Live Show are still active!
Pin the images below to your boards on Pinterest (just click the Pin button in the top left corner). You can also follow along with me on Pinterest!
For more real-time updates, follow me on Instagram @My100YearOldHome