The Best DIY Christmas Gingerbread Houses
I had so much fun creating the best Christmas gingerbread houses and I love how they turned out. They were so easy and will last forever!
I used premade paper mache cardboard houses, acrylic paint, puff paint, cellophane, small wreaths, pearls, glitter, and more glitter. I love the pink Christmas theme and now I just have to decide where I want to style these. Of course, I have about ten different ideas!
Creating a gingerbread house is a beloved holiday tradition, one that brings joy, creativity, and a sense of warmth to the festive season.
While the classic gingerbread house is typically made of actual gingerbread, icing, and candies, I used a different approach and made mine from paper mache/cardboard gingerbread houses. These non-edible houses offer a durable, long-lasting, and highly customizable option for Christmas decor.
And I think they look just as cute!
OK, maybe they don't taste as good. But does anyone ever eat their gingerbread house?
The Enduring Appeal of Gingerbread Houses
Doesn't it seem that gingerbread houses are more popular this year than ever?
Gingerbread houses have roots deep in European history, gaining popularity in Germany during the 16th century. The story of "Hansel and Gretel" by the Brothers Grimm catapulted these edible structures into the limelight, making them a festive tradition.
Gingerbread houses represent not just the joy and warmth of the holiday season but also the creativity and togetherness that come with building something magical.
Cardboard/Paper Mache Houses
So why did I decide not to bake my own gingerbread houses? I wanted them to last! These paper mache gingerbread houses offer a durable, customizable, and long-lasting alternative. I am so happy I used these and didn't try to make real gingerbread houses. The baking would have taken forever!
These houses are very durable and come in a set of three. Plus the roofs lift off easily which helps a lot with the decorating. I am excited they will last for many years!
Materials You'll Need
On this blog, I may sometimes use affiliate links, which means a small commission is earned if you purchase via the link. The price will be the same whether you use the affiliate link or go directly to the vendor's website using a non-affiliate link.
I bought the paper mache gingerbread houses on Amazon (even though they are from Hobby Lobby). You can get three different-sized houses for $11.00. The other ones listed below from Factory Direct are all the same size.
Step-by-Step Creation
Preparing the Houses: Start by painting your cardboard paper mache house with white, pink, and/or a brown base to mimic the classic gingerbread look. Allow it to dry completely.
Adding Color and Details: Use additional paint colors to add details like doors, windows, and roof tiles. This is where you can let your creativity shine – there's no limit to how intricate or simple your designs can be.
Decorating with Flair: Once the paint dries, it's time to decorate. I used Tulip Puffed pens for all of the detailing and I love how it came out. I thought about using white glue and a glue gun but the puffed paint worked so much better. I used Tacky Glue to add a lot of glitter to add a sparkling snow effect, pearls to mimic candy pieces, and even some crumbled glass on one of the roofs.
Small wreaths and other Christmas-themed decorations can be added for a festive touch. I bought small wreaths but I pulled off the red bows and added my own pink ones instead. I also painted some of the wreaths white. This took forever as I couldn't get any of the paint to stick. Finally, I spray-painted them which worked the best.
Windows and doors – I cut doors out of cardboard, painted them, and glued cellophane on the fronts. I added cellophane to the windows and placed fairy lights inside to light them up.
Final Assembly: After all the decorations are in place and have dried, your gingerbread house is ready to be showcased. Be sure to use some fake snow on your table or counter!
Why Pink Gingerbread Houses?
While traditional gingerbread houses are charming, opting for a pink theme can add a whimsical and fresh touch to your decor. Pink, a color often associated with warmth and playfulness, can bring a unique and stylish twist to your Christmas decorations.
Of course, you can stick with the gingerbread house color and just decorate it with white puff paint, or try something entirely different. It's up to you.
Why I Love Pink-Themed Gingerbread Houses
Pink gingerbread houses can seamlessly integrate with a lot of holiday themes, from classic to modern, adding a unique and eye-catching element to your holiday setup.
Amidst the traditional reds and greens of Christmas, a pink gingerbread house can stand out as a focal point, drawing attention and sparking conversations.
Incorporating Gingerbread Houses in Your Home
As a Centerpiece – Place your gingerbread house as a centerpiece on your dining table or coffee table for an enchanting display.
Mantel Magic – Adorn your fireplace mantel with these houses for a cozy yet chic holiday feel.
Window Wonderland – Set them near windows to catch the light and create a beautiful, festive display both inside and outside.
Crafting gingerbread houses from pre-made cardboard/paper mache is not just a fun holiday activity but a way to add a personal and artistic touch to your Christmas decor.
Whether you stick to the traditional gingerbread look or venture into the whimsical world of pink houses, these creations are sure to add joy and charm to your festive celebrations.
The beauty of this project lies in its flexibility and the personal touch you bring to it, making each house a unique reflection of your holiday spirit. I must admit that I felt like I was decorating a doll house and I loved it!
This is also the perfect project to make with your family! Since the houses come in a set of three, they are perfect for everyone as there are plenty of houses to decorate.
If you are enjoying my blog, you can sign up to receive my blog updates here. .
BLOGGER'S BEST GINGERBREAD HOUSES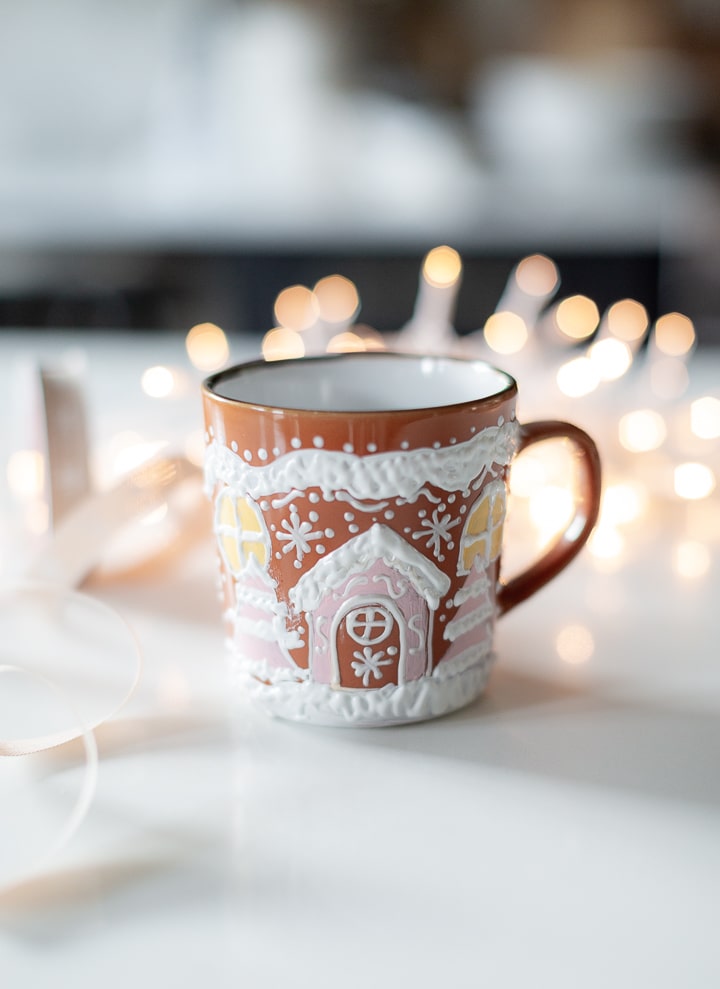 Viral Gingerbread House Mug | Craftberry Bush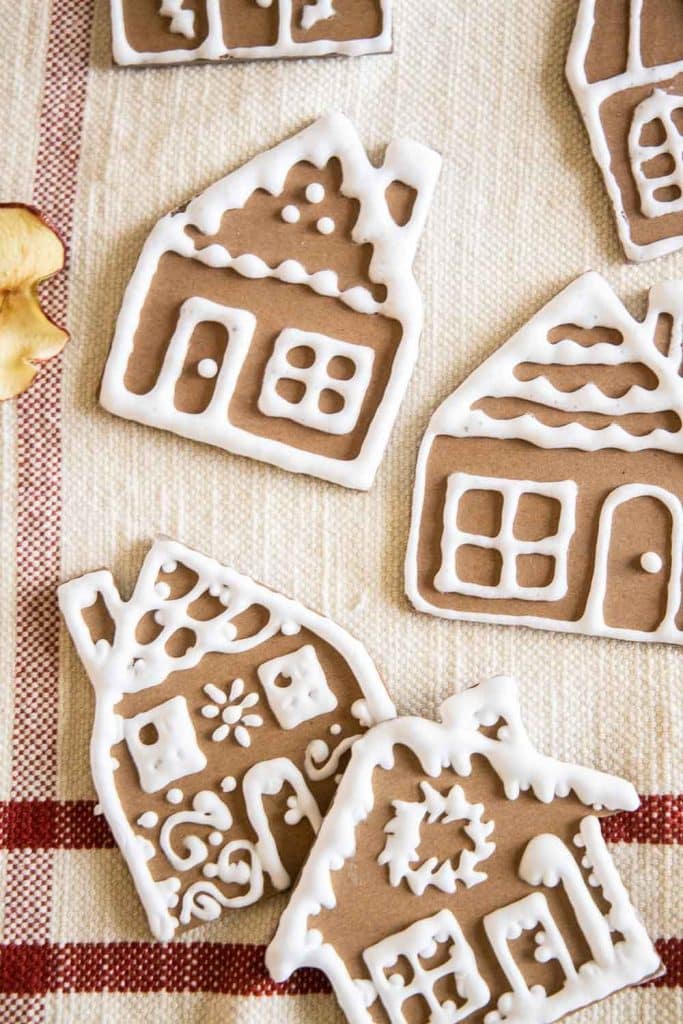 DIY Gingerbread House Ornaments with Homemade Puff Paint | Twelve on Main
Make these easy reusable gingerbread house ornaments! I used my Cricut Maker to cut out the shapes and homemade puff paint to decorate them!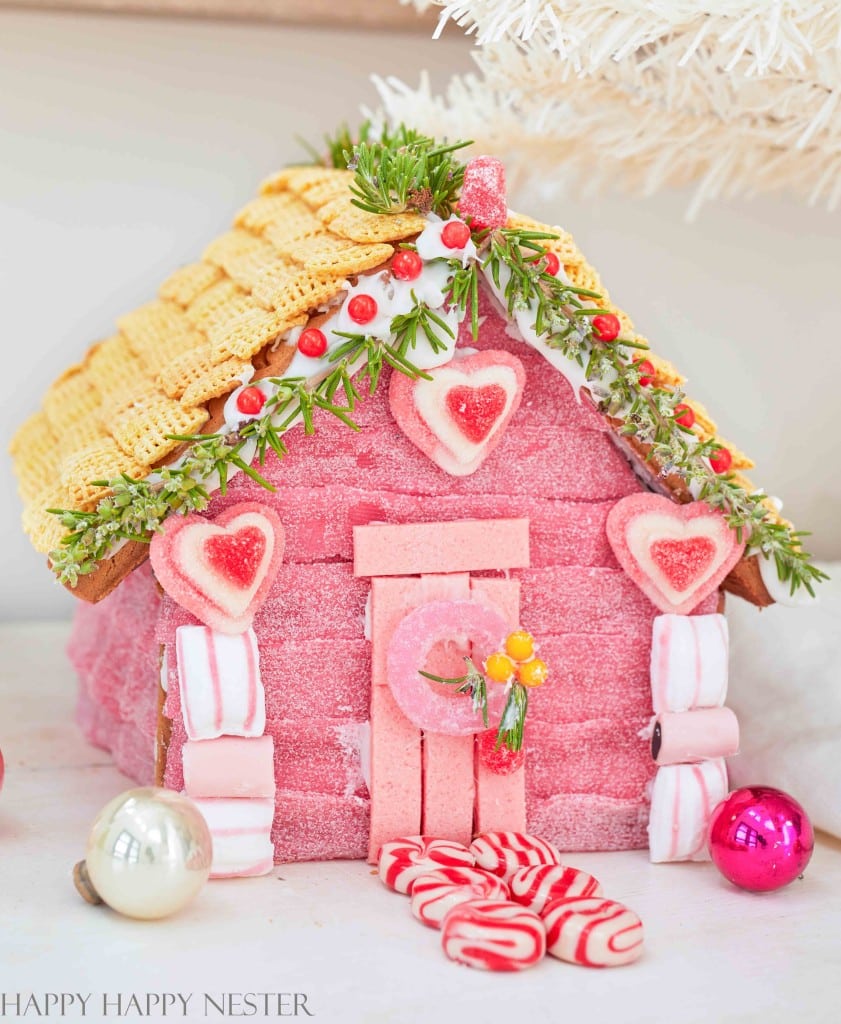 Cool Gingerbread House Ideas | Happy Happy Nester
Get ready for the holidays with creative gingerbread house ideas, including charming ornaments and mugs adorned with gingerbread designs. Add a festive touch to your decor with these delightful gingerbread-themed accessories.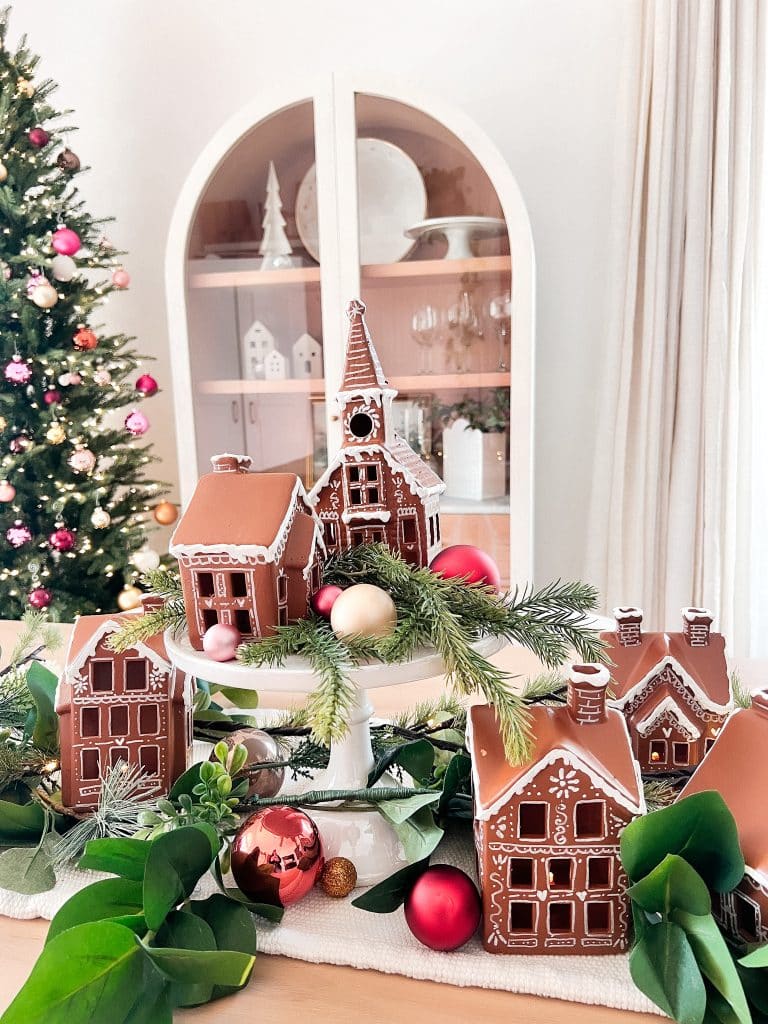 Turn a Ceramic Village into a Gingerbread Village | Tatertots And Jello
Revamp a plain ceramic Christmas village into a festive delight using spray paint, a white paint pen, and puffy paint. A base of spray paint provides a clean slate, while the white paint pen adds intricate details inspired by Pottery Barn's gingerbread houses. Puffy paint adds the final touch, creating a personalized and whimsical holiday village.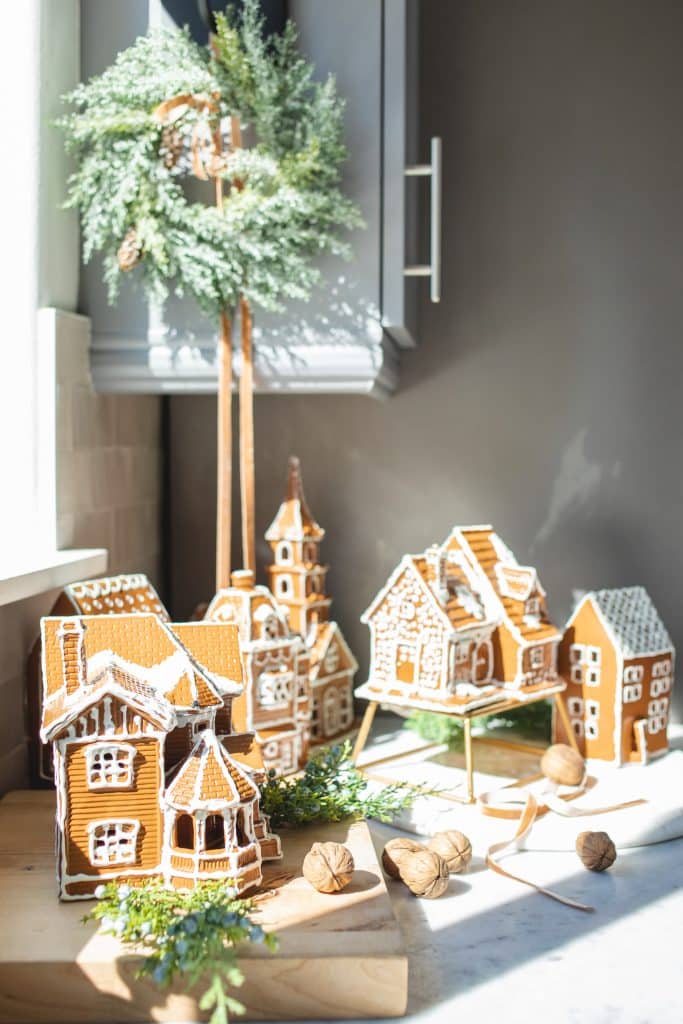 DIY Gingerbread Village | My Sweet Savannah
Thrifted and oh so easy Pottery Barn gingerbread village look alikes!
Shop This Post Here
Pin the images below to your boards on Pinterest (just click the Pin button in the top left corner). You can also follow along with me on Pinterest!
For more real-time updates, follow me on Instagram @My100YearOldHome