DIY 4th of July Decorations for Your Table
I couldn't resist. I saw some cute placemats at Pottery Barn and since they were expensive I decided to make my own 4th of July decorations.
These placemats were fun and easy to make and I think they turned out amazing. I loved making them.
DIY Placemats for 4th of July Decorations
Pottery Barn is renowned for its exquisite home decor, and their American Flag Cotton Placemats are no exception. However, if you're feeling crafty and want to put your own personal touch on your table setting, why not try making your own knock-off version?
In this DIY guide, I will walk you through the steps to create stunning American Flag Cotton Placemats inspired by the Pottery Barn design. Not only will you have a unique and patriotic addition to your table, but you'll also experience the satisfaction of crafting something beautiful with your own hands.
On this blog, I may sometimes use affiliate links, which means a small commission is earned if you purchase via the link. The price will be the same whether you use the affiliate link or go directly to the vendor's website using a non-affiliate link.
The Pottery Barn Placemat
Here is the Pottery Barn placemat. They are sold as a set of four for $72.00. I made my knock-off version for $25.00 for a set of 4. (Although, I actually made eight. And shipping was free. Hehe.)
Materials Needed:
How to Make the Placemats for 4th of July Decorations
Step 1: Gather the Materials
To begin, gather all the necessary materials. I found high-quality non-wired burlap ribbons in red, white, and blue. You also need thick white fabric for the underneath side of the placements. You'll also need a pair of sharp scissors, a sewing machine, thread in coordinating colors (red, white, and blue), an iron, a fabric marker or pencil, and a ruler or measuring tape.
Step 2: Measure and Cut the Fabric
Measure and cut the fabric into rectangular shapes for your placemats. The standard size for placemats is usually around 18 inches by 12 inches, but I made mine 20″ x 14″. Either size works. Use the ruler or measuring tape to mark the dimensions on each fabric piece, and then carefully cut along the lines using the scissors. I always tear the fabric if I can and this time I did as well.
Cut the ribbon strips in advance, about 1″ longer than the length of the fabric. You need two blue, three red, and three white for each placemat.
Step 3: Create the American Flag Design
This is the Pottery Barn version of an American flag, but it works. Start by pinning the blue burlap ribbon. Pin two vertical rows of the blue burlap ribbon. This will serve as the blue field of the American flag. The dimensions of the blue field should be approximately one-third of the width of the placemat. Next, add three single alternating red and white stripes in two rows. Leave 1/2″ of the ribbon on each side so it hangs over the edge of the placemat.
Be careful to keep the strips of burlap straight.
Step 4: Sew the Flag
Thread the sewing machine with white thread and begin sewing along the edges of the burlap ribbon As you sew, make sure to backstitch at the beginning and end of each line to secure the stitches. Continue sewing until you have completed all the edges of the ribbon stripes.
Once all of the stripes are sewn, slip the placemat over and cut off the additional ribbon. Sew all the around the outside of the placemat.
Step 5: Paint the Stars
Add the stars with a star-shaped cookie cutter. Using white paint, take a paintbrush and place an even layer of paint on a paper plate. Gently place the cookie cutter in the paint to add paint to the bottom edge.
Then gently tap the star o the blue burlap area. Add six or seven stars to the blue area of the placemat. Let dry.
If desired, stitch around the star outlines of the stars with white paint using the free-motion embroidery technique. (For more information about free motion embroidery, head to this post.)
Step 6: Final Touches and Care
After completing the painting and stitching, give your placemats a final press with the iron to remove any wrinkles and set the paint. Take a moment to admire your beautiful, handmade American Flag Cotton Placemats, inspired by the Pottery Barn design.
Of course, this version is a lot cheaper and made by hand with love!
When it comes to care, be sure to follow the fabric and ribbon's washing instructions. Spot cleaning is best with dish detergent. To wash the entire placemat, I will wash the placemats by hand in cold water with dish detergent. Then dry them flat and iron them.
With this DIY guide, you can create your own Pottery Barn-inspired American Flag Cotton Placemats that will add a touch of patriotic charm to your table setting.
I encourage you to customize your placemats to suit your style and preferences. There are so many ways to make these placemats your own!
Whether you're hosting a Fourth of July celebration or simply want to showcase your American pride, these placemats will surely impress your guests. Get ready to enjoy the satisfaction of crafting something beautiful while adding a touch of elegance to your dining experience.
If you are enjoying my blog, you can sign up to receive my blog updates here. .
Check Out These 4th of July Crafts by My Favorite Bloggers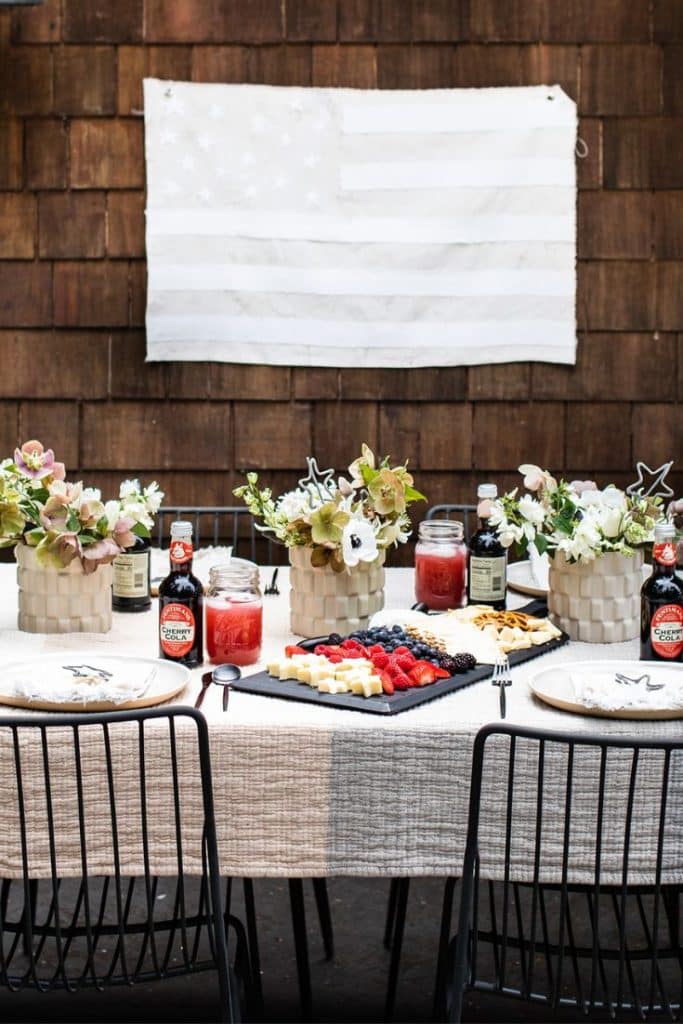 DIY Dropcloth Neutral Flag | My Sweet Savannah
If you like to decorate for the holidays with neutrals, this new sew DIY project is for you! Made with a dropcloth and fabric scraps, this flag can be made in under an hour and add years of charm to your Fourth Of July decor.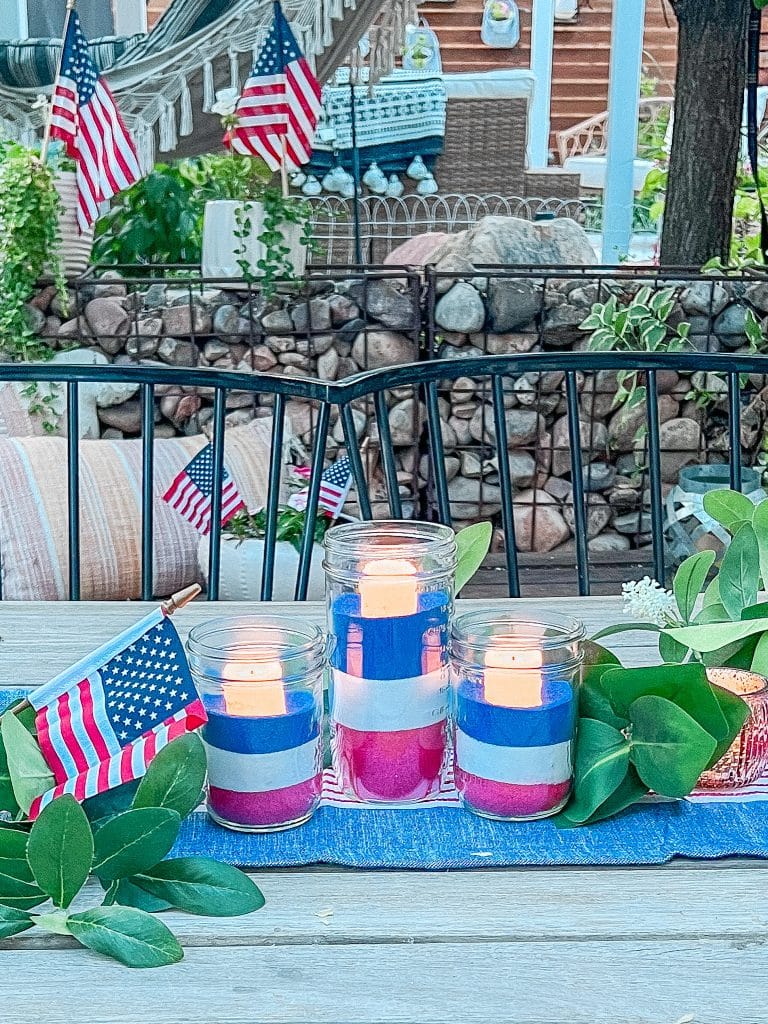 Easy Patriotic Candle Centerpiece | Tatertots and Jello
We love celebrating the Fourth of July with a family dinner. This year I created a really easy candle centerpiece. It only takes 5 minutes to create and you will love the way the candles glow as you celebrate!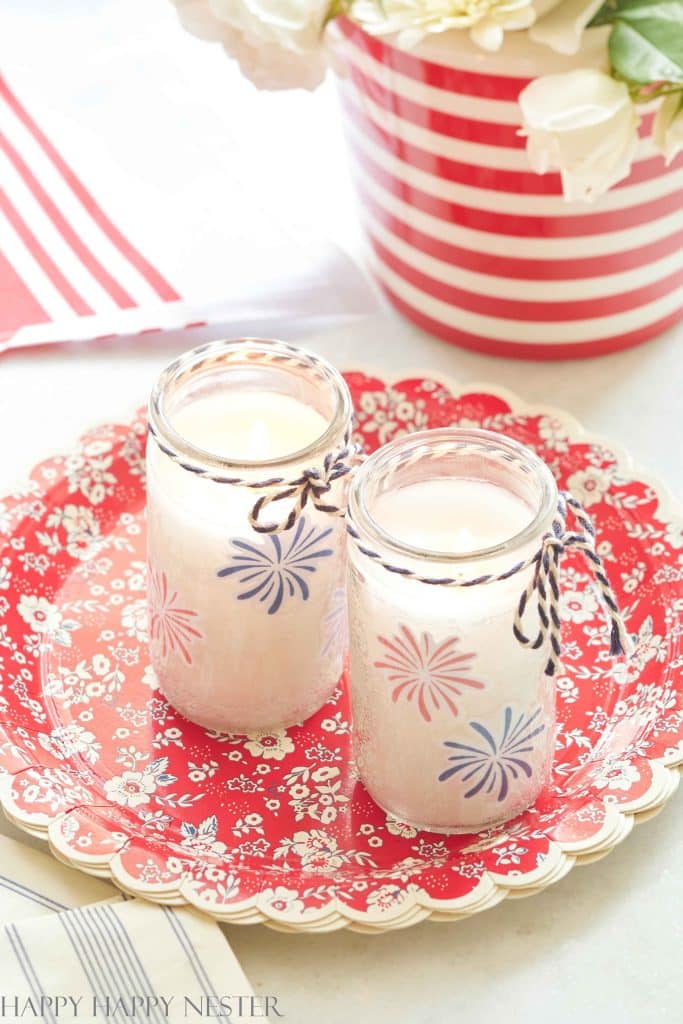 DIY Glass Candle Holder Decorations | Happy Happy Nester
I'm constantly looking for fresh ideas to jazz up prayer candles. This fun DIY Glass Candle Holder Decoration is easy to create and perfect for celebrating the 4th of July. This budget-friendly design requires only a few supplies and ten minutes to make!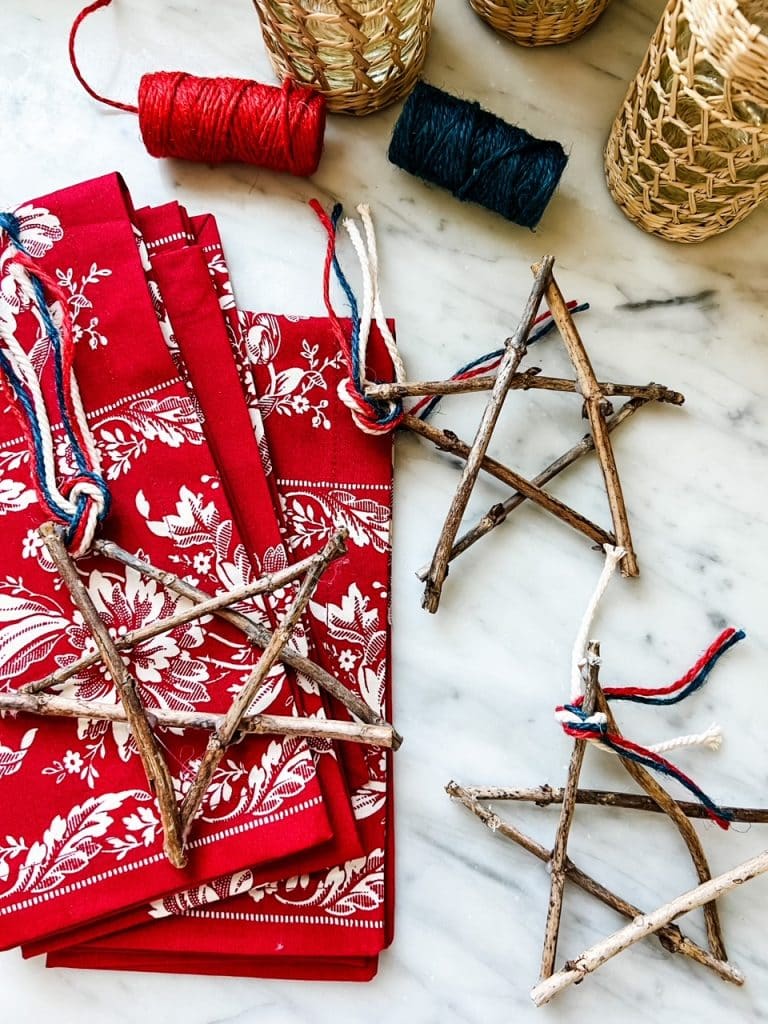 Hydrangea Twig Stars | Most Lovely Things
Simple and rustic twig star decorations using hydrangea branches and red, white & blue twine. Use it on the table and as a garland for a casual vibe.
Watch My Amazon Live
Pin the images below to your boards on Pinterest (just click the Pin button in the top left corner). You can also follow along with me on Pinterest!
For more real-time updates, follow me on Instagram @My100YearOldHome