Spring Cocktail Napkins with Flower Embroidery DIY
I am very excited about these DIY spring cocktail napkins with flower embroidery. They are the perfect budget-friendly spring craft.
Cocktail napkins are an essential part of any gathering or party. They add a touch of elegance to the setting and make guests feel special. If you're hosting a party or just want to add a personal touch to your dining room, why not try making your own custom cocktail napkins?
I had so much fun making these and they were really easy to make. How could that be?
I used a product commonly referred to as Stick and Stitch which is an embroidery stabilizer that has the embroidery design already printed on thin fabric. It sticks to the fabric and you just embroider on top of the design.
When you are done, just put the cocktail napkin in warm water and the embroidery stabilizer just disintegrates. Any leftover design disappears too.
On this blog, I may sometimes use affiliate links, which means a small commission is earned if you purchase via the link. The price will be the same whether you use the affiliate link or go directly to the vendor's website using a non-affiliate link.
Why I Made My Own Spring Cocktail Napkins
Hosting a cocktail party can be a fun way to entertain guests and make lasting memories. However, finding the perfect custom cocktail napkins can be a challenge.
Instead of scouring stores, I decided to hand-make my own cotton cocktail napkins with embroidery thread and tear-away machine embroidery stabilizers. This easy DIY project is perfect for beginners and adds a personalized touch to your party.
What You Need to Make These Spring Cocktail Napkins with Flower Embroidery
First, let's start with the basics. You'll need the following supplies:
Once you have your supplies ready, you're ready to start.
How to Make These Spring Cocktail Napkins
one – Choose the embroidery design you want to use. If you're looking for something simple and elegant, embroidery flowers are a great option. They add a pop of color to the napkins and create a beautiful aesthetic.
two – Cut out the flowers from the pattern you want to use.
Peel off the backing a place them on the napkins. Press firmly and you are ready to embroider!
four – Place the fabric into the embroidery hoop, making sure it's taut and flat. This will ensure that the embroidery stitches are neat and even.
five – Choose the stitches you want to use. You can look online or try this book for helpful suggestions. I decided to use the backstitch for the stem and flower petals, the satin stitch for the leaves, and french knots for the stamens.
six – Begin embroidering your design onto the fabric. Use small, even stitches to ensure a neat finish.
seven – Once you've finished embroidering your design, remove the fabric from the embroidery hoop.
eight – Admire your embroidery skills! Hehe.
nine – Follow the directions for your stabilizer. I just filled a bowl with warm water and soaked the napkin for about five minutes. Don't panic when the stabilizer tightens up. It will all disappear and your napkin will be fine.
Water Soluble Hand Sewing Stabilizers
Water-soluble hand-sewing stabilizers are an excellent choice for embroidery projects, especially those with intricate designs. They help keep the fabric stable while you embroider and can be easily dissolved with water once the project is complete.
I think these are the most amazing invention and I love using them. I highly encourage you to give these a try as they make embroidery so much easier!
A Budget Friendly Craft
These napkins are also very inexpensive to make. The cotton/linen blend napkins cost about $1.50 each and you only need one package of stabilizers as these have almost fifty designs.
They make a perfect hostess gift and are such elegant and thoughtful gifts.
Next up … beach-themed cocktail napkins for the beach house.
If you are enjoying my blog, you can sign up to receive my blog updates here. .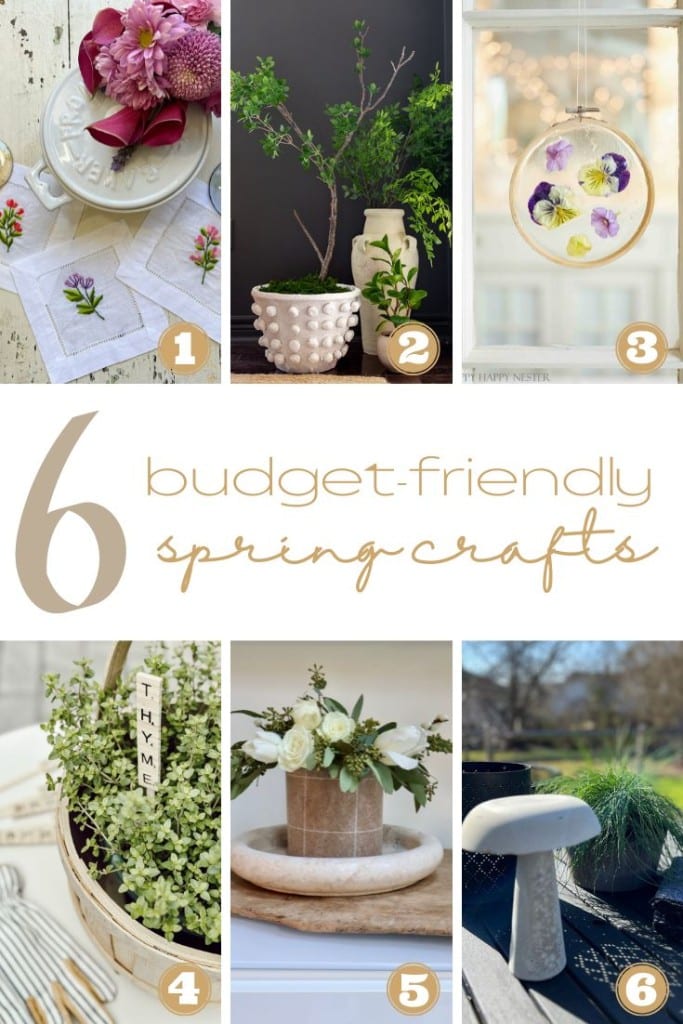 Blogger's Best Budget-Friendly Spring Crafts
Watch My Amazon Live
Pin the images below to your boards on Pinterest (just click the Pin button in the top left corner). You can also follow along with me on Pinterest!
For more real-time updates, follow me on Instagram @My100YearOldHome