Hand Painted Plastic Easter Eggs DIY
I am so in love with these hand-painted plastic Easter eggs. All I did was paint them with a sharpie pen! They make the best Easter decor.
Obviously, I was at the Beach House when I made these eggs so the copper and white color palette is just perfect to match all of my new beach house decor. But you can make these hand-painted plastic Easter eggs in any color palette you want. I think pink and/or blue and/or green and/or yellow would look amazing.
Hand Painted Plastic Easter Eggs
Easter is just around the corner, and it's time to start thinking about decorating eggs! If you're looking for a unique way to decorate plastic white Easter eggs, then you might want to try using a copper sharpie pen.
This simple DIY project is easy to do and creates beautiful, one-of-a-kind Easter eggs that will look great displayed in any container in your home.
Pisanki Eggs Inspiration
I found my inspiration for these eggs when I saw some Pisanki eggs. Pisanki eggs are a type of Easter egg that originated in Poland. They are known for their intricate and colorful designs, which are created using a wax-resist method.
Pisanki eggs are an important part of Polish Easter traditions and are often given as gifts or used as decorations. In addition to their cultural and religious significance, pisanki eggs are also appreciated for their beauty and craftsmanship.
They are often created by skilled artisans and can be found for sale in markets throughout Poland and other parts of the world. Whether used as decorations or given as gifts, pisanki eggs are a cherished part of Polish Easter traditions and a beautiful example of the artistry and creativity of the Polish people.
How to Make Hand Painted Plastic Easter Eggs
Gather Your Supplies
To decorate plastic white Easter eggs with a copper sharpie pen, you will need:
Outline and Draw on the Eggs
Step 1: Prep Your Eggs
Before you start decorating your eggs, make sure they are clean and dry. You can wipe them down with a paper towel to remove any dust or debris.
Step 2: Draw Your Design
Using a pencil, draw your design onto the plastic egg. This will help guide you when you start using the copper sharpie pen. You can draw simple shapes or more intricate designs – it's up to you! Be sure to use the eraser if you draw something you don't like. Feel free to copy any of my designs.
Step 3: Decorate with Copper Sharpie Pen
Now it's time to start decorating! Using the copper sharpie pen, trace over your pencil lines. You can add extra lines, dots, or other designs as you go. Be careful because if you make a mistake the sharpie pens are quite permanent.
Step 4: Let the Ink Dry
As you are decorating your egg, let the ink dry completely before you turn it and touch the area with your hands. This should only take about fifteen seconds, depending on how much ink you used.
Step 5: Display Your Eggs
Now that your egg is decorated and dry, it's time to display it! As you can see I had some fun displaying my eggs in the beach house.
More Hand Painted Plastic Easter Eggs
I love the eggs with the thicker side border. Here you can see both sides of the four different eggs.
Here are six more eggs that I decorated. I just made the designs up as I went along. Feel free to use any of these ideas!
On this blog, I may sometimes use affiliate links, which means a small commission is earned if you make a purchase via the link. The price will be the same whether you use the affiliate link or go directly to the vendor's website using a non-affiliate link.
Easter Egg Decorations
Decorating plastic white Easter eggs with a copper sharpie pen is an easy and fun DIY project that anyone can do. With just a few supplies and a little bit of creativity, you can create beautiful Easter eggs that will make your holiday celebrations even more special. Give it a try this year and see what amazing designs you can come up with!
More Easter Decor DIY Ideas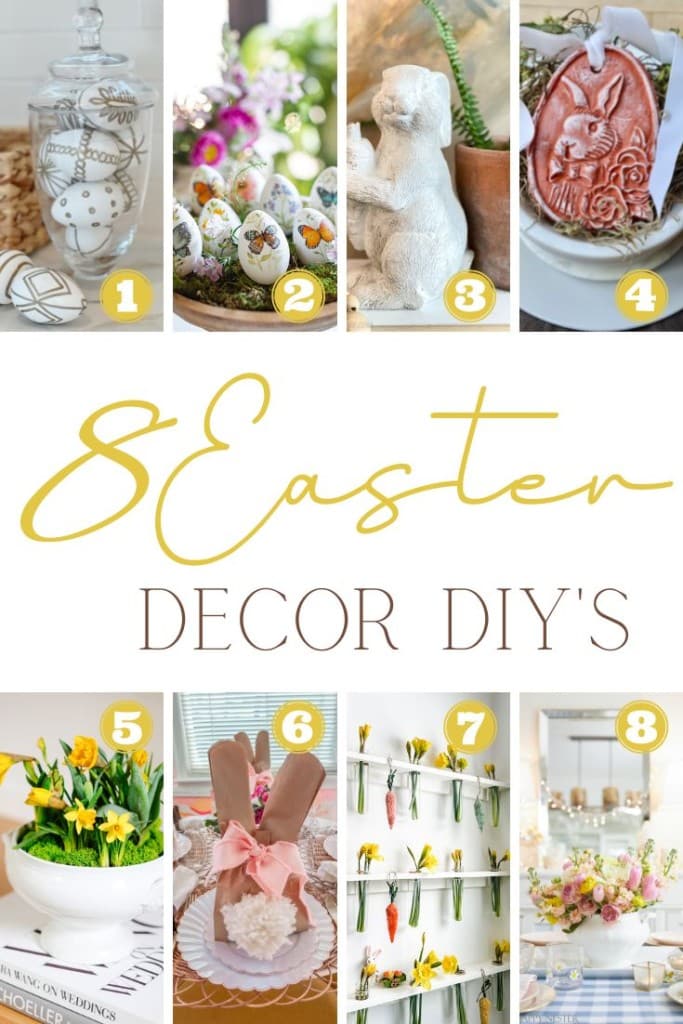 Blogger's Best Easter Decor DIYs
If you are enjoying my blog, you can sign up to receive my blog updates here. .
Watch My Amazon Live
Pin the images below to your boards on Pinterest (just click the Pin button in the top left corner). You can also follow along with me on Pinterest!
For more real-time updates, follow me on Instagram @My100YearOldHome