Ten-Minute Christmas Eucalyptus Wreath
My Christmas decor theme this year is pomegranates. Are you ready to see how to make this easy DIY Christmas eucalyptus wreath with pomegranates?
I love the rich dark, ruby-red color of pomegranates and am filling my home with it this year for the holidays. This Christmas eucalyptus wreath with pomegranates was so easy, it literally took ten minutes to make. Do you have ten minutes? Let me show you how to make this!
My new book, A Home to Share, is available now! Click here for more details!
The Christmas Eucalyptus Wreath
Ten minutes. That is all it took to make this Christmas wreath.
How is that possible?
I started with a wreath covered in Eucalyptus and literally stuck faux branches into the wreath.
That's it.
And yet, this wreath looks like an expensive wreath purchased from a fancy home decor store.
The best part about this wreath?
When the season ends, you can take out the branches and reuse the eucalyptus wreath and reuse the branches.
How amazing is that?
What You Need to Make This Wreath
Here are the items I used to make this wreath. (Although I ended up not using the six large pomegranates.)
On this blog, I may sometimes use affiliate links, which means a small commission is earned if you make a purchase via the link. The price you pay will be the same whether you use the affiliate link or go directly to the vendor's website using a non-affiliate link.
How to Make the Ten-Minute Christmas Eucalyptus Wreath
one – Lay out the eucalyptus wreath on a flat surface.
two – Add one stem of pomegranates in the same direction the eucalyptus leaves are placed on the wreath.
three – Add two more pomegranate stems to the wreath, spacing them out accordingly. (If desired, you can use some green wire to attach the stems. I just stuck them in the wreath form and they held well.
four – Add the olive tree branches and any other red berries you want in the same direction as the other stems.
five – Add the red eucalyptus branches as needed. I added five stems. You can secure all of the stems with green wire if needed.
And that's it. Making this wreath should take you about ten minutes!
I love eucalyptus wreaths and I also try to add fresh eucalyptus to floral arrangements. There is something special about the silver-gray color of eucalyptus that goes with every other color. In fact, I planted three eucalyptus trees in my yard last year so that I always have a fresh source!
Here are some ready-made wreaths that would look beautiful i your home. I also added some faux eucalyptus branches you can add to your floral arrangements.
If you are enjoying my blog, you can sign up to receive my blog updates here. .
Aren't these wreaths just gorgeous?
Watch My Amazon Live
Click here to watch any of my Amazon Live shows. All shows are recorded.
I just recorded this show, Christmas Crafts That Make Great Gifts.
Tem More Amazing Holiday DIY Wreaths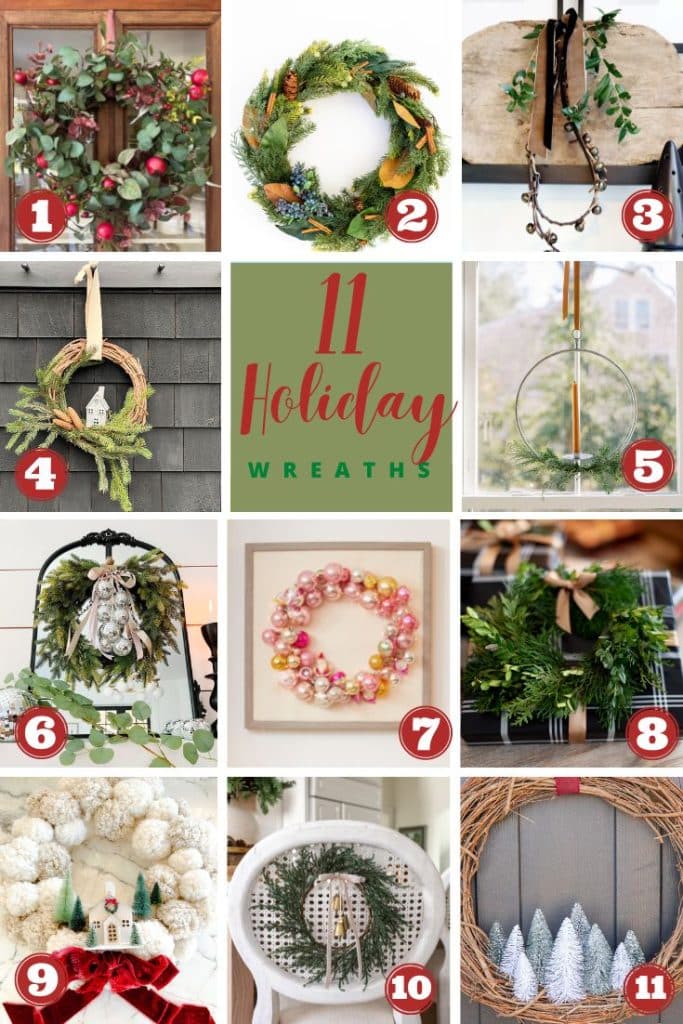 Blogger's Best Holiday Wreaths
Pin the images below to your boards on Pinterest (just click the Pin button in the top left corner). You can also follow along with me on Pinterest!
For more real-time updates, follow me on Instagram @My100YearOldHome