Valentine Cookies Decorated with Edible Luster Dust
I have a fun idea to share with you today. Have you ever tried Valentine cookies decorated with edible luster dust?
You are in for a treat! I absolutely love the way these turned out and can't wait to share the how-to with you today. These cookies are almost too pretty to eat. Almost, hee hee hee.
Valentine Cookies Decorated with Edible Luster Dust
Metallic dust, also known as luster dust or petal dust, is a type of food coloring used to add a shimmering effect to baked goods. It is made from edible metallic pigments that come in a variety of colors and can be found in specialty baking stores or online. Metallic dust is applied to cookies with a dry brush or mixed with a clear alcohol, such as vanilla extract, to form a paint-like consistency. The result is a glittering, glamorous finish that will make any cookie stand out.
On this blog, I may sometimes use affiliate links, which means a small commission is earned if you make a purchase via the link. The price will be the same whether you use the affiliate link or go directly to the vendor's website using a non-affiliate link.
My Favorite Sugar Cookie Recipe
To start, you need a basic sugar cookie recipe. I am sharing my favorite sugar cookie recipe with you today. You will want to bookmark it, it is a really, really good one!
Yield: 24 cookies
The Best Sugar Cookies
This sugar cookie recipe is my go-to recipe every time. It's almost flawless!
Additional Time
10 minutes
Ingredients
2 cups all-purpose flour (or gluten free 1 to 1 or measure to measure flour)
1/4 teaspoon salt
1/2 teaspoon baking powder
1/2 cup (1 stick) unsalted butter
1 cup sugar
1 large egg, lightly beaten
1 tablespoons milk
1 TBL lemon juice
1/2 teaspoon pure vanilla extract
Instructions
Mix together flour, salt, and baking powder in a medium bowl. In the bowl of an electric mixer fitted with the paddle attachment, cream the butter and sugar; add dry ingredients, and mix until incorporated.

With the mixer running, add egg, milk, lemon, and vanilla; mix until incorporated. Transfer dough to a work surface. Shape into 2 discs, cover with plastic wrap and refrigerate for at least 1 hour.

Preheat oven to 350 degrees. Line baking sheets with nonstick baking mats or parchment paper; set aside.

On a lightly floured work surface, roll out dough to 1/8-inch thickness. Cut into desired shapes, and transfer to prepared baking sheets, leaving an inch in between. Leftover dough can be rolled and cut once more. Bake until lightly golden, about 10 minutes; do not allow to brown. Transfer to wire racks to cool.

Decorate with Royal Icing.
Notes
I made this recipe with measure to measure gluten-free flour. The Xantham gum is included in the flour and the cookies came out perfectly.
Here is an important tip. When rolling out your cookie dough, use a rolling pin that has a measured edge. This insures that all of your dough will be the same height. Having cookies that are all the same height will help the cookies bake evenly. My favorite rolling pin is 1/4″
When it comes to Valentine's Day, the possibilities for cookie designs are endless. You can go with classic heart shapes, fun love-themed shapes, or basic shapes like circles or squares and embellish the basic shape with decoration.
For these cookies, I decided to cut my cookies into the shape of a circle and use stencils to decorate the top with edible luster dust.
Making the cookies is so easy. I just used my basic sugar cookie recipe and cut out circles.
I actually sped up the cooling process and put them in the freezer. As I was waiting I made my buttercream frosting.
One popular technique for using edible luster dust is to brush it onto the cookie before baking. This will give the cookie a subtle shimmer that will shimmer in the light, making it a perfect addition to any Valentine's Day spread. I haven't tried this yet but I just may next time.
If you are enjoying my blog, you can sign up to receive my blog updates here. .
Decorating with Edible Luster Dust
Once your cookies are baked and cooled, it's time to start decorating!
When working with metallic dust, it's important to use it sparingly. A little goes a long way, and too much can make the cookies look too sparkly or even overpowering. To avoid this, start with a small amount of dust and add more as needed.
Another great way to use metallic dust is by adding it to the cookie icing. You can mix the dust into the icing before spreading it on the cookie.
I started with a white buttercream frosting. First, I frosted all of the cookies with Buttercream frosting.
Below is my go-to buttercream frosting recipe.
Yield: 4 cups of frosting
Buttercream Frosting
Here is my buttercream frosting recipe. I made two batches of this recipe to make this cake.
Ingredients
1 cup, two sticks, of non-salted butter
4 cups of powdered sugar
1 tsp vanilla
4 - 6 TBLcoconut milk (I like Thai Kitchen Organic)
Instructions
Cream the butter until soft in a mixer for about two minutes.
Add the sugar, vanilla, and three TBL of coconut milk.
Add the remaining TBL of coconut milk as needed. If you are making flowers, make sure the frosting is thick so it will hold its shape. If it gets too soft, place it in the refrigerator for about twenty minutes.
When frosting the cake, place the cake in the freezer for about one hour before decorating.
Now for the fun part, stenciling edible luster dust! I am using a stencil to create intricate designs on top of the icing. The dust will stick to the icing, creating a gorgeous, glittering effect.
I put a small amount of luster dust on a plastic plate and used a paint brush to apply it.
Decorating the Valentine's Day Cookies
Decorating Valentine's cookies with edible luster dust is a fun and creative way to add a touch of glamour to your Valentine's cookies. Whether you use the edible luster dust to add a subtle shimmer or to create intricate designs, it will take your cookies to the next level, and be sure to impress your loved ones.
Just lay the stencil on top of the frosted cookie and paint the dust on top of the frosting, using the stencil as a guide.
If the icing is a bit too sticky, put the cookies in the freezer for 5 – 10 minutes to harden the frosting.
Watch My Amazon Live
More Valentine Dessert Recipes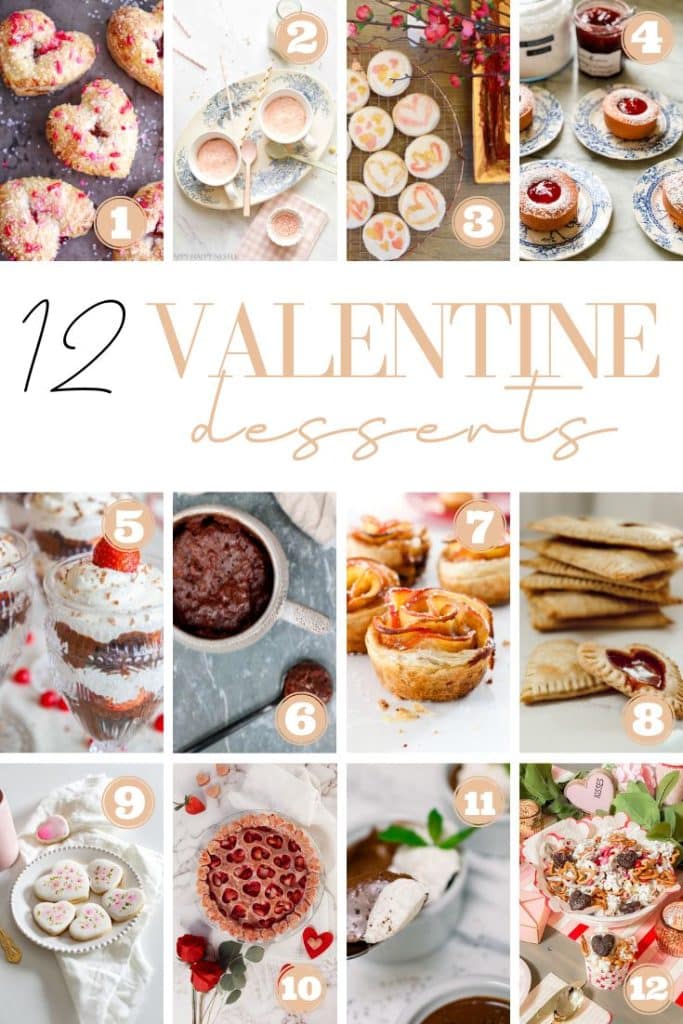 Blogger's Best Valentine's Day Dessert
Pin the images below to your boards on Pinterest (just click the Pin button in the top left corner). You can also follow along with me on Pinterest!
For more real-time updates, follow me on Instagram @My100YearOldHome