Copper Valentine Table Decorations
Pink and copper Valentine table decorations, whether for a dinner party or a romantic dinner for two, are spectacularly beautiful.
Copper is a timeless metal that adds warmth and elegance to any room and looks especially beautiful when teamed with pink. Today, I am sharing some ideas for Valentine table decorations that add a touch of love and luxury to your celebration.
Pink and Copper, a Beautiful Combination
I will admit it. I have fallen head over heels in love with the use of copper in my dining room. Copper candlesticks, copper chargers, copper bowls, really any type of copper decor. When I add pink to the table, it is absolute magic!
Pink is a color that is associated with love and Valentine's Day. The color pink evokes feelings of happiness, love, and tenderness. Copper, on the other hand, is a warm metallic color that adds a touch of sophistication and glamour to any space. When these two colors are combined, they create a beautiful and romantic atmosphere that is perfect for a Valentine table.
Valentine Table Decorations
To create this pink and copper Valentine table, I started with my vintage pink and orange placemats. I wish I could remember where I got them, y'all always ask, but it was so long ago, I just can't remember!
Next, I used two charger plates, one with a hammered copper edge and the other is a glass charger with a rose gold edge. I love to layer these chargers together, it adds a wonderful depth to the table and an extra layer of copper.
On this blog, I may sometimes use affiliate links, which means a small commission is earned if you make a purchase via the link. The price will be the same whether you use the affiliate link or go directly to the vendor's website using a non-affiliate link.
A Table of Valentine Table Decorations
Once the chargers were set, I layered a white basketweave place, added a pink salad plate on top, and then added a pink cotton/linen napkin.
One of my favorite ways to add color and dimension to any table is to use colored glassware. For this table, I chose pink water glasses and red and gold goblets. I am sharing the link to the red and gold goblets below, but they are currently out of stock. Keep checking back, I am sure they will be restocked soon!
If you are enjoying my blog, you can sign up to receive my blog updates here. .
Copper Accents
I have accumulated quite a bit of copper items over the years. I love the warmth that copper adds to any table. On this table, I layered a large rectangular copper tray with a hammered copper bowl filled with Valentine colored flowers and of course, rose gold candlesticks.
A rose gold lantern filled with pink and copper glass balls instead of a candle adds a whimsical element.
Copper items will not only add a touch of glamour to your table but will also reflect the light beautifully and create a warm and inviting atmosphere. You can also use copper utensils, such as forks, spoons, and knives, to add a touch of shine to your table setting.
Did you notice the copper scatter on the table? We have coined the term scatter which is something we do on all of our tables now. It is the addition of small items to the center of the table like clay and copper hearts or fruit, shells, flower petals, or any small objects that add texture and interest to the table. Last week, I made these clay and copper leaf hearts and clay and copper leaf heart bowls, and some copper wire hearts and they look amazing scattered down the center of the table.
Flowers as Valentine Table Decor
Flowers are a must-have on Valentine's Day, and they are a great way to add a touch of pink to your table setting. I created this arrangement with grocery store flowers! Don't be afraid to mix pinks and purples together, the effect can be stunning.
I also added some faux pink cherry blossoms to the hammered copper tray and then placed the hammered copper bowl full of flowers right on top of the faux stems.
A Romantic Pink and Copper Table
A pink and copper-themed table is a beautiful and romantic way to celebrate Valentine's Day. This color combination creates a warm, inviting, and elegant atmosphere that is perfect for a special dinner. By using pink and copper accents, flowers, and lanterns you can create a magical and memorable evening that your loved one or guests will never forget.
So, why not get creative and celebrate Valentine's Day in style this year with a beautiful pink and copper-themed table setting?
More Valentine's Day Decor Ideas
I teamed up with four of my favorite bloggers for more Valentine's Day decor ideas.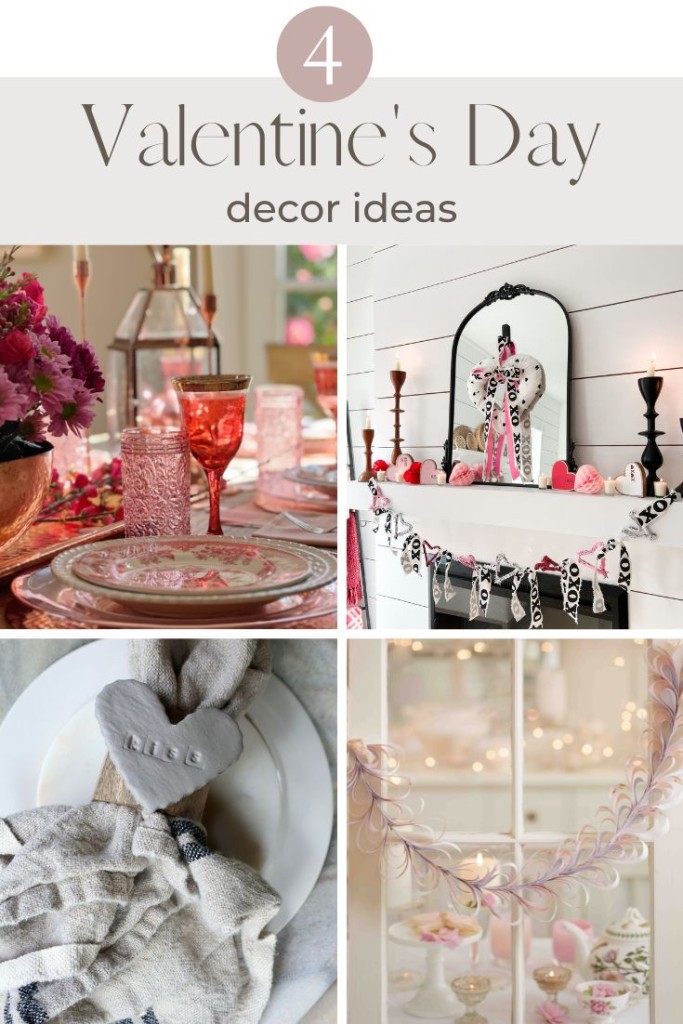 Blogger's Best Valentine's Day Decor
Watch My Amazon Live
Pin the images below to your boards on Pinterest (just click the Pin button in the top left corner). You can also follow along with me on Pinterest!
For more real-time updates, follow me on Instagram @My100YearOldHome