Southern California promises summer days and nights full of outside dining and entertaining. Today I am sharing some fun outdoor living ideas.
We have two fun outdoor living areas on our back porch where we love to entertain. There is a covered porch area with the fireplace and the back patio adjacent to our outdoor kitchen. Usually, at this time every year, we swap the dining and living areas. And that is exactly what we did!
My new book, A Home to Share, is available for Pre-order now! Click here for more details!
Swapping the Fun Outdoor Living Areas
How long has your patio furniture been in its current location? Is there a way to change it up a bit and make it better suited for you and your family? I can't even begin to tell you how long our old patio furniture sat in the same place on our back patio. Perhaps ten years?
I love the two areas of our porch. And yet throughout the year, we are always moving the furniture! In the wintertime, we usually have the table under the covered porch so we can dine outside with the fireplace and heaters in the ceiling.
But the table has been out on the back patio for quite some time and I thought it might be nice if we moved it under the covered porch. That way we can enjoy meals anytime without worrying about the sun!
I also like having the living area of our patio in the summer when we can enjoy the view of the backyard. It's the perfect place to sit in the evening and enjoy a cocktail!
Covered Porch Area
Here are the before and after photos of the covered porch.
All of the furniture in these areas is part of the Arhaus Hampton's Collection. They are having a huge sale on this outdoor furniture and I have to say it is the best. We have had the set for three years now and it still looks like it is brand new.
And yes, the furniture sits outside all year long. And it always looks amazing.
I set the table for a fun outdoor living dinner party with some friends. I decided to use a green color palette so it would match the back patio area.
As you can see I combined a lot of different elements on my outdoor table. I love everything about it.
The green glassware on this table is something I use every week! The plates are the perfect match for this glassware.
I am thrilled we will be dining on the back porch for lunch and dinner! It's nice to be protected from the sun and this is such a great spot to linger and enjoy a very fun dinner.
Back Patio Area
As you can see, having a seating area on the back patio is the perfect gathering place. I love to come out here to read or hang out with family and friends. It's a fun spot to watch everything that is going on in the backyard too.
This is a cozy and comfortable seating area for small gatherings with family and friends.
I love adding fun vintage decor items, including some old bingo cards!
On this blog, I may sometimes use affiliate links, which means a small commission is earned if you make a purchase via the link. The price you pay will be the same whether you use the affiliate link or go directly to the vendor's website using a non-affiliate link.
More Fun Outdoor Living Ideas
Today I have joined some of my favorite bloggers as we are all sharing our favorite outdoor living ideas.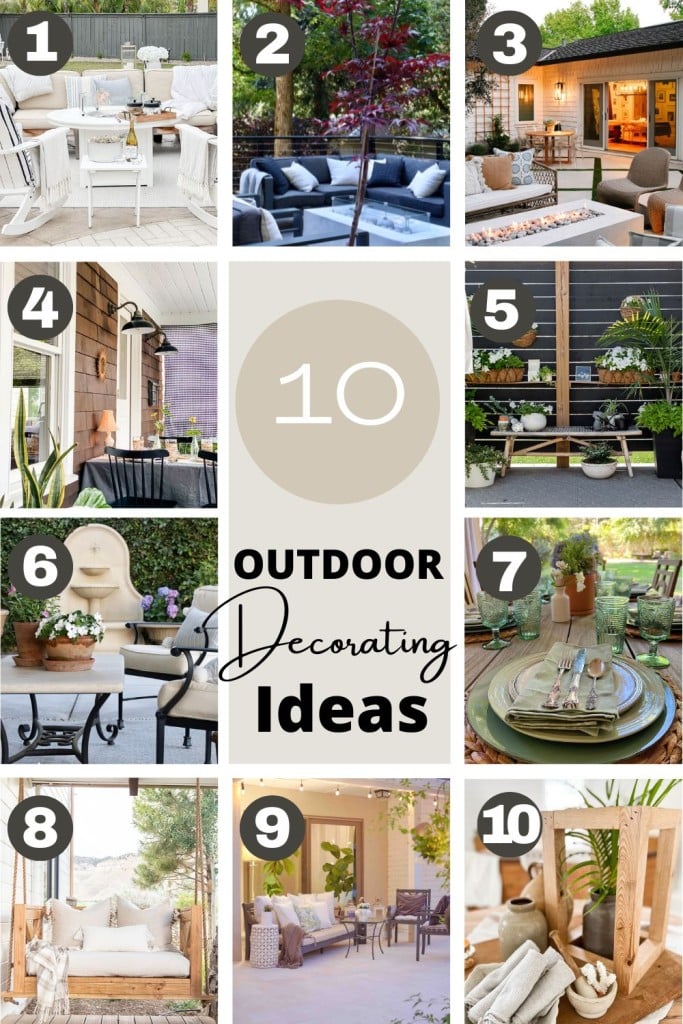 If you are enjoying my blog, you can sign up to receive my blog updates here. .
Watch My Amazon Live
Click here to watch any of my Amazon Live shows. All shows are recorded.
I think you are going to love this Amazon Live!
Pin the image below to your boards on Pinterest (just click the Pin button in the top left corner). You can also follow along with me on Pinterest!
For more real-time updates, follow me on Instagram @My100YearOldHome