DIY White Christmas Tree with Feathers
I love my new DIY which is a small Christmas Tree that goes anywhere. This DIY White Christmas tree with feathers is so easy to make!
I thought the white feathers might be expensive but I was wrong! You can buy 100 of these feathers for about $8.00. I just love how great these white Christmas trees turned out.
A White Christmas Tree with Feathers DIY
I love sharing my DIYs. Especially ones that are easy and inexpensive to make and yet they look amazing. I actually made both of these trees … the pinecone trees were a project from a few years ago. I made the feather trees not too long ago.
What You Need to Make this White Christmas Tree
I used craft goose feathers and I bought a package that had four different types. I definitely have a favorite of the two trees I made. Can you guess which one it is?
I also used foam trees (because I already owned them) but you could also use paper mache cones as well. Just be aware that some paper mache trees don't have a bottom on the tree so it may be necessary to attach a "stand".
All of the items I used can be found below.
On this blog, I may sometimes use affiliate links, which means a small commission is earned if you make a purchase via the link. The price you pay will be the same whether you use the affiliate link or go directly to the vendor's website using a non-affiliate link.
How to Make this White Christmas Tree with Curved Feathers
one – Since I used green foam trees, I had to paint them white so that the green wouldn't show through. Just a few minutes of painting will save you from anguish later on as you try to hide the "green color" with feathers. I also used a glue gun to attach the foam trees to some vintage small pieces of molding.
two – Start at the bottom of the cone, and attach the feathers with a hot glue gun. I placed the feathers so that the ends flipped up.
three – Continue working your way up the tree, placing the feathers in between the feathers on the row beneath.
four – As you can see, the curve on the feathers looks great on the tree. I love it!
five – When you get to the top, glue the feathers at the top so that they form a point at the top of the cone.
six – Doesn't this look amazing? If you want to buy just these feathers, you can find them here. I can't believe how inexpensive they are.
How to Make this White Christmas Tree with Fluffy Feathers
one – For this tree, I used feathers that were more "fluffy". They barely turned up on the ends and didn't hang as well as the other tree, but I still like it. Just start at the bottom and glue the feathers in rows.
two – Continue adding feathers and work your way up the tree.
three – When I was done I went back and added a few more feathers to cover a few missing spots.
These would all make great stands for the trees. Just glue them to the bottom of the styrofoam tree.
An Easy White Christmas Tree DIY
I am so happy with how these white Christmas trees turned out. Aren't they adorable?
I am going to make a few more for me and I think I will make a few more of each for gifts.
They were just so easy to make.
Of course, if you would rather just buy the trees, these are awesome.
And here are a few more Christmas decor ideas.
If you are enjoying my blog, you can sign up to receive my blog updates here. .
Christmas Inspiration
Watch My Amazon Live
Click here to watch any of my Amazon Live shows. All shows are recorded.
I want to share this show with you, titled Holiday Home Ideas Under $50.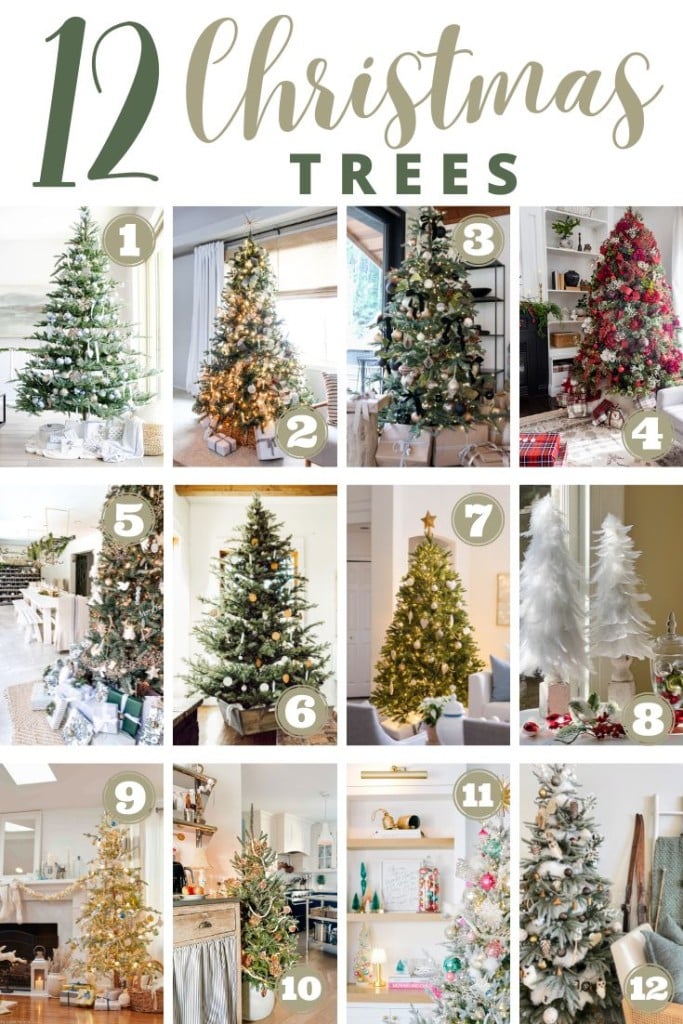 Blogger's Best Christmas Trees
Pin the image below to your boards on Pinterest (just click the Pin button in the top left corner). You can also follow along with me on Pinterest!
For more real-time updates, follow me on Instagram @My100YearOldHome