DIY Pumpkin Craft for Your Home
Fall is synonymous with vibrant colors, cozy evenings, and, of course, pumpkins! Today we are going to make a beautiful DIY pumpkin craft.
While the classic carved pumpkin has its charm, sometimes we crave something unique and different for our fall decor. Today we're going beyond the typical and diving into an elegant, unique DIY pumpkin craft project: A eucalyptus leaf petal pumpkin craft. Utilizing faux peach pumpkins and faux leaf petals, we're going to craft a fall masterpiece that will elevate the aesthetic of any decor space.
pumpkin craft, craft pumpkin, diy pumpkin decor,
Why Faux Materials?
First and foremost, you might wonder, "Why not use real pumpkins and leaves?" While genuine materials have their charm, faux items offer durability, allowing our beautiful leaf petal pumpkin craft to grace our homes year after year.
Plus, with the plethora of realistic-looking faux flowers and greenery available today, we're not compromising on aesthetics.
On this blog, I may sometimes use affiliate links, which means a small commission is earned if you purchase via the link. The price will be the same whether you use the affiliate link or go directly to the vendor's website using a non-affiliate link.
Materials Needed for This Pumpkin Craft
How to Make this DIY Pumpkin Craft
1. Prepare Your Materials: Gather all your materials in one place to keep the crafting process smooth and efficient. Cut off the leaves from the stems.
2. Your petals will likely be the same size or a few different sizes. Once they are all cut, start laying them on top of the pumpkin to determine how you want the design to look.
2. Sorting the Faux Leaf Petals: Faux leaves often come in an array of fall colors. For the best visual impact, sort them by color, from lightest to darkest or vice versa, and by size (depending on your preference). This arrangement will give your pumpkin a gradient effect, enhancing its beauty. You also need to decide if you want to start at the top or bottom of the pumpkin. I chose to start at the top.
3. Beginning with the Base Layer: Starting at the top of the pumpkin, apply a thin line of hot glue around the circumference. Quickly, before the glue dries, begin attaching your first row of faux leaf petals, ensuring they slightly overlap. Press each leaf firmly to ensure proper adhesion.
4. Adding More Petals: For the next row, apply glue only to the top of each individual petal and place them just under the bottom of the bottom of the upper row. Be careful to cover all of the pumpkin with the petals. As you move toward the bottom of the pumpkin, continue to glue your leaves in concentric circles. It's crucial to keep your rows neat and uniform. This ensures a polished and professional look.
But don't worry if they aren't straight. You can easily pull off the leaves and re-position them if necessary. I did!
5. Gradient Effect: If you've sorted your leaves by shade, start transitioning to the next color as you move down. This shift in colors will create a beautiful gradient effect, mirroring the transition of fall leaves.
6. Finishing the Pumpkin: If your pumpkin's stem isn't particularly decorative, or if it doesn't match the color of the petals, you might want to re-paint the stem for a more aesthetically pleasing option. I painted my brown since the green just didn't quite match. Of course, it would make more sense to do this before you start this project!
7. Optional Embellishments: Once the entire pumpkin is done you can add extra such as ribbons, twine, or a decorative stem.
The Finished Craft Pumpkin
I am so happy with how this pumpkin turned out. It's soft and subtle and very pretty!
If you are enjoying my blog, you can sign up to receive my blog updates here. .
Shop This Post Here
Watch My Amazon Live
BLOGGER'S BEST PUMPKIN CRAFTS
Floral Ghost Pumpkin | My Sweet Savannah
Have fun with your Halloween decor this year and create this easy to make floral ghost pumpkin with my step by step instructions!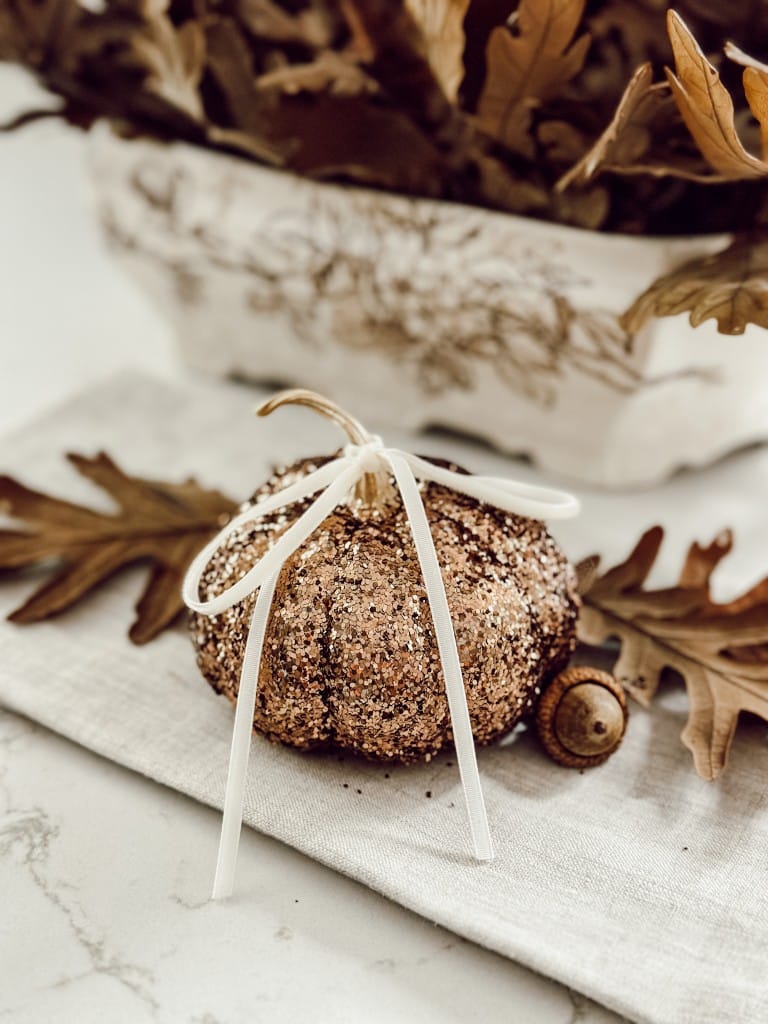 How to Make DIY Glitter Pumpkins for Glam Fall Decor | Eleanor Rose Home
Add a little glam to your fall decor with these DIY glitter pumpkins! Discover how to transform mini white pumpkins into dazzling works of art using Mod Podge and brown glitter.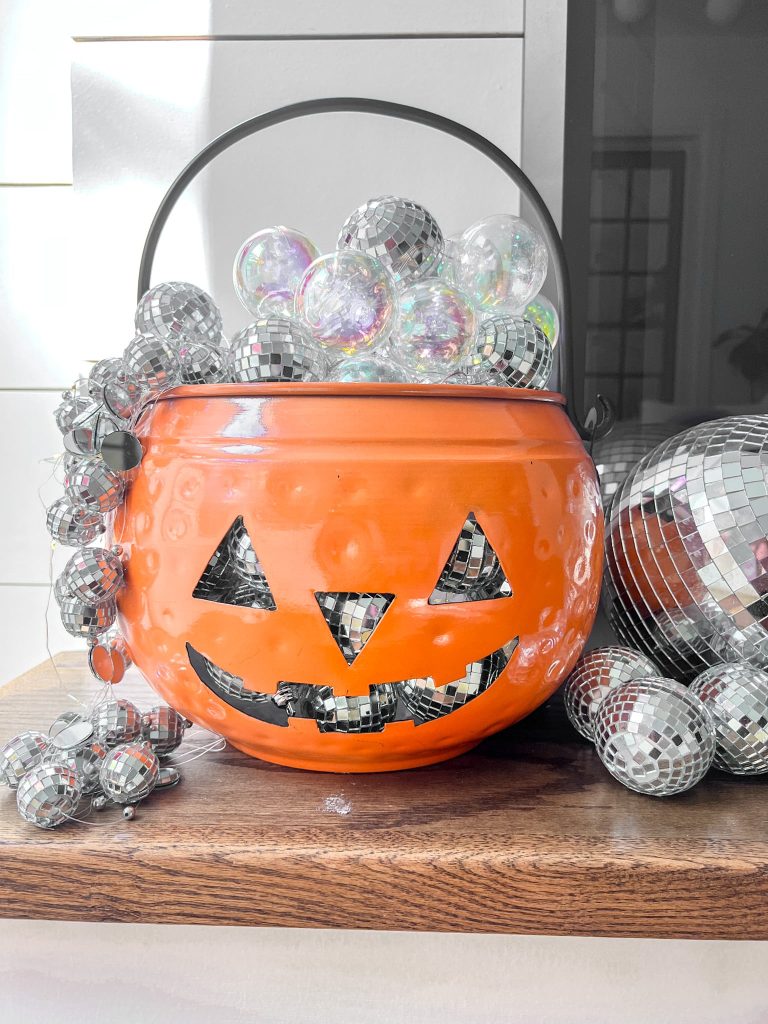 Disco Ball Lighted Halloween Pumpkin Cauldron | Tater Tots and Jello
Transform your Halloween decor with this dazzling DIY disco ball lighted pumpkin cauldron. Start with an metal jack-o-lantern as your enchanting base, then sprinkle it with the magic of disco balls, twinkle lights, and globe lights. Watch as your creation comes to life, casting a spell of whimsy and glamour on your spooky celebrations.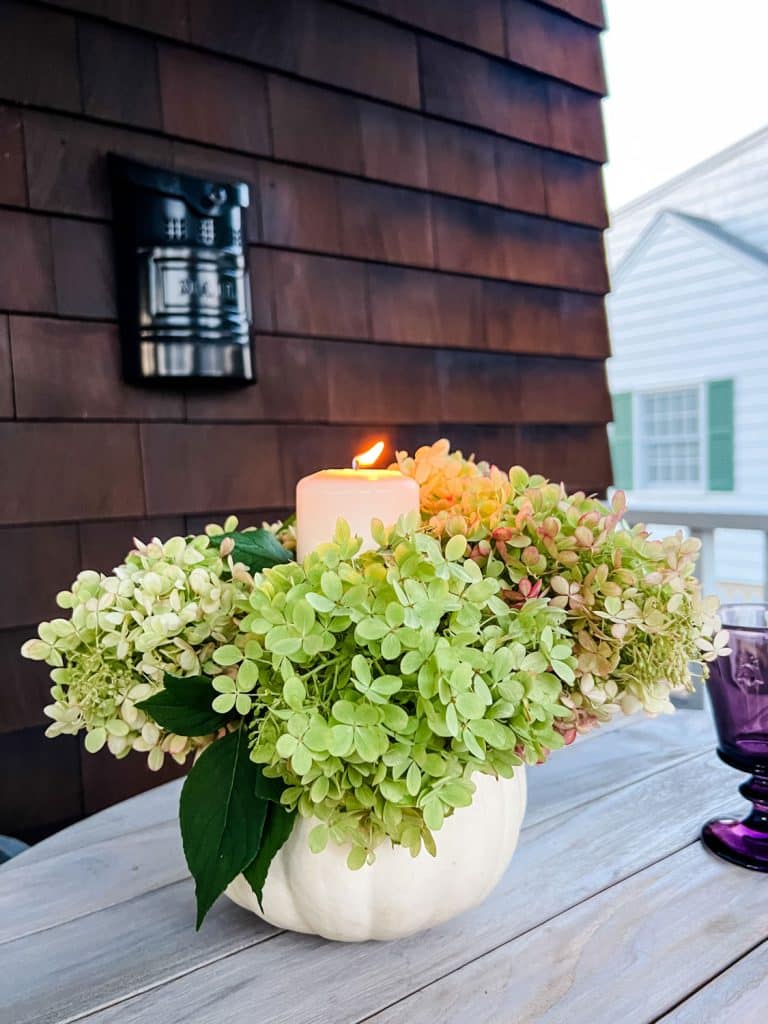 Pumpkin Candle Holder | Most Lovely Things
A simple centerpiece using a pumpkin, a pillar candle and hydrangeas beginning to change color.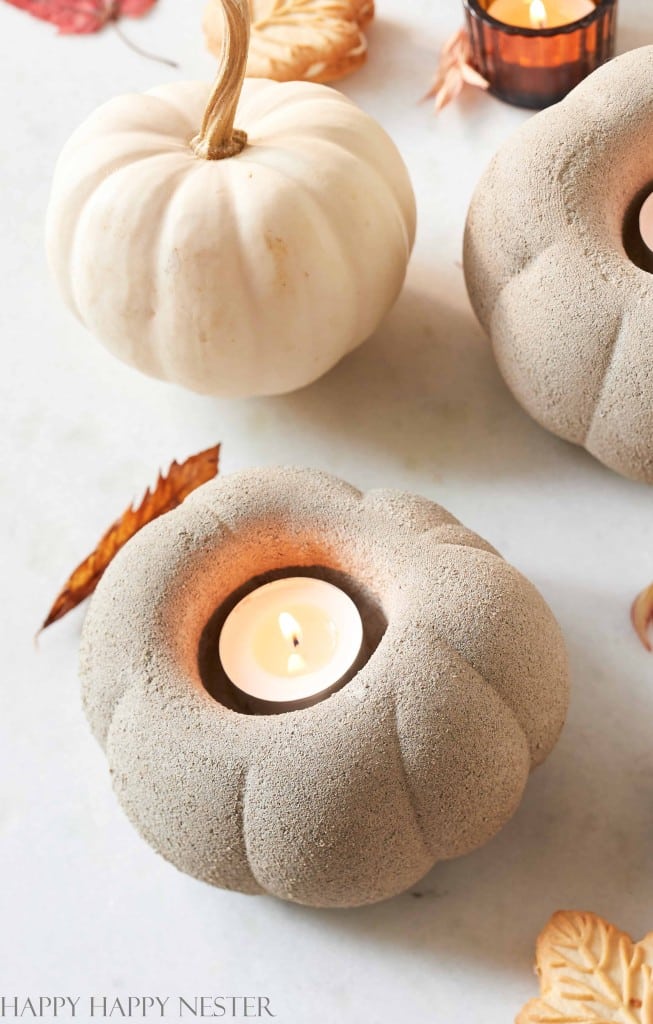 Cement Pumpkin DIY (with Candleholders) | Happy Happy Nester
Get ready for fall with these easy, do-it-yourself Cement Pumpkins DIY Candleholders. All you need is cement, a nylon sock, and a few other supplies. They're sure to light up your home with the cozy feeling of autumn. Incorporate your favorite fall scents and share this craft with friends and family.
---
Pin the images below to your boards on Pinterest (just click the Pin button in the top left corner). You can also follow along with me on Pinterest!
For more real-time updates, follow me on Instagram @My100YearOldHome