I wanted to make some copper hearts for a Valentine's hearts DIY. It was so much fun that I ended up making three different types!
I made Valentine's hearts from air dry clay but I mixed the clay with metal leaf copper foil. I cut them out with heart-shaped cookie cutters and they look amazing. Next, I cut up some larger hearts and formed them on a bowl to create small dishes. Lastly, I used copper wire and made heart shapes with pliers. Will you make one or all of these amazing DIYs?
Clay Valentine's Hearts with Copper Foil
These handmade hearts are easy to make and can be styled in so many different ways.
I love projects that utilize both air-dry clay and copper leaf, so I decided to combine them for this DIY.
Below, I will walk you through the step-by-step process of creating these beautiful valentine's hearts that are sure to become one your favorite Valentine's Day decor items. Let's get started!
Materials Needed
one – Soften the clay in your hands and roll the ball on top of a sheet of copper foil. Mix the clay and add more foil. Once combined, roll out the clay to 1/4″.
two – Cut out the hearts using cookie cutters.
three – If you want some to have more copper on top, lightly rub water on the top of the heart and place a sheet of foil on top. Cut around the sides. Don't worry if the foil pulls a bit, it looks better that way.
four – Place the cut-out hearts on a wire cookie rack to dry. They need to be able to dry underneath so a cookie rack is important.
five – If you look closely you can see the different ways the copper mixed into the clay.
six – Let dry overnight. Brush with a clear coat of polyacrylic protective gloss finish.
On this blog, I may sometimes use affiliate links, which means a small commission is earned if you make a purchase via the link. The price will be the same whether you use the affiliate link or go directly to the vendor's website using a non-affiliate link.
Clay Copper Valentine's Hearts Dishes
These clay copper Valentine's hearts dishes are the perfect combination of rustic charm and romantic sentiment.
These small heart-shaped dishes are so easy to make and you will find so many ways to use them. They also make a darling gift. Below are the simple steps to make your own clay copper Valentine's hearts dishes.
one – Using at least a four-inch heart, cut it out of the clay mixed with copper foil.
two – Place on top of a rounded jar to form the heart in the shape of a small dish.
three – Flip the dish over to make sure it is centered. After it has dried for a few hours, slip the heart off of the dish and let it dry overnight.
If you are enjoying my blog, you can sign up to receive my blog updates here. .
Valentine's Hearts Made with Copper Wire
These hearts are not only beautiful, but they also have the added bonus of being a symbol of the love that was put into making them.
Whether you're a seasoned crafter or a beginner, you'll be able to create these easy Valentine's Day copper wire hearts, using simple tools and materials.
Materials Needed
one – cut strips of the same length of wire. I cut 7″ and 9″ sizes.
two – gather the strips in piles by size.
three – bend the wires at the half way point until they form a V shape.
four – using the needle nose pliers, bend the ends of the wire to form a circle inward.
five – if necessary, flatten the heart so it lays flat on the table.
six – using a cylinder about 3/4″ thick, wrap the ends of the wire toward the middle.
seven – fold the heart so that the two circles interlock.
eight – make additional sizes for some variety.
nine – don't these look adorable?
Making your own Valentine's Day decorations is a fun and unique way to show your loved ones how much you care. The heart-shaped decorations featured in this blog post are easy to make and can be customized to fit your personal style. Whether you choose to decorate your home, give them as gifts, or use them as party decorations, these DIY hearts are sure to be a hit with your Valentine. So, get creative and have fun making your own Valentine's Day hearts!
More Amazing Valentine's Day Crafts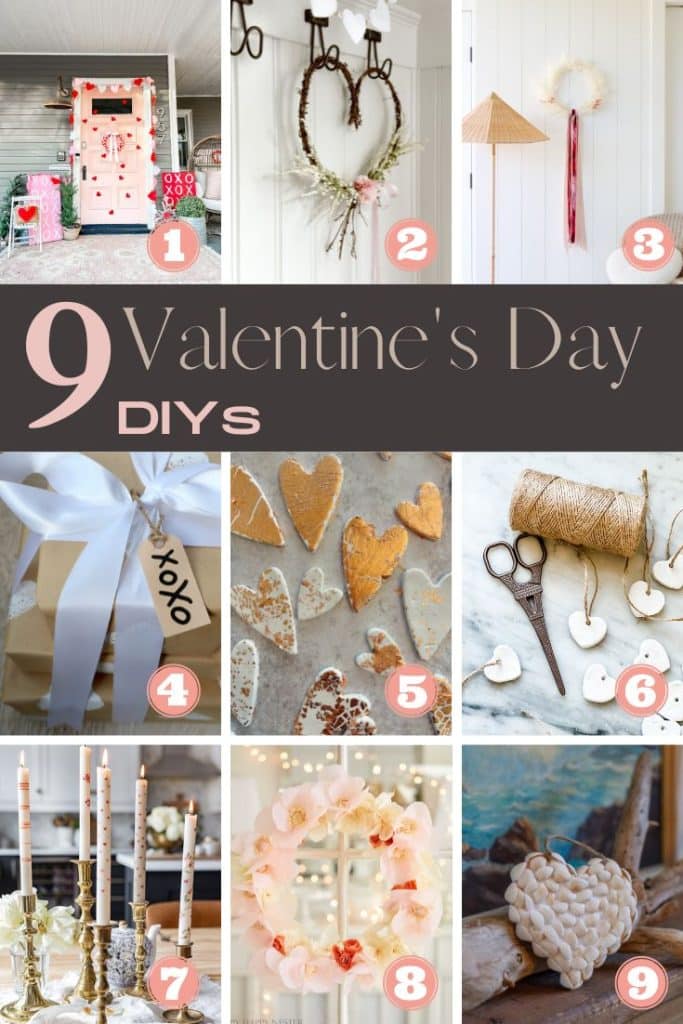 Blogger's Best Valentine's Day DIYs
Watch My Amazon Live
Pin the image below to your boards on Pinterest (just click the Pin button in the top left corner). You can also follow along with me on Pinterest!
For more real-time updates, follow me on Instagram @My100YearOldHome