Colorful Throw Pillows for Spring Decorating
Spring is the season to refresh and add a splash of color to your home decor. One way to do this is with colorful throw pillows.
Colorful throw pillows are an inexpensive and easy way to update any room in your home. Today I am sharing the best affordable colorful throw pillows and where to buy them!
Colorful Spring Pillows
Spring has sprung, and what better way to brighten up your space than with colorful throw pillows? These versatile decor items are the perfect way to add a pop of color, texture, and personality to any room in your home.
Whether you're looking to create a bold statement or just want to update your space with some fresh and fun spring accents, colorful throw pillows are the way to go. And they are the least expensive way to brighten up a room!
How to Shop for Colorful Spring Pillow Covers
The best way to add spring pillows to your home is to buy pillow covers instead of pillows. Pillow covers are so much less expensive. Below is a link to the inserts, be sure to check that out, the price is great!
On this blog, I may sometimes use affiliate links, which means a small commission is earned if you make a purchase via the link. The price you pay will be the same whether you use the affiliate link or go directly to the vendor's website using a non-affiliate link.
Choose Your Color Scheme
Before you start shopping for throw pillows, you need to decide on a color scheme. This will help you narrow down your choices and ensure that all of your accessories work well together. Spring is all about bright, cheerful colors, so consider using shades of pink, yellow, green, and blue. You can also add pops of white or black for contrast.
As you can see from the photos below, I have used a lot of different colorful throw pillows for my spring decor!
Green Throw Pillows
Blue Throw Pillows
Pink Throw Pillows
I made each of these pink pillows using free-stitch embroidery. You can find each of the DIYs here. Left to right, small flowers, hearts, large flowers, falling flowers, circles.
White Throw Pillows
Orange Throw Pillows
Purple Throw Pillows
Storing Your Pillow Covers
Once you've chosen your color scheme, it's time to start shopping for throw pillows. Don't be afraid to mix and match patterns. In fact, this is one of the easiest ways to add interest and texture to a room.
Here is a photo of where I store my throw pillow covers. This used to be our media cabinet and now it holds my covers. I try to store them by color which helps when mixing and matching.
When mixing patterns, it's important to keep a few things in mind. First, make sure that the patterns have a common color. This will help tie everything together. Second, vary the scale of the patterns. Use one large-scale pattern, one medium-scale pattern, and one small-scale pattern. This will create balance and prevent the room from feeling too busy.
If you're not sure how to mix patterns, start with a solid-colored pillow and add one or two patterned pillows. This will give you a good base to work from.
If you are enjoying my blog, you can sign up to receive my blog updates here. .
Consider Texture
Texture is another important element to consider when choosing throw pillows. In the spring, you might want to use lightweight, breathable fabrics like cotton or linen. You can also add texture with pillows made from wool, velvet, or faux fur. These materials will add warmth and depth to a room.
When choosing textured pillows, consider the other textures in the room. For example, if you have a leather sofa, you might want to choose pillows with a soft, fuzzy texture to balance it out. If you have a lot of smooth surfaces in a room, like a glass coffee table and metal lamps, you might want to add pillows with a rough texture to create contrast.
Layer Pillows
Another way to add depth and interest to a room is by layering pillows. Start with two or three large pillows at the back of the sofa or bed. Then, add two or three smaller pillows in front of them. This will create a layered, dimensional look.
When layering pillows, vary the sizes and textures of the pillows. Use one or two solid-colored pillows as a base, then add one or two patterned pillows, and finish with one or two textured pillows. This will create a balanced and cohesive look.
Don't Forget Outdoor Spaces
Finally, don't forget to add throw pillows to your outdoor spaces. Outdoor pillows are designed to withstand the elements and come in a wide range of colors and patterns. They're a great way to add color and comfort to your outdoor seating area.
When choosing outdoor pillows, look for materials that are weather-resistant and easy to clean, such as polyester or Sunbrella fabric. These materials will hold up well to rain, wind, and sun exposure.
You can also choose outdoor pillows that coordinate with your indoor pillows to create a cohesive look throughout your home. For example, if you have a blue and green color scheme inside, you might choose outdoor pillows in the same colors for your patio furniture.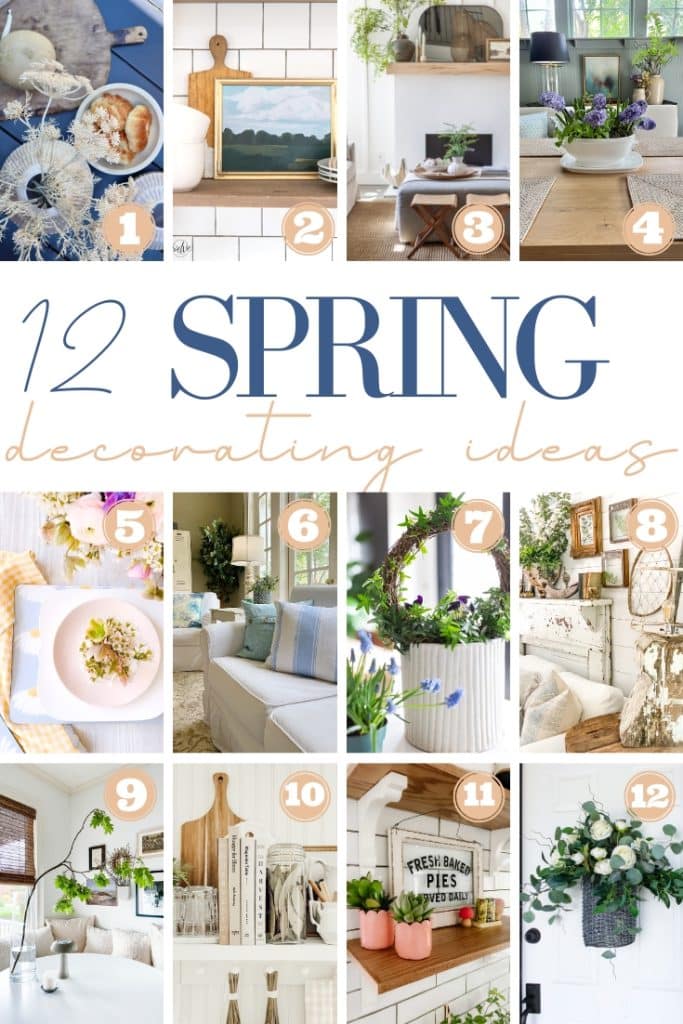 Blogger's Best Spring Decorating Ideas
Watch My Amazon Live
Pin the images below to your boards on Pinterest (just click the Pin button in the top left corner). You can also follow along with me on Pinterest!
For more real-time updates, follow me on Instagram @My100YearOldHome