Best Thanksgiving Recipes
With Thanksgiving less than a week away, I teamed up with some very talented bloggers and we are sharing some of our best Thanksgiving recipes! These are the recipes we prepare and serve at our own Thanksgiving dinners. So they are tried and true and delicious. We have appetizers, a salad, a vegetable dish, a turkey, side dishes, a drink, and desserts.
The bloggers that I am joining today are Janine from Happy Happy Nester, Ashley from Modern Glam, Rhonda from Hallstrom Home and Becky from Becky's Farmhouse. Be sure to read about the Giveaway at the bottom of this blog post!
My Recipes
I have shared two recipes today. The first is How to Smoke a Turkey. The first time we smoked a Thanksgiving turkey was about ten years ago. I was a bit skeptical that about smoking the turkey when we were hosting twenty people for a very traditional Thanksgiving dinner. So to be safe, I cooked one 25 lb. turkey in the Big Green Egg and another 25 lb. turkey in the oven. Just in case the smoked turkey wasn't good, I wanted a fallback plan.
The smoked turkey was unbelievable. We never ate the turkey that was cooked in the oven. And I have never cooked a turkey in the oven since.
I also made another beautiful pie!
My Apple Pie Recipe is really good. It's easy to make and you can make it with a homemade crust or use the Pillsbury premade crust. (I did the latter.) It takes a bit longer to make if you want to make what I call a fancy crust. But trust me, it's worth the effort. I love the reaction I get from my guests. They think my pie is a work of art. And all of the instructions to make this pie are in my Apple Pie Recipe blog post.
Appetizers
Ashley from Modern Glam has put together a beautiful meat and cheese Charcuterie Board. Her blog post has so much information and you will really want to read all of this.
Janine from Happy Happy Nester has the most amazing recipe for
Jalapeno Pepper Jelly
. I cannot wait to try it.
Salads
Becky from Bechy's Farmhouse shared a Thanksgiving Pear and Goat Cheese Salad that sounds really terrific. The candied pecans are my favorite!
Vegetable Dishes
I remember when Janine was making these Caramel Roasted Brussels Sprouts and they sounded fabulous. Now that I have read the recipe I am making them for sure.
Side Dishes
I have never thought of including Baked Macaroni and Cheese on my Thanksgiving menu. But if I had young kids at the table, I would do it for sure. Ashley is brilliant!
Drinks
Ashley's Spicy Pear Punch recipe is a non-alcoholic Thanksgiving Punch that is not too sweet and definitely tastes wonderful. You might want to add this to your menu.
Bread
Rhonda's Homemade Bread is a great recipe that has a great story that comes with it.
Desserts
Rhonda shared three dessert recipes.
Pumpkin Spice Cake with Cream Cheese Frosting
Janine included her awesome Starbuck's Pumpkin Bread.
And her Mini Apple Tart.
I am very excited about what I consider are some of the best Thanksgiving recipes. I hope you will try some of them out.
Giveaway
We Are Giving Away Two Prizes in a Giveaway!
$260 Cash via Paypal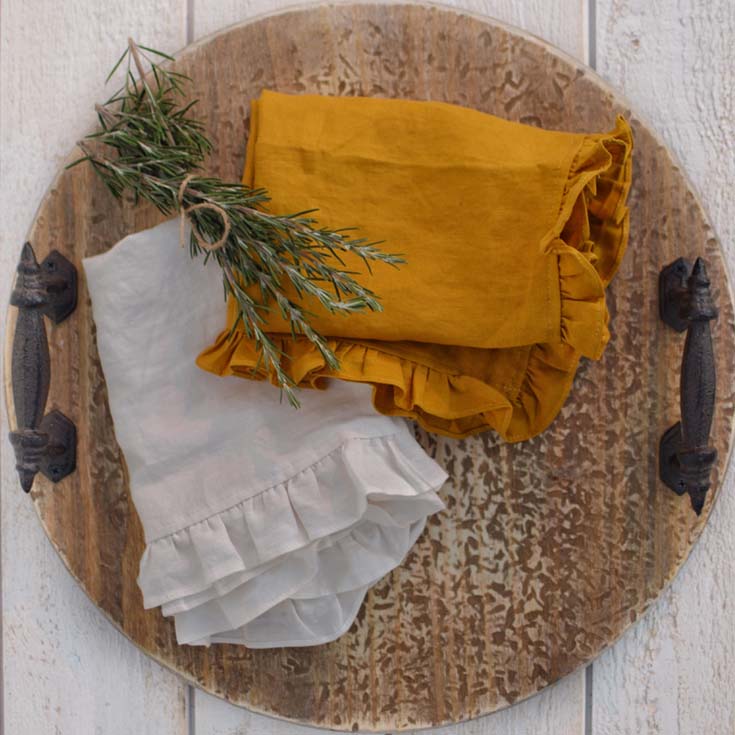 2 Hallstrom Home Linen Tea Towels
1. Giveaway requirements are for US residents.
2. You must visit each blogger's blog post and leave a comment on which item you would like to win. Also, mention what you would do with the item.
3. Please leave an email on one of your comments so that we know how to reach you if you win.
4. The giveaway will run through Tuesday, November 20, 2018, 11:30 pm PST.
Here are the Blog posts you must visit.