I am sharing all of my Amazon gift wrap ideas with you today so that you can get a head start on your Christmas wrapping too!
Just so you know, this is not a sponsored post! I just found so many fun things online that I had to share all of the beautiful packages with you.
Why I Wrapped the Same Gift with Amazon Gift Wrap
There are a few people on my Christmas list who will be receiving my book, A Home to Share, as a gift. I wasn't too excited to wrap them all exactly the same way, so I decided it made more sense to have fun and wrap them all differently!
I love wrapping gifts and I am a big believer that the more fun you have, the more fun the gift will be! So I ransacked my craft room to look for some fun items to adorn each gift.
Great Amazon Gift Wrap Items
This is what I found in my craft room. Most of the wrapping paper is new, as I bought it to use this year. The shiny red and silver are the best paper ever!
How to Wrap a Package in Four Different Ways
These packages are very easy to wrap but I wanted to share how I wrapped two of them.
one – Use red foil wrapping paper to wrap the package
two – Tie silver/gray ribbon around the package and tie in a bow
three – Tie copper bells together with silver and white bakers twine and tie around the bow (this hides the baker's twine)
four – Slip a bit of greenery under the ribbon
On this blog, I may sometimes use affiliate links, which means a small commission is earned if you purchase via the link. The price will be the same whether you use the affiliate link or go directly to the vendor's website using a non-affiliate link.
one – Wrap the package in brown craft paper
two – Tie tassel fringe trim around the package and secure it in a knot
three – Tie the gold and white baker's twine over the top of the tassel fringe trim
four – Tie a wooden snowflake and gold tassel to the baker's twine
A Fun Gift Wrap
Years ago I discovered that the new way to use wax seal was with a hot glue gun. Apparently, someone really smart came up with this idea because the old way of melting a wax candle and dripping it on paper was way too difficult. And didn't look great!
There are so many great-looking stamps and a lot of beautiful wax colors available. This is so easy to do and looks amazing on a letter, gift, or just about anywhere!
I have lots of wax seals but my favorite is this one, which says "with love".
All you need to do is put the wax stick in the glue gun and press out a circle of hot glue. Quickly press the wax seal on top of the ink and wait until the ink hardens. Gently remove the seal, and you will see a wonderful and personal message.
Creating a Gift Wrap Area
Wrapping gifts is a lot easier if you can designate a wrapping area for a few weeks. I have an area in my craft room all set up for wrapping. I am using an accessory table with my Dream Box 2 and added my favorite wrapping too, my wrap buddies!
All you need is a table (a folded one works great) and some wrap buddies and you are set!
If you are enjoying my blog, you can sign up to receive my blog updates here. .
Gift Wrapping Items
Watch My Amazon Live
Click here to watch any of my Amazon Live shows. All shows are recorded.
I want to share this show with you, titled Very Merry Deals for Your Home.
My favorite bloggers are also sharing their gift wrap ideas!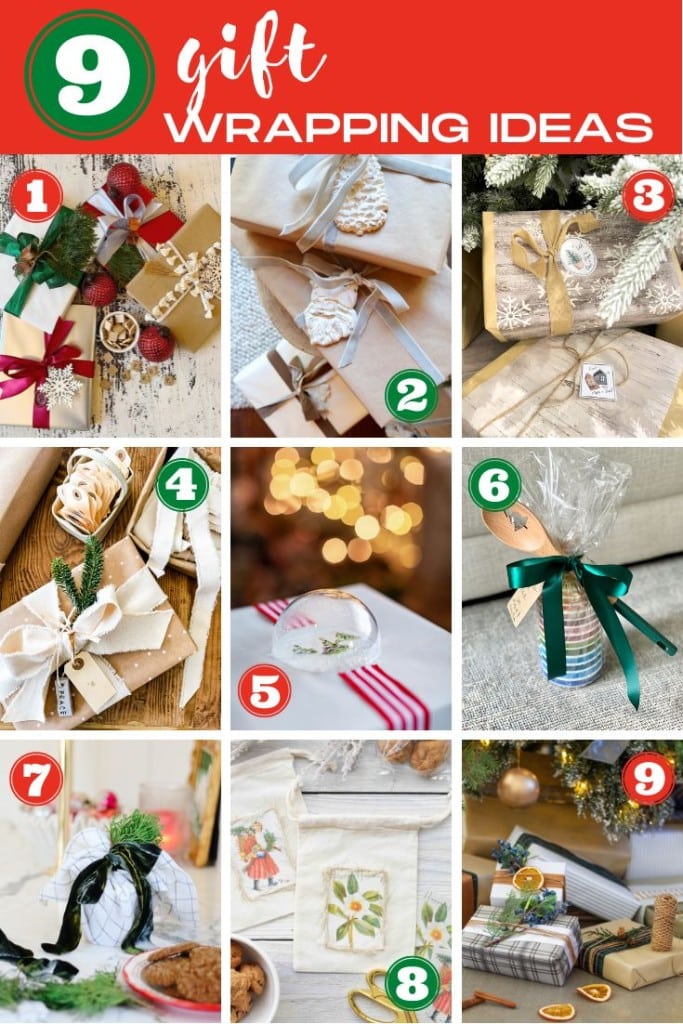 Blogger's Best Gift Wrapping Ideas
Pin the images below to your Holiday boards on Pinterest (just click the Pin button in the top left corner). You can also follow along with me on Pinterest!
For more real-time updates, follow me on Instagram @My100YearOldHome