25 Homemade Christmas Gift Ideas Made with Cricut
This is a sponsored conversation written by me on behalf of Cricut. The opinions and text are all mine.
I have created a round up of my favorite Cricut Homemade Christmas Gift Ideas. You can Make and personalize all of these gifts too!
My favorite part of Christmas is gift-giving and as you know, I love making gifts! I have been making homemade Christmas gifts for my family since I was eight and I can promise you there were some interesting gifts in those early years. (I am sure my siblings will agree!) The very first Christmas gift I made was felt comb cases. I cut them and glued them and wrote my sibling's names on them with a marking pen. Oh, how I wish I had a photo of my handcrafting at 8 years old!
Over the years I made quilts, stained glass, oil paintings, advent calendars, pillows, and more. I try to personalize my gifts whenever I can and I love using my Cricut machine. My
Cricut Maker
allows me to be so creative. Today I am sharing a round-up of 25 Homemade Christmas Gift Ideas Made with Cricut. Many of them are mine!
You can personalize all of these gift ideas with your Cricut machine, and I love them all.
Homemade Christmas Gift Ideas
My 100 Year Old Home
I made hundreds of crepe paper flowers this year with my Cricut Maker machine. I made eleven different types of flowers in all sorts of colors. Why not make a bouquet of flowers as a gift that lasts forever?
Reusable Water Bottles
My 100 Year Old Home
I am obsessed with Reusable Water Bottles and I made some as gifts for my friends who stayed with me at our Waco Airbnb. I even personalized them with the names of their Instagram accounts. I used Cricut Premium Vinyl and used a drawing of the front of our home as the logo on the bottles.
Personalized Tea Towels
My 100 Year Old Home
Personalized tea towels are the best gift for a kitchen! You can buy
solid flour sack dishtowels
and cut any design or message using Cricut Every day Iron On Transfer. These towels look so adorable in our Airbnb. You can design your own as homemade Christmas gifts this year too.
My 100 Year Old Home
I made these adorable
3D Trees
to decorate the table. I found the free pattern in the
Cricut Design Space
and I love how they came out.
I love Christmas music so I thought it would be fun to create a caroling musical theme at our table. I selected eight lines from my favorite Christmas carols and used Cricut Everyday Iron-On to add them to my placemats.
My 100 Year Old Home
I used my Cricut machine to make pantry labels for these awesome glass ring top jars. Aren't these the best canisters?
My 100 Year Old Home
To make this pillow I designed a Christmas tree with family names and used
Cricut Iron-on vinyl
material.
My 100 Year Old Home
You can personalize any stockings by making name tags. The tags for these stockings are made with
Cricut Premium vinyl
.
My 100 Year Old Home
I cut these ornaments on my
Cricut Maker
featuring photos from my son's wedding. Won't these look great hanging on their tree?
My 100 Year Old Home
Cricut is great for making stencils. So why not make a stencil for a pie crust? This would make such a great gift for a dinner party.
The best thing about this gift is you can make a personalized chalkboard or you can gift the chalkboard and include a few stencils with it!
My 100 Year Old Home
We all love bottles with labels and you can make them for oils, vinegar, or simple syrups as I did here! I made homemade vanilla this year and I am making vinyl lettering for the bottles too!
Place Cards
My 100 Year Old Home
I made this place cards for Friendsgiving and Thanksgiving this year. I used the Madina font and cut them from Cricut Kraft Board Foil material. Wouldn't it be great to bring a set of these as a hostess gift? Just include all of their family members in the set.
I made these pillow covers as a gift for my son and his fiance at the Engagement party. The roman numerals are their wedding date and California Hamptons was the theme for the Engagement Party.
My 100 Year Old Home
I made this felt pillow with my Cricut Maker machine and it was so easy since the machine did all of the cutting!
I made one with Poinsettias too!
I made these red and white vintage styled 3-D ornaments that are made from heavy cardstock. They are easy to make and I love how they turned out.
Dreaming of Homemaking
Everybody loves hot cocoa, and I love this personalized gift basket!
Dreaming of Homemaking
Advent calendars make the best gift!
Lydioutloud.com
Coffee gifts are the best! Everyone can use one and you can personalize everything.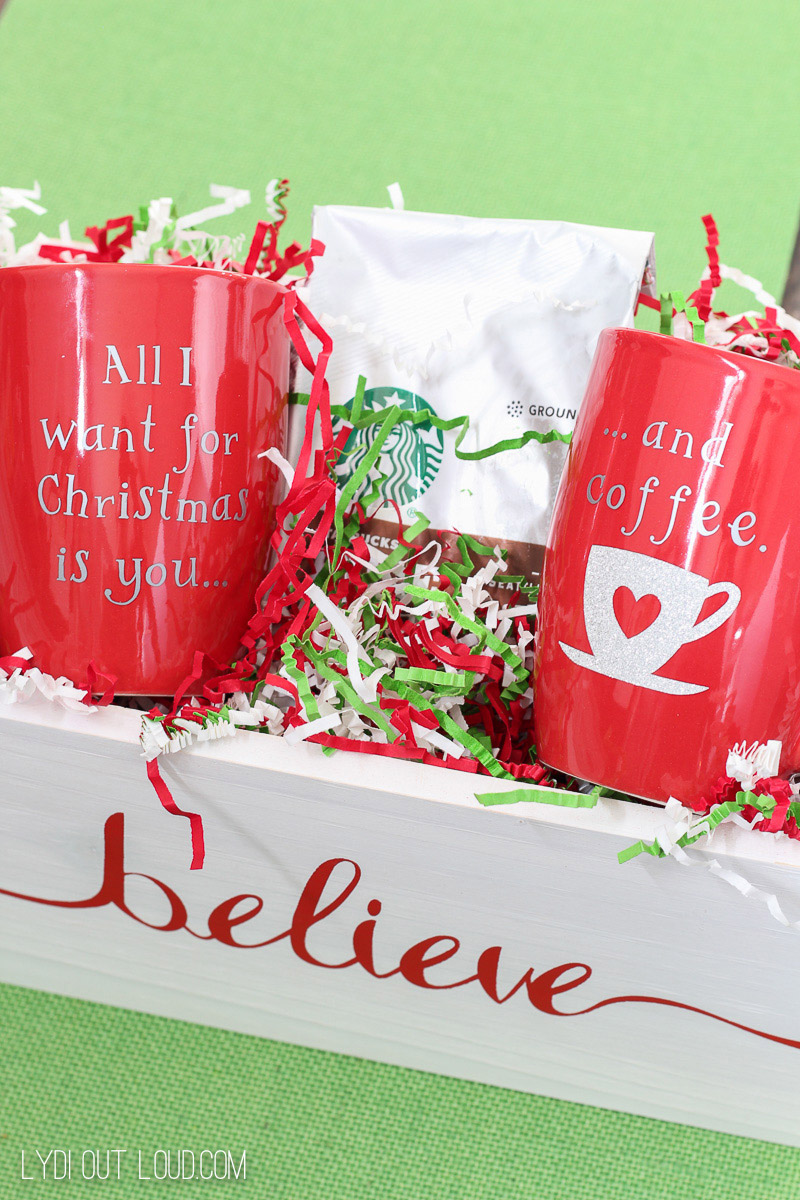 Lia Griffith
Gift tags make the perfect gift. Especially when you personalize them!
Hey, Let's Make Stuff
These are the cutest ornaments to highlight a baby's birth!
Hey, Let's Make Stuff
Treat boxes are the best way to package baked goods. The Cricut allows you to personalize these in so many ways!
Happiness is Homemade
I would love to make these for everyone in my family! I think I might make them personalized.
Handmade Holiday Tag
These gift tags are wonderful! How fun if you personalized them too! Lia Griffith always has the best ideas.
I hope you enjoyed these homemade Christmas gift ideas. I know I have some new projects to make this season!