The Best Classic Christmas Cookies
I love making cookies with royal icing every holiday season. How incredible are these classic Christmas Cookies for our Christmas party!
I have made a lot of classic Christmas cookies in my day, but I think that these might be my favorite. Let me show you how I made them!
Classic Christmas Cookies
I have always collected English Advertising Jars. Last year I saw a video on the Iron Orchid Designs website and I was inspired to use their stamps to make these vintage-style Classic Christmas cookies.
Today, I joined today with thirteen other bloggers who also shared their favorite homemade cookie recipes. Be sure to scroll to the bottom to all of these amazing cookies.
English Advertising Pots are one of my favorite things to collect. It is hard to believe that the beautiful jars were used only once and then pitched into the rubbish bin.
Thankfully someone unearthed one and the love affair with English Advertising Jars was born. I love them so much and am so grateful for the companies who were so thoughtful in using such beautiful packaging for their products!
Today I am sharing these classic Christmas cookies I made that share some of the art from these amazing English Advertising pots.
Iron Orchid Designs
I love Iron Orchid Designs. You all know how much I love to craft and I am always looking for new ideas that look amazing and are not hard to do. Iron Orchid Designs has the most incredible products for crafts and DIYs. Their designs are so creative, they are a company of wonderful people, and their products will easily help you to discover amazing new DIYs and crafts.
If you go to the IOD website you will find "DIY tools and tutorials to inspire your creative soul". They have decor moulds, decor stamps, and decor transfers to make fabulous items for your home.
Today I get to share how I made used their decor stamps to decorate my homemade classic Christmas cookies.
Where can you buy Iron Orchid Designs products? You can find the Very Merry stamp by searching in google for "MERRY & BRIGHT Iron orchid STAMP" and the IOD Crockery stamp here.
I used the Merry and Bright IOD Decor Stamp.
When I saw that Iron Orchid Designs Christmas stamps resembled the writing on my beloved English advertising pots, I was convinced I could make these classic Christmas cookies resemble the pots.
I think they turned out beautifully.
Each year, I look for a few new Christmas cookie recipes to try. Some have been keepers, and some have made a one-time appearance.
I always make my classic Christmas cookies every year. They are traditional sugar cookies with royal icing. I decorate them differently each year, but the recipe is the same. I have made them every year for … well, a lot of years.
This year I used Measure for Measure gluten-free flour and they turned out perfectly!
If you are gluten-free, you can still have these amazing cookies!
If you are enjoying my blog, you can sign up to receive my blog updates here. .
Tips to Make These Classic Christmas Cookies
four – while the cookies are cooling make the royal icing
five – pipe the edge of the cookies to create an outline
six – pipe the "flood" frosting inside the outline to cover the top of the cookie
seven – pipe the "flood" frosting inside the outline to cover the top of the cookie.
eight – Wait for the icing to harden (overnight) before you stamp the cookies.
nine – apply Wilton-colored gel to the back side of a glass baking pan. Using a brayer, roll the gel color out so that it is evenly distributed. Press the stamp into the gel color until evenly coated and then press onto the dried royal icing. You can also roll the brayer directly onto the stamp if necessary.
Gently press the stamp on top of the royal icing. Don't press too hard or the icing will stick to the stamp.
Classic Christmas Cookie Recipes
Below is my sugar cookie recipe that I have used many times. The Royal Icing recipe with meringue powder is great too.
Yield: 24 cookies
The Best Sugar Cookies
This sugar cookie recipe is my go-to recipe every time. It's almost flawless!
Additional Time
10 minutes
Ingredients
2 cups all-purpose flour (or gluten free 1 to 1 or measure to measure flour)
1/4 teaspoon salt
1/2 teaspoon baking powder
1/2 cup (1 stick) unsalted butter
1 cup sugar
1 large egg, lightly beaten
1 tablespoons milk
1 TBL lemon juice
1/2 teaspoon pure vanilla extract
Instructions
Mix together flour, salt, and baking powder in a medium bowl. In the bowl of an electric mixer fitted with the paddle attachment, cream the butter and sugar; add dry ingredients, and mix until incorporated.

With the mixer running, add egg, milk, lemon, and vanilla; mix until incorporated. Transfer dough to a work surface. Shape into 2 discs, cover with plastic wrap and refrigerate for at least 1 hour.

Preheat oven to 350 degrees. Line baking sheets with nonstick baking mats or parchment paper; set aside.

On a lightly floured work surface, roll out dough to 1/8-inch thickness. Cut into desired shapes, and transfer to prepared baking sheets, leaving an inch in between. Leftover dough can be rolled and cut once more. Bake until lightly golden, about 10 minutes; do not allow to brown. Transfer to wire racks to cool.

Decorate with Royal Icing.
Notes
I made this recipe with measure to measure gluten-free flour. The Xantham gum is included in the flour and the cookies came out perfectly.
Yield: 4 coups of icing
Royal Icing
Royal icing is used for both an outline and frosting the cookie's surface
Ingredients
4 cups confectioner's sugar, sifted
3 TBL meringue powewder (NOT plain egg white powder)
9-10 TBL room temperature water
optional: gel food coloring
Instructions
Pour confectioner's sugar, meringue powder, and 9 TBL of water into the bowl. Use a hand mixer or stand mixer fitted with the whisk attachment. Beat together the icing ingredients at high speed for two minutes.
The trick to royal icing is its thickness. For the outline icing, when you drag a knife through the icing, the knife line should disappear in 8 seconds. If it's too thick, add 1 TBL of water until the knife drag is 8 seconds. For the flood icing (inside the outline) the knife drag time is 12-15 seconds.
Note: royal icing will thicken the longer you beat it. If it gets too thick add water, if it gets too thin, add confectioner's sugar.
If you are adding color to your icing, you can divide the batch into smaller bowls and add gel color to each bowl.
Icing usually takes around four to six hours to completely dry.
Look at These Cookies!
What I love about these recipes is that they make gorgeous cookies that taste amazing too!
That's a double bonus!
I think this year's version might be the favorite that I've ever made.
I am sure that Santa will be thrilled to find one of these beauties waiting for him on Christmas Eve. If you have a Christmas gathering, definitely give these a try. Their beauty is deceiving. They are not that hard to make, and your family and friends will be amazed at your baking talent!
More Amazing Christmas Cookie Recipes
14 Christmas Cookie Recipes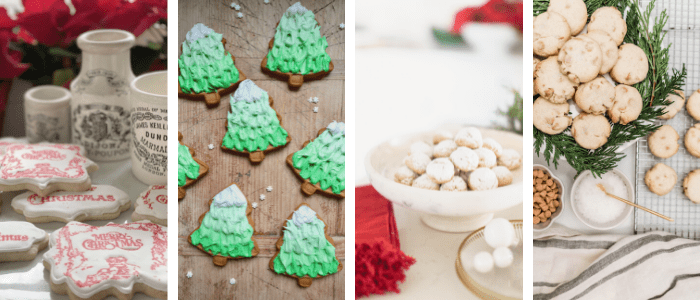 Classic Sugar Cookies For Christmas // My 100 Year Old Home
Christmas Cookie Hack // My Sweet Savannah
Mexican Christmas Cookies // Just Destiny
Salted Butterscotch Shortbread // Life Is Better At Home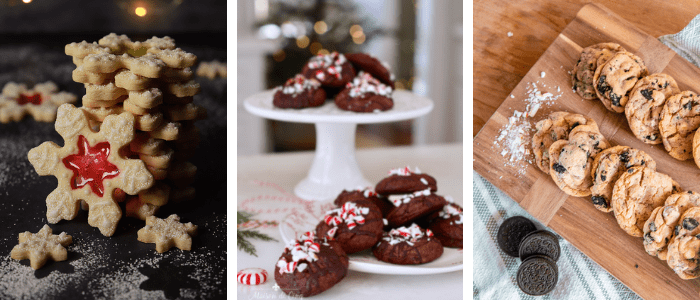 Stained Glass Sugar Cookies // Paint Me Pink
Chocolate Peppermint Crunch Cookies // Maison de Cinq
The Yummiest Oreo Cookies and Cream Cookies // Twelve On Main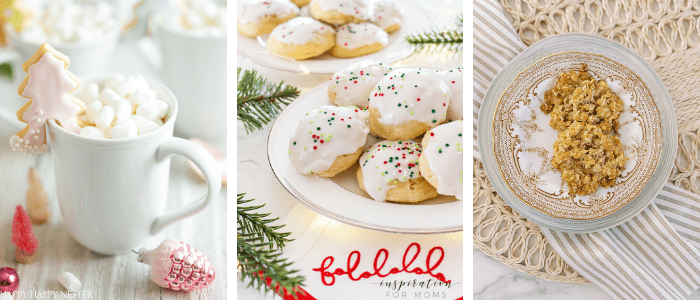 Hanging Mug Topper Cookies // Happy Happy Nester
Italian Christmas Cookies // Inspiration For Moms
Anzac Biscuit Cookies // Finding Lovely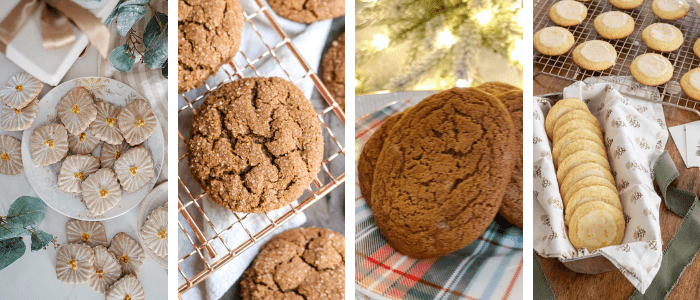 How to Make Easy, Mild Gingerbread Cookies (no molasses!) // The DIY Mommy
The Best Ginger Molasses Cookies // Modern Glam
The Best Soft and Chewy Ginger Cookies // The Happy Housie
Orange Glazed Sugar Cookies // Sincerely, Marie
Christmas Inspiration
Watch Me Live!
I love having the chance to talk with all of you about all of the things that I love. I shared some amazing Early Black Friday Deals here.
Here are more lives! Just tap on the links to take a peek.
Pin the images below to your decor boards on Pinterest (just click the Pin button in the top left corner). You can also follow along with me on Pinterest!
For more real-time updates, follow me on Instagram @My100YearOldHome