Thanksgiving Colors and Table Decor Ideas
Fall is perhaps my favorite season because of the colors. I am sharing a table I created using the most gorgeous Thanksgiving colors!
This year, why not add a little extra color to your celebration? From the traditional orange and brown to something a little more festive, I am sharing some ideas for incorporating Thanksgiving colors into your holiday table decor.
Does it seem early to be thinking about your Thanksgiving table? It's not because today I am going to share a fun way you can pick your Thanksgiving colors for your table. Because once you have your colors, the rest is easy!
My new book, A Home to Share, is available now! Click here for more details!
A New and Fun Way to Pick Your Thanksgiving Colors
What's the first thing I think about when it is time to set a table? My color palette of course. Have you ever used a Color Palette Generator? It's an online tool that you can use to identify colors in one of your photos.
Or any photo for that matter.
Let me show you how a Color Palette Generator works. I zoomed in on this photo and cropped two up-close photos. The top two photos are my inspiration photos. Then I used the Adobe Palette Generator which created the row of colors just below. Aren't these colors fabulous?
So why use a color palette generator? Sometimes I see a photo and I am so inspired I can't think. It might be a table but it is likely something totally unrelated. But often there is so much going on in the that I can't figure out what I actually like about it.
Well, you can use a color palette generator to decipher the colors in a photo. And determine your Thanksgiving colors.
So how does this help you?
Let's say you like this table arrangement I did earlier this year. And perhaps you were thinking of doing something similar on your Thanksgiving table.
All you need to do is take a screenshot of the photo focusing on the colors you love. Then upload your photo(s) using an online Color Palette Generator and look how amazing this is!
You can print out your new color palette and use the color chart as your inspiration for your table. You can shop your home first for tableware, linens, candles, and more. Then take the color chart with you when you are selecting flowers and anything else you may want to find for your table.
Do you see how easy it is to determine the Thanksgiving colors for your table? You can use any photo you want!
Thanksgiving Color Palette Generator
There are a lot of color palette generators online. Canva and PicMonkey have one. I use the Adobe Create Color Wheel and Coolors. My preference is Coolors because it is free and really easy to use. What I like most about it is you can click on the colors in your photo and pick the ones you want to feature. I think that is a must-have!
As soon as you have picked your colors, click on Create Collage and this is what you get. Just download the photo to your computer.
On this blog, I may sometimes use affiliate links, which means a small commission is earned if you make a purchase via the link. The price you pay will be the same whether you use the affiliate link or go directly to the vendor's website using a non-affiliate link.
Thanksgiving Dinnerware and Table Ideas
I set this table as an inspiration for Thanksgiving. I used brighter colors than usual and I love it. Seriously, who said I always had to go with brown and orange, right?
So what do you think?
Most of the items on this table I already owned, with a few exceptions. The fresh flowers are all Trader Joe's flowers and I love them. I just purchased the vintage ironstone bowl (I used it as a vase) online. It was an Instagram sale @shadevintagehome. The Italian gold wine glasses look vintage (but they are not) and they are available and very inexpensive!
If you are enjoying my blog, you can sign up to receive my blog updates here. .
I have a funny story about these plates. I bought two of them about ten years ago and I have looked for additional ones ever since. The smartest thing I did was register them on Replacements.com. Last month I got an email that they had found four of them.
It only took nine years but I finally own six of these fabulous plates! All of the items seen in this photo (except for my hard-to-find-plates, hehe) are linked here.
Don't you think these items make great Thanksgiving tableware? (And just so you know, there are three more fabulous tables that my blogger friends shared below. Be sure to scroll down and take a look!)
You might have seen last year when I made the ceramic planters on the table. I also made a cake plate to match and they are both a similar color to the top color in the color chart. I linked the DIYs.
Sometimes I like to mix things up, so I added my favorite light pink napkins. What do you think?
Amazon Has Great Tableware at Great Prices!
I buy a lot of my tableware from Amazon, including items I used to set this table. Amazon is my go-to spot whenever I am looking for new tableware.
Everything You Need To Set Your Thanksgiving Table
I put together a list of everything you need for your Thanksgiving table in one place.
I also created a list of what you might need for your Farmhouse Thanksgiving table.
More Creative Thanksgiving Table Ideas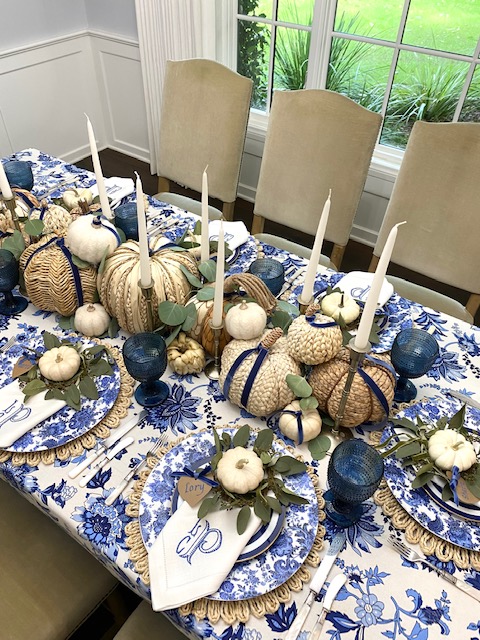 My Unique Thanksgiving Table: Blue, White & Straw | To Have + To Host
Here's how I created this blue and white Thanksgiving table using natural elements like straw pumpkins, dried artichokes, and fresh eucalyptus sprigs for a unique take on this holiday table setting!
Decorate a Dining Room Table for Thanksgiving | Happy Happy Nester
Here are some simple tips and tricks to guide you on how to decorate a dining room table for Thanksgiving this upcoming season!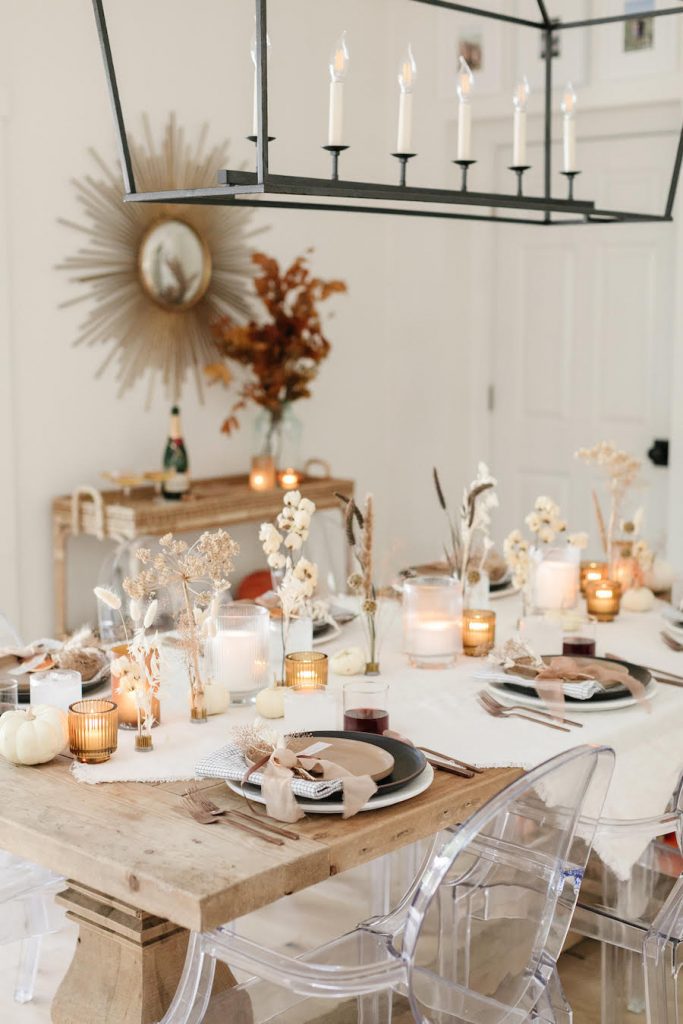 How To Set A Thanksgiving Table Like A Pro | Modern Glam
My friend, Meghan Murray is an event planner and hosts the most fabulous celebrations! Today she is sharing how, with just a few tweaks, you can make your Thanksgiving table look like it's straight out of a magazine."
Pin the image below to your decor boards on Pinterest (just click the Pin button in the top left corner). You can also follow along with me on Pinterest!
For more real-time updates, follow me on Instagram @My100YearOldHome