Fall Table Centerpiece for a Gathering
I was so fortunate to have held a book signing at my friend KariAnne's home and I wanted to share the Fall Table Centerpiece for our Gathering.
KariAnne is an extremely talented blogger from Thistlewood Farms and lives in a beautiful home in Dallas (McKinney) Texas. We hosted over 60 friends at her home for a book signing and loved creating this fall table centerpiece and charcuterie spread.
My new book, A Home to Share, is available now! Click here for more details!
The Book Signing with KariAnne at Thistlewood Farms
Oh my gosh! The book signing was amazing and I absolutely loved it. I met so many incredible women and I loved that we all share so many similar interests.
I want to personally thank each and every person who came tonight. And KariAnne, you and Denny are so amazing to open up your home and host this event.
Thank you, my friend! You are the best.
The Fall Table Centerpiece
Last night at the book signing I was joined by 65 people and we all enjoyed food, fun conversation, and a lot of laughs.
Maryliz and I created the food display by creating a light sampling of charcuterie and some desserts. It is amazing that we prepared just about the right amount of food! It was so good!
We also made the fall table centerpiece using flowers from Trader Joe's. The total cost for the flowers was $52 and the arrangement only took about forty minutes to make!
We used one of Karianne's beautiful footed white vases and fall-colored flowers. I selected flowers that fit in an orange and burgundy-pink color scheme. We also used large magnolia leaves to add a bit of a rustic feel.
For the arrangement, Maryliz cut the flowers and created an arrangement that was as tall as it was wide. I absolutely love it.
On this blog, I may sometimes use affiliate links, which means a small commission is earned if you make a purchase via the link. The price you pay will be the same whether you use the affiliate link or go directly to the vendor's website using a non-affiliate link.
Doesn't this finger food look great? I love to use cake plates to create varied levels on a table to display the food.
Look at KariAnne's beautiful dining room! Can I just say that I love the color? Head to her blog, Thistlewood Farms, to see more of her wonderful home.
The Dining Room and Fall Table Centerpiece
More Fall Floral Arrangements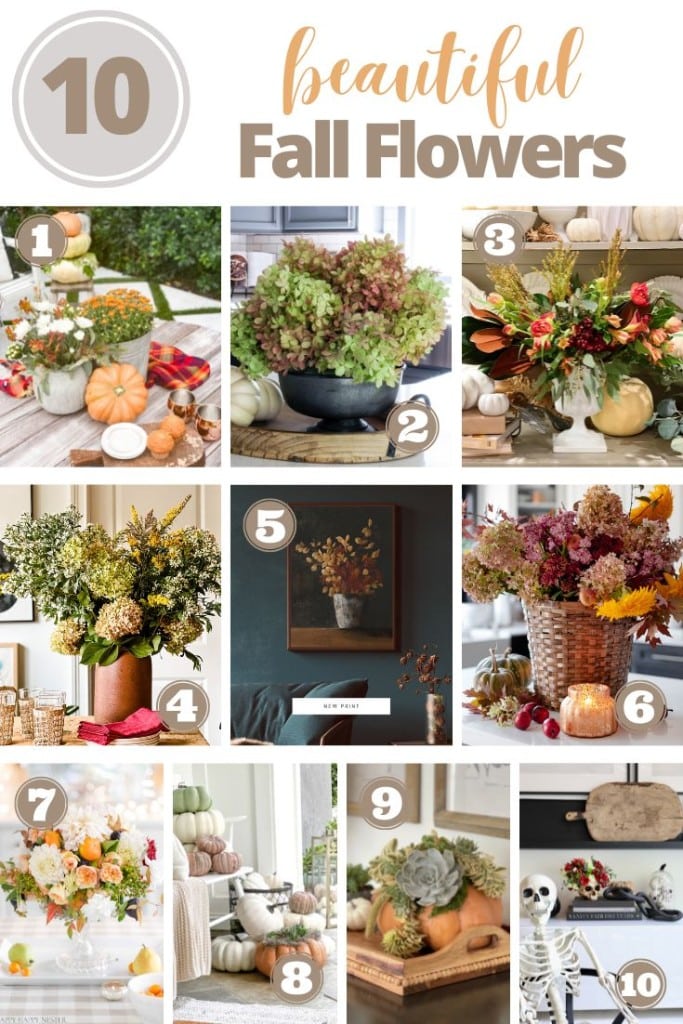 Blogger's Best Flower Arrangement
If you are enjoying my blog, you can sign up to receive my blog updates here. .
Watch My Amazon Live
Click here to watch any of my Amazon Live shows. All shows are recorded.
I love this Amazon Live show we did titled "Think You Hate Faux Flowers? I can change your mind!"
Pin the images below to your boards on Pinterest (just click the Pin button in the top left corner). You can also follow along with me on Pinterest!
For more real-time updates, follow me on Instagram @My100YearOldHome