Spring Salad Recipe with Spice-Rubbed Salmon
Spring inspires me to start making fresh and flavorful salads. This is one of my favorites, spring salad with spice-rubbed salmon!
This recipe is a great way to incorporate some of the best seasonal ingredients like grilled corn, carrots, cabbage, avocado, tomatoes, and mushrooms together with a simple spice-rubbed salmon to create a tasty and healthy meal.
Eating the Rainbow
"Eating the rainbow" is a phrase that refers to consuming a variety of colorful fruits and vegetables that provide a range of essential nutrients for good health. The colors of fruits and vegetables indicate the different phytonutrients they contain, which have a range of health benefits.
Red fruits and vegetables like tomatoes, watermelon, and strawberries are rich in lycopene, an antioxidant that has been linked to a reduced risk of heart disease and some cancers.
Orange and yellow fruits and vegetables like carrots, sweet potatoes, and mangoes contain beta-carotene, which can help to promote healthy skin and eye health.
Green fruits and vegetables like kale, spinach, and broccoli are packed with vitamins, minerals, and antioxidants that support overall health.
Eating the rainbow ensures that your body is getting a diverse range of nutrients that can help to support good health and prevent chronic diseases. This spring salad with spice-rubbed salmon checks a lot of colors off of the rainbow!
On this blog, I may sometimes use affiliate links, which means a small commission is earned if you purchase via the link. The price will be the same whether you use the affiliate link or go directly to the vendor's website using a non-affiliate link.
Warm Salad Toppings
I love to combine warm and cold toppings in a salad. For this spring salad, I cooked the corn, mushrooms, and spice-rubbed salmon in a pan on the stovetop.
I started with the corn. Add about a tablespoon of olive oil to the pan and once the pan is heated, add a cup of frozen corn, yes, frozen corn to the pan. If you love corn, add more, if you don't love corn, you can leave it out! Cook the corn until it begins to brown. There are a few reasons why I use frozen corn for recipes that call for corn:
Convenience: Frozen corn is readily available year-round and can be used straight out of the freezer without the need to thaw it first. This can save time and effort compared to using fresh corn, which needs to be shucked, cleaned, and cooked.
Consistency: Frozen corn is consistent in texture and flavor, which can be important for recipes where you want to ensure even cooking and uniform taste. Fresh corn can vary in sweetness and tenderness, depending on the season and growing conditions.
Moisture: Frozen corn retains moisture better than fresh corn, which can help prevent it from becoming too dry or tough when pan-fried. This is especially important if you are using a high-heat cooking method like pan frying.
Next, I used the same cooking process above for the mushrooms. I like to buy pre-sliced mushrooms because they are easier to clean. TIP: Mushrooms are very porous and absorbent, they easily soak up water and become mushy and less flavorful, so don't wash your mushrooms. Brush off any dirt or debris using a soft-bristled brush or a damp paper towel. I added about a tablespoon of olive oil to the pan and once the pan is heated, add about a cup of the sliced mushrooms. Mushrooms cook down, so add a little more than you think you will need.
For the salmon, I removed the skin and then cubed the salmon. I cut the pieces into about 2″ squares. I mixed together 1 TBL each of smoked paprika, garlic powder, brown sugar, and a pinch of salt and then tossed the salmon cubes in the seasoning until coated. Same process as before, heat about a tablespoon of olive oil in the pan and then add the spice-rubbed salmon pieces. Cook through until the outside is browned and when you cut into a piece, there are no dark pink spots. And, forgot to take photos of this step, oops!
If you are enjoying my blog, you can sign up to receive my blog updates here. .
Salad Toppings
I made this easy on myself by using boxed spring salad mix, already sliced carrots and sliced purple cabbage.
Get creative with the vegetables that you and your family like. Here is what I included in mine:
Carrots
Purple cabbage
Cherry tomatoes
Avocado
Sauteed mushrooms
Sauteed corn
Pan-cooked spice-rubbed salmon cubes
Edible flowers, pansies, and marigolds
Assembling the Plates
When I assembled this salad, I wanted to show each of the ingredients and let my family/guests mix the salad together on their own, so I serve the dressing on the side.
Start with a bed of greens. I used spring greens for this salad. As you add items to the plate, make sure to make room for everything you will add.
This spring salmon salad is not only delicious but also packed with nutrients. Salmon is an excellent source of protein and omega-3 fatty acids, which are essential for heart and brain health. The grilled vegetables add a variety of vitamins and minerals, while the avocado provides healthy monounsaturated fats.
The cilantro avocado dressing is the perfect finishing touch to this salad. It's creamy and flavorful, but also light and refreshing. You can adjust the amount of cilantro to your liking, depending on how much you enjoy the taste.
Overall, this spring salmon salad is a great way to enjoy the fresh flavors of the season while also nourishing your body with healthy ingredients. It's easy to make, beautiful to serve, yummy to eat, and can be customized to suit your preferences, so give it a try and see for yourself!
The Recipe
Yield: 4 Salads
Spring Salad with Spice-Rubbed Salmon
A colorful and healthy salad with lots of veggies and a delicious salad dressing.
Ingredients
4 cups of Spring Greens
1 cup Shredded Carrots
1 cup of shredded Purple Cabbage
20 Cherry Tomatoes, cut in half
2 Avocados, sliced
1 Cup of Frozen Corn
1 Cup of Sliced Mushrooms
1 Large Salmon Filet, skin removed and cubed
Edible Flowers for garnish, Pansies and Marigolds
Spice Rub for Salmon (if you enjoy spice, you may want to double this)
1 tablespoon Smoked Paprika
1 tablespoon Garlic Powder
1 tablespoon Brown Sugar
Avocado, Cilantro Dressing
1 Avocados
1 handful Cilantro
1/2 cup Olive Oil
1 clove of Garlic
Juice of 1 lime
Pinch of salt/pepper
Instructions
To make the salad dressing, add one avocado, a handful of fresh cilantro, a clove of garlic, the juice of one lime, and a pinch of salt and pepper to a blender or food processor. Blend until smooth, adding a little more oil if needed to thin out the dressing. Season to taste. Refrigerate until ready to use.
Remove skin from salmon and cut into cubes. Sprinkle spice rub onto salmon and coat thoroughly. Set aside.
1. Start with the cooked items, first corn. Add 1 tablespoon olive oil to a heated pan, add frozen corn, and cook through until corn is browned. Set aside.
2. Using the same pan, heat 1 tablespoon olive oil and add sliced mushrooms, cook until mushrooms are browned and cooked through, but not limp.
3. Using the same pan as the corn and mushrooms, add 1 tablespoon of olive oil to the heated pan and add spice-rubbed Salmon. Cook until the salmon is browned on the outside and the center of the cube is cooked through (not dark pink).
Salad Assembly - I added each salad topping as an individual item on top of the salad instead of scattering or tossing so that each component could be seen and the salad could be dressed and combined individually.
1. Add greens to each of the plates.
2. Add shredded carrots to each of the plates.
3. Add purple cabbage to each of the plates.
4. Add chopped cherry tomatoes to each of the plates.
5. Add sliced avocado to each of the plates.
6. Add the cooked corn to each of the plates.
7. Add the cooked mushrooms to each of the plates.
8. Add the cooked salmon to each of the plates.
9. Serve Avocado Cilantro Dressing on side.
Garnish with edible flowers
This is a spring salad recipe that you will want to keep on hand all spring and summer. Get creative and add or subtract your own vegetables or protein. I'd love to know how you make it your own!
Here are eight more amazing spring salad recipes!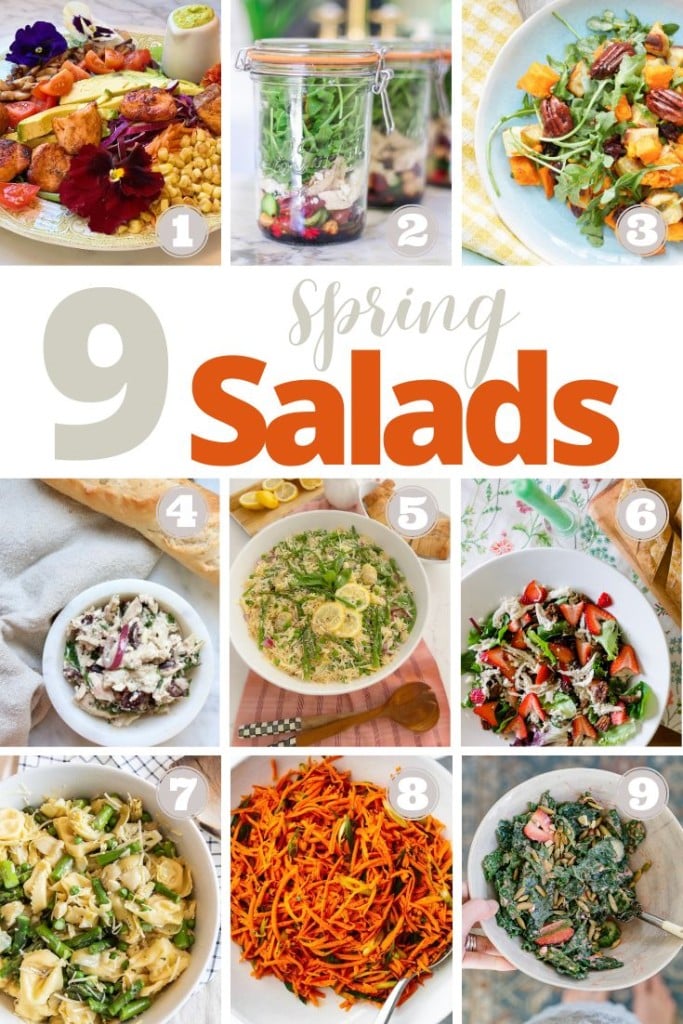 Blogger's Best Spring Salad Recipes
Watch My Amazon Live
Pin the images below to your boards on Pinterest (just click the Pin button in the top left corner). You can also follow along with me on Pinterest!
For more real-time updates, follow me on Instagram @My100YearOldHome