My Favorite Outdoor Dining Table
I love to create the perfect table for easy outdoor dining. Today I set a colorful table that might be my favorite outdoor dining table ever.
I used my favorite color palette – copper, orange, and pink – and created a very colorful table for a family dinner. Our back porch made for the perfect outdoor setting.
A Colorful Outdoor Dining Table
I love color. And this table has plenty of it! The subtle copper chargers and candlesticks are paired with pink plates and colored glassware. And the wood chargers (made from napkins) are an excellent match to the brightly colored salad plates.
The florals are from my favorite grocery store, Trader Joe's, and the combination of oranges and subtle pinks tie the entire table together.
How to Create This Outdoor Dining Table
For years I have acquired dishware and glassware at flea markets, estate sales, and on sale at large home goods stores. So when it comes time to create a table, I head into our butler's pantry and start pulling out items that I think will lend to a very fun table and dinner party.
This table was especially fun to create.
On this blog, I may sometimes use affiliate links, which means a small commission is earned if you make a purchase via the link. The price you pay will be the same whether you use the affiliate link or go directly to the vendor's website using a non-affiliate link.
As you can see, I used a lot of different items on this table. It's the perfect combination of old and new.
My favorite part in creating this table is what I call the scatter … the numerous fruits that are in the vintage compote bowls and decorating the tabletop. The Scatter is all of the fun stuff that brings the table alive!
Setting the Table
I took photos of the table each time I added another item. I think this helps to show how easy it is to build a table.
I started with some wood placemats/charger plates that I made last year. They are actually cut pieces of wood that I covered with paper napkins. To see how to make these, just click here.
Then I started layering my new glass copper chargers, plates, and more. When I first started this table I didn't know which plates I would use. I knew my color theme … pinks and oranges … but that was it, so I just started trying out different combinations of plates.
What You Need to Create This Table
Who Knew Orange and Pink Could Look So Great Together?
Adding Place Cards to My Outdoor Dining Table
A few years ago I cut some wonderful place cards on my Cricut machine and I love to use them even now! I cut them from Foil Cardstock and I think I have probably used them at least twenty times.
To learn how to make these place cards, read the blog post here.
If you are enjoying my blog, you can sign up to receive my blog updates here. .
Watch My Amazon Live
Click here to watch any of my Amazon Live shows. All shows are recorded.
Today I am sharing everything I used to make this beautiful table! Join me at 11:00 am PST and anytime thereafter for a very fun show.
Check Out More Outdoor Dining Ideas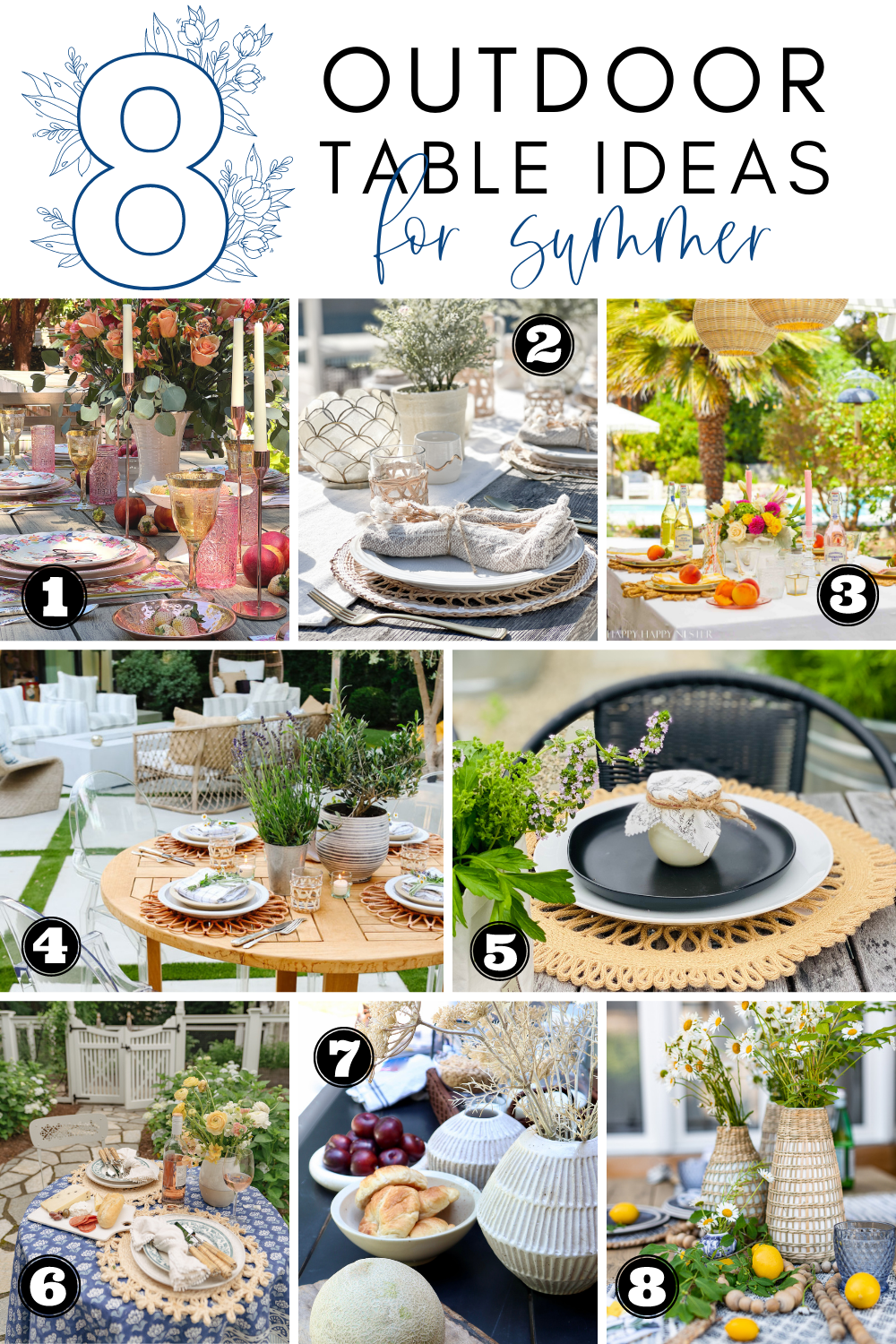 Pin the images below to your boards on Pinterest (just click the Pin button in the top left corner). You can also follow along with me on Pinterest!
For more real-time updates, follow me on Instagram @My100YearOldHome