My Favorite Halloween Sugar Cookies
I love Halloween parties and I love to make finger foods and desserts. These Halloween Sugar Cookies are the best!
Halloween Treats are so fun to make. I don't make treats for the trick-or-treaters because wrapped candy works best for us. But we always have soup and sweets available for our neighborhood friends and we love sharing these Halloween Sugar Cookies with them.
My new book, A Home to Share, is available now! Click here for more details!
The Best Halloween Sugar Cookies
Every season I make sugar cookies. This fall, I already made some Pretty Fall Cookies which are sugar cookies with edible metallics.
I thought it might be fun to make some Halloween sugar cookies too! So I went back to my traditional way of decorating cookies with my decorating tips and royal icing!
I am not sure what it is about sugar cookies. Oh wait, it's probably the sugar! But these are absolutely my favorite cookies of all time.
On this blog, I may sometimes use affiliate links, which means a small commission is earned if you make a purchase via the link. The price you pay will be the same whether you use the affiliate link or go directly to the vendor's website using a non-affiliate link.
Fun and Decorative Halloween Cookies
You might have noticed I just had to highlight my pink and orange fall theme with my cookies too. I know they are unexpected but aren't they fun?
How to Make Halloween Sugar Cookies
Do you know what the trick is to baking cookies? It's simple.
If you want them to cook evenly then you need to make sure every cookie is the same thickness. How do you do that? With this rolling pin! Do you see the little ledge on the outside? That is what makes sure your dough is all the same width!
I have a lot of pumpkin-shaped cookie cutters so I picked three, made some dough, and cut out a lot of pumpkin cookies.
Here is a quick tip, I always bake my cookies less than the time suggested. I don't like brown edges so I watch them carefully! My recipe called for ten minutes, but I cooked mine for around 8 minutes.
How to Decorate Halloween Sugar Cookies
Before I get into the details of cookie decorating, I do want to remind you that I am not a trained or professional cookie decorator. I have probably decorated sugar cookies less than ten times and I usually just wing it. Hehe.
There are two different ways that I like to decorate sugar cookies. They are buttercream frosting and royal icing. For these, I wanted some detail in the decorating, so I used Royal Icing.
How to Mix the Icing for Royal Icing Cookies
Ideally, you want two different types of icing consistency to decorate your cookies. The first is called Flood Icing. This is what I call the base coat. There is a trick you can use to get the right consistency to be able to use the flood icing for the outline and to fill in the outline with icing. It's called the 10-second rule. Once your icing is mixed, take a sharp knife and cut about an inch down and count how many seconds it takes for the icing to come together and the "cut" to disappear. For the right "flood icing" the "slice" in the icing should disappear in ten seconds. The consistency of the frosting is determined by the amount of water added to the Royal Icing mix.
The second consistency is what I call decorative icing. This is the icing you will pipe top to decorate the top of the Royal Icing cookies. It's the icing I used for the dots, the outline and curly accent, and the flowers in the photo above.
Just so you know, when I was mixing the icing, I used five tablespoons of water for the decorative icing and three more tablespoons for the flood icing. This is only a guideline for you to use. I mixed the decorative icing first and then removed it from the bowl. Next, I added more water to make the flood icing.
How to Use Flood Icing
It's very easy to use Flood icing because it is only two steps. The first step is to pipe an outline around the outside edge of the cookie.
The second step is to apply more pressure to fill inside the outline.
Here are more photos of the flood icing. To make polka dots, add dots of flood icing of a different color, immediately on top of the flood icing (before it dries).
Next, let the flood icing dry, and then add the decorative icing on top.
I had some fun decorating with both the pink and orange icing!
And obviously, these are not perfect. Which is totally fine by me!
Yield: 16 cookies
The Best Sugar Cookies with Royal Icing
These sugar cookies are light and flaky and have a slight taste of lemon. I love how they taste!
Additional Time
20 minutes
Ingredients
Sugar Cookies
2 cups all-purpose flour
1/4 teaspoon salt
1/2 teaspoon baking powder
1/2 cup (1 stick) unsalted butter
1 cup sugar
1 large egg, lightly beaten
1 tablespoons milk
1 TBL lemon juice
1/2 teaspoon pure vanilla extract
Royal Icing
5 tbl warm water
3 TBL Meringue Powder (with vanilla)
4 cups Powdered sugar
Instructions
Whisk together flour, salt, and baking powder in a medium bowl.
In the bowl of an electric mixer fitted with the paddle attachment, cream
butter, and sugar; add dry ingredients, and mix until incorporated. With the mixer running, add egg, milk, lemon, and vanilla; mix until incorporated.

Transfer dough to a work surface. Shape into 2 discs, cover with plastic wrap and refrigerate
for at least 1 hour.

Preheat oven to 350 degrees. Line baking sheets with nonstick baking mats or
parchment paper; set aside.

On a lightly floured work surface, roll out dough to 1/8-inch thickness. Cut
into desired shapes, and transfer to prepared baking sheets, leaving an inch in
between. Leftover dough can be rolled and cut once more.

Bake until lightly golden, about 10 minutes; do not allow to brown. Transfer to wire racks to cool.

To make Royal Icing, beat all ingredients together until icing forms peaks (about 8 minutes with a heavy-duty mixer, 10 - 12 minutes with a hand mixer). Add additional water until the desired thickness.

If you want the icing to outline and fill then use the 10-second rule. The test is done by dragging the tip of a knife across your frosting, about 1" deep. If the surface of the icing smooths over in roughly ten seconds, then it's ready for use.

What's so great about this thicker icing is you can use the same icing for the outline and for the filling in.



Serving the Halloween Sugar Cookies
I love setting the cookies out on a table so my guests can grab one throughout the evening. They are so delicious but almost too cute to eat!
If you are enjoying my blog, you can sign up to receive my blog updates here. .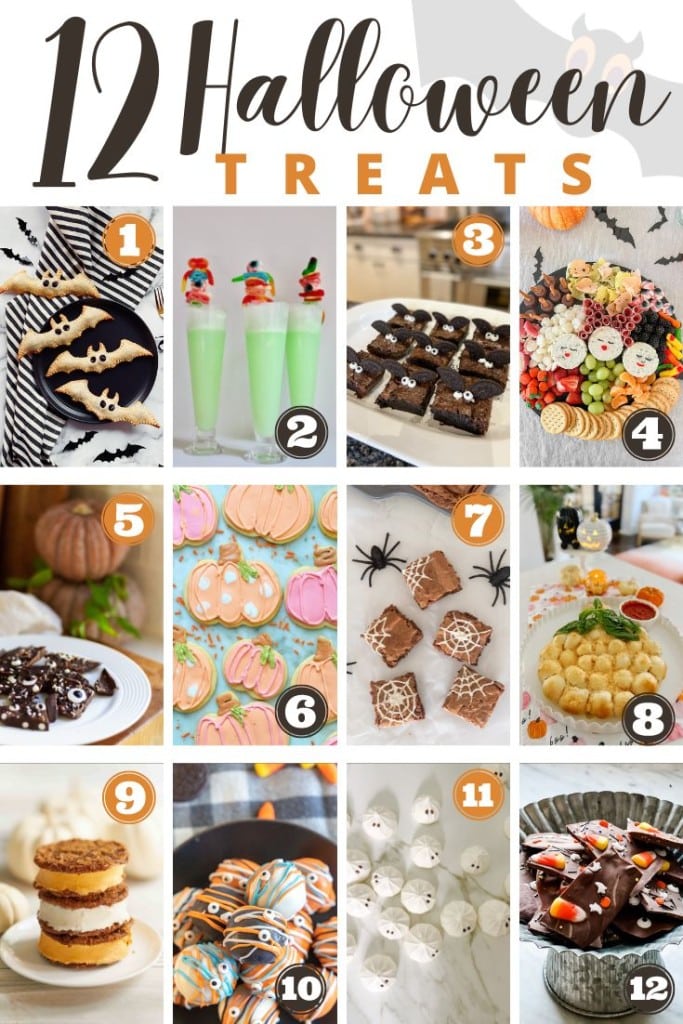 Blogger's Best Halloween Treats
Watch My Amazon Live
Click here to watch any of my Amazon Live shows. All shows are recorded.
Today I thought you might enjoy my Amazon Live show titled How to Make Beautiful Fall Cookies.
Pin the images below to your boards on Pinterest (just click the Pin button in the top left corner). You can also follow along with me on Pinterest!
For more real-time updates, follow me on Instagram @My100YearOldHome