How to Make Pretty Fall Cookies
These might be the prettiest fall cookies I have ever made! I changed things up along the way and yet they are absolutely gorgeous!
I had a plan for these fall cookies and then decided at the last minute to pivot in a different direction. If you only knew how often I change my mind when I am cooking and crafting! I am so happy with the way these turned out. Can you guess what I used to decorate them?
Fall Cookies
To make these gorgeous cookies I used edible dust and a stencil. Yes! I bought a set of edible metallic dust, which is used in cooking desserts frequently, and I used a leaf stencil for the design.
The cookies above, with the rose gold and gold edible dust on the top, are by far my favorite of all the ones I made.
The cookies themselves are my favorite sugar cookie recipe with delicious buttercream frosting.
On this blog, I may sometimes use affiliate links, which means a small commission is earned if you make a purchase via the link. The price you pay will be the same whether you use the affiliate link or go directly to the vendor's website using a non-affiliate link.
There are so many things you can do with these cookies. You could frost them a different color or cut them in a different shape. I just love the metallic leaf designs.
How to Make These Fall Cookies
The two most important items you need are edible powder and a stencil. You can use any stencil and any design but I have listed the set I bought to make the leaf design.
I actually made the cookies first and then sealed them in an airtight container and stored them in the freezer. A few days later I made a big batch of buttercream frosting and iced and decorated the cookies.
I think you will like how easy these cookies are to make!
one – Make the sugar cookie dough per the recipe.
two – Be sure to cool the dough in the refrigerator for about 30 minutes as it is much easier to handle.
three – I used a 2″ biscuit cutter to make my cookies. Next time I think I am going to make square ones.
four – Let the cookies cool and store them in the freezer.
five – Make the buttercream frosting recipe. You can use white for the frosting or some of the colors I made here. Frost the top of the cookies and store them in the freezer for about twenty minutes until the frosting is firm.
six – Lay the stencil flat on top of the cookie. Press the back of a spoon into the edible powder and press the back of the spoon on the stencil to add the dust. Use multiple colors and be sure to cover the entire stencil area. Remove the stencil and you will see your gorgeous design!
Be sure and view my Instagram later today to see the reel that shows how I made these cookies!
You can see below where I placed the stencil on the cookie and added a layer of colored frosting. Next, I added the edible powder on top of the frosting. I like this look but I decided it wasn't necessary as the cookies with just the edible powder actually looked better!
Yield: 24 cookies
The Prettiest Fall Sugar Cookies
This sugar cookie recipe is my go-to recipe every time. It's almost flawless!
Ingredients
2 cups all-purpose flour (or gluten free 1 to 1 or measure to measure flour)
1/4 teaspoon salt
1/2 teaspoon baking powder
1/2 cup (1 stick) unsalted butter
1 cup sugar
1 large egg, lightly beaten
1 tablespoons milk
1 TBL lemon juice
1/2 teaspoon pure vanilla extract
Instructions
Mix together flour, salt, and baking powder in a medium bowl. In the bowl of an electric mixer fitted with the paddle attachment, cream the butter and sugar; add dry ingredients, and mix until incorporated.
With the mixer running, add egg, milk, lemon, and vanilla; mix until incorporated. Transfer dough to a work surface. Shape into 2 discs, cover with plastic wrap, and refrigerate for at least 1 hour.
Preheat the oven to 350 degrees. Line baking sheets with nonstick baking mats or parchment paper; set aside.
On a lightly floured work surface, roll out dough to 1/8-inch thickness. Cut into desired shapes, and transfer to prepared baking sheets, leaving an inch in between. Leftover dough can be rolled and cut once more. Bake until lightly golden, about 10 minutes; do not allow to brown. Transfer to wire racks to cool.
Decorate with Buttercream or Royal Icing.
Yield: 4 cups of frosting
Buttercream Frosting
Here is my buttercream frosting recipe. I made two batches of this recipe to make this cake.
Ingredients
1 cup, two sticks, of non-salted butter
4 cups of powdered sugar
1 tsp vanilla
4 - 6 TBLcoconut milk (I like Thai Kitchen Organic)
Instructions
Cream the butter until soft in a mixer for about two minutes.
Add the sugar, vanilla, and three TBL of coconut milk.
Add the remaining TBL of coconut milk as needed. If you are making flowers, make sure the frosting is thick so it will hold its shape. If it gets too soft, place it in the refrigerator for about twenty minutes.
When frosting the cake, place the cake in the freezer for about one hour before decorating.
Once you are done with the cookies, you can layer them with wax paper in an airtight container and store them in the freezer for up to four weeks.
If you are enjoying my blog, you can sign up to receive my blog updates here. .
Watch My Amazon Live
Click here to watch any of my Amazon Live shows. All shows are recorded.
Tomorrow (Friday) I am going to show you how to make these cookies on Amazon Live! They are so beautiful!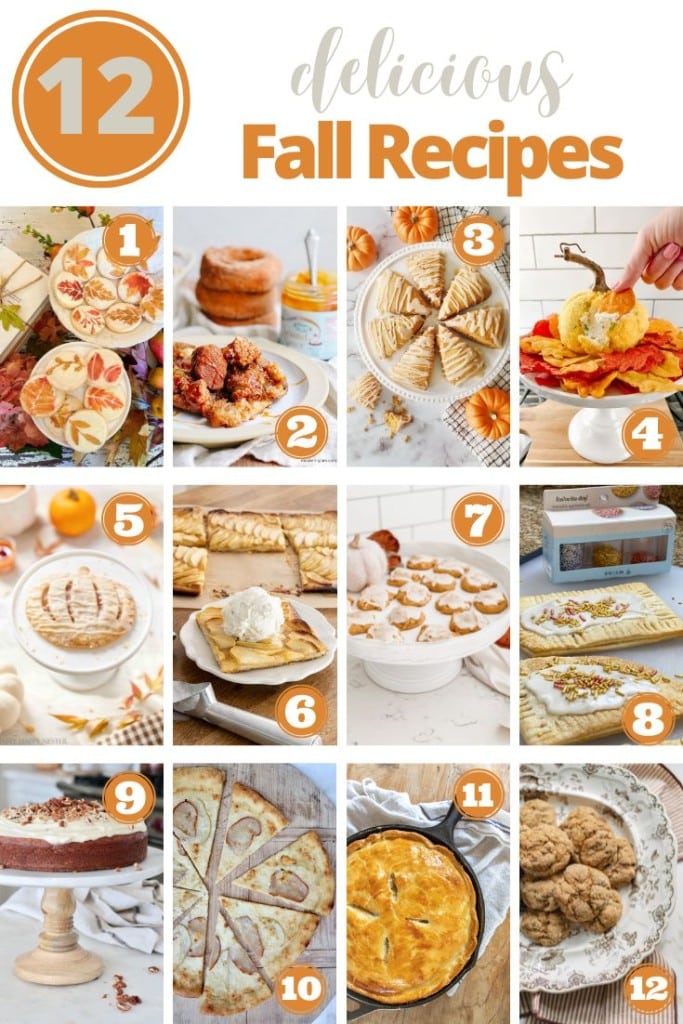 Blogger's Best Fall Recipes
Pin the images below to your boards on Pinterest (just click the Pin button in the top left corner). You can also follow along with me on Pinterest!
For more real-time updates, follow me on Instagram @My100YearOldHome