Fall Pear and Cranberry Tart
This fall pear and cranberry tart is amazing. It is a perfect combination of sweet and tart and this is a must recipe for fall baking.
This dessert is not only so, so good but also gorgeous and impressive. It is the perfect end-of-summer, fall, and holiday dessert. You will be surprised at how easy it is to make. This Pear and Cranberry tart has a flaky crust with a sublime custard, sweet soft pears, and a sprinkling of cranberries to give it just a tiny bit of tartness.
Fall Baking Warms My Heart
When the warmth of summer disappears from the air and the mornings have a cool crispness to them, I know that fall is coming. In Southern California, we don't have dramatic shifts in seasons, seasonal change from summer to fall is more of a subtle difference.
The mornings are cooler and the evenings creep in earlier and earlier, shortening the day and lengthening the darkness.
With the advent of fall, the air is filled with not only a chill but also with possibility.
Fall fruits are some of my favorites. Pears, apples, cranberries, pumpkins, figs, persimmons. Fall fruits all share a common trait that they are not only delicious but also beautiful. Their colors are deep and luscious and their flavors are subtle yet distinct and individual.
Pear and Cranberry Tart, the Essence of Fall Baking
Fall presents the opportunity for cooking and baking. The shorter days bring us inside and together for dinners around the table with candles flickering and a fire in the fireplace to gently warm the room.
I love to bake in the fall. It is cool enough outdoors to have the oven on indoors. While baking is science and chemistry (which I love), baking is also about creation. Making the pear and cranberry tart was creating something to share with others and that is why I love to bake.
Pears are one of my favorite fall fruits to use when baking. They are sweet and soft, but not mushy. Their flavor is more subtle than apples and they soften more easily. All of which makes pears perfect for quick breads and muffins.
I don't know about you, but cranberries are my favorite. As a young girl, my Cranberry Coffee Cake was a tradition every Thanksgiving and Christmas. I love their tangy tartness. While cranberries are a perfect complement to the savory items on a Thanksgiving dinner table, you might struggle to balance their tartness when baking. I try to be mindful to not add too much sugar when cooking with cranberries. This recipe has nailed it!
The subtle sweetness of pears provides a perfect counterbalance to the tartness of cranberries.
How to Make a Pear and Cranberry Tart
It is important, when baking a tart, to always use tart pans with removable bottoms. The set I use comes with 11″, 9″, and two mini 4″ tart pans. I used the 11″ tart pan for this pear and cranberry tart. The set costs less than $17!
As you can see, the ingredients for the tart crust are very few!
While the dough is in the refrigerator, make the tart filling.
Ingredients for the Tart Filling
To prevent the tart crust from shrinking as it bakes, line the crust with parchment paper and add pie weights before baking.
Once the tart crust has been prepared and baked, fill the tart pan with the tart filling. In case you are confused about whether you should fill the crust before or after baking, the answer is both. In order for the bottom crust to be cooked through, it needs to be "pre-baked" prior to adding the filling and then baked to finish with the filling.
Arrange the fruit as desired.
This design just sort of happened and I love how it looks.
Pop it into the oven and bake for 15-20 minutes until custard is set and does not jiggle.
And voila! Do not be intimidated by this recipe. It may look fancy and it has a number of steps with some refrigeration time in between steps, it is really quite simple.
Yield: One 11" tart
Fall Pear and Cranberry Tart
The cream custard, together with the pears and cranberries provides the perfet balance of just enough sweet to satisfy a sweet tooth and yet is subtle enough to have a slice alongside your morning coffee.
Cook Time
1 hour
10 minutes
Additional Time
2 hours
15 minutes
Total Time
4 hours
10 minutes
Ingredients
Crust (
this recipe is doubled for an 11" tart. For smaller, adjust the recipe as necessary)
16 TBL (2 sticks) unsalted butter (room temperature)
4 TBL sugar
1/4 TSP pinch of salt
1/2 cup half and half
2 1/2 cups pastry flour or all-purpose flour
Tart Filling
1/4 cup sugar
2 large eggs
1/2 cup half and half
2 TBL sour cream
4 TBL all-purpose flour
1/4 TSP baking powder
1 TBL vanilla
1/4 TSP salt
Fruit to Decorate Tart
2 to 3 pears (I used red pears) cored and sliced thinly
3/4 cup cranberries (fresh)
Instructions
If using a stand mixer, use the paddle attachment. You can also use a hand mixer.
Begin by creaming butter.
Add salt and sugar.
Stir in half and half.
Add flour last.
Mix until thoroughly combined.
Turn dough out onto a piece of plastic wrap.
Shape into a ball.
Wrap in plastic wrap and refrigerate for at least one hour.
The tart dough can be made one day ahead.

While the dough is in the refrigerator, make the tart filling as follows:
Using a stand mixer or hand mixer, combine sugar and eggs.
Add half and half and sour cream to bowl and mix until combined.
Add flour, baking powder, vanilla, and salt.
Blend until combined and smooth. Use a blender if needed to create a smooth custard.
Refrigerate until tart crust is ready to be filled.

Use an 11" tart pan with removable bottom.
Once the dough has been refrigerated for at least one hour, roll the dough out between two large sheets of plastic wrap into an 11" circle. Remove the top sheet of plastic wrap and invert the dough into the tart pan. Remove the second piece of plastic wrap and gently settle the dough into the pan and trim the edges. Cover and refrigerate for at least an hour.
Preheat the oven to 350 degrees.
Once the dough has been refrigerated in the tart pan for at least an hour, line the tart with parchment paper and fill it with pie weights or beans. Bake for about 20 minutes until the dough is set and beginning to brown. Remove the tart from the oven and remove beans/pie weights and parchment paper. Prick the bottom of the crust all over with a fork so that the crust will not puff. Continue baking for another 10-15 minutes or until the crust is golden brown.
Cool the crust for 10-15 minutes. Place tart on a baking sheet lined with parchment paper in case of seepage.
Fill the tart pan with the tart filling.
Arrange the fruit as desired.
Bake 15-20 Minutes until custard is set and does not jiggle.
Notes
I used the convection setting on my oven, your baking times may differ.
If you are new to baking or have never tried to make a tart, this is a good one to start with. It is yummy and beautiful and the perfect addition to an ordinary Wednesday night dinner making it an extraordinary one.
And, as an added bonus, this is a wonderful companion to your morning coffee.
Shop Everything on This Post
Watch My Amazon Live
Click here to watch any of my Amazon Live shows. All shows are recorded.
I think you are going to like this Live about everything in my kitchen for fall!
Frequently Asked Questions
What is the difference between a tart and a pie?
A tart has only a bottom crust which is thicker than a pie crust. A tart exposes its filling whereas a pie has either a top crust, lattice, or dough cutouts on top of the filling.
13 Fabulous Fall Baking Recipes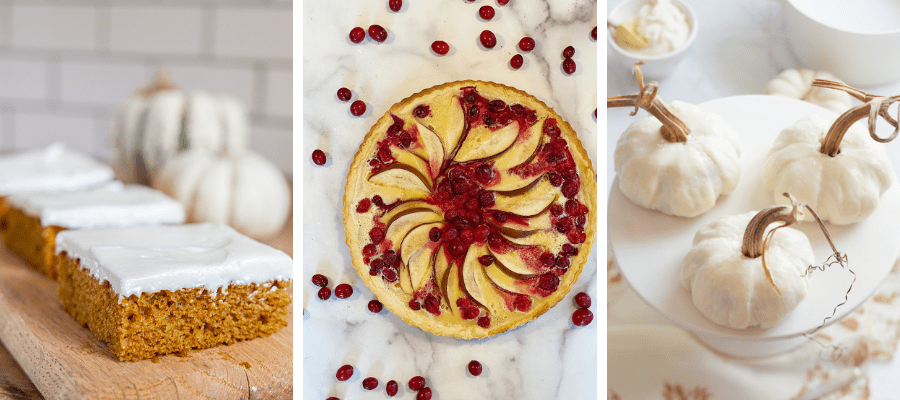 The Most Amazing Pumpkin Sheet Cake – Twelve on Main
Fall Pear and Cranberry Tart – My 100 Year Old Home
Mini Pumpkin Bundt Cakes – Happy Happy Nester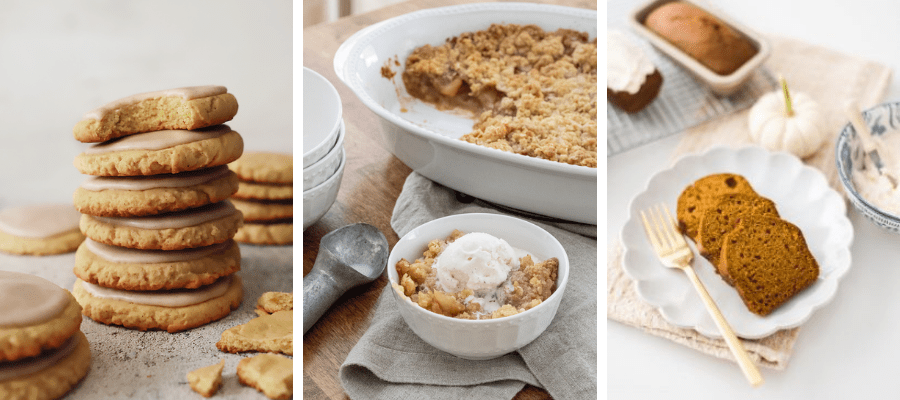 Soft Pumpkin Spice Cookies – Paint Me Pink
Old Fashioned Apple Crumble – Sincerely, Marie
Mini Pumpkin Spice Loaves with Cream Cheese Icing – Life Is Better At Home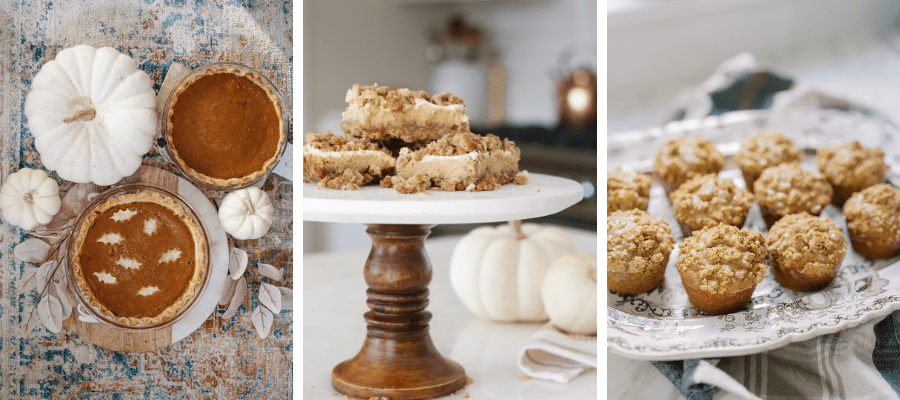 How To Make Pumpkin Pie From Scratch – The DIY Mommy
Pumpkin Cheesecake Crumble Bars – Maison De Cinq
Maple Crumble Muffins with Maple Butter Glaze – Finding Lovely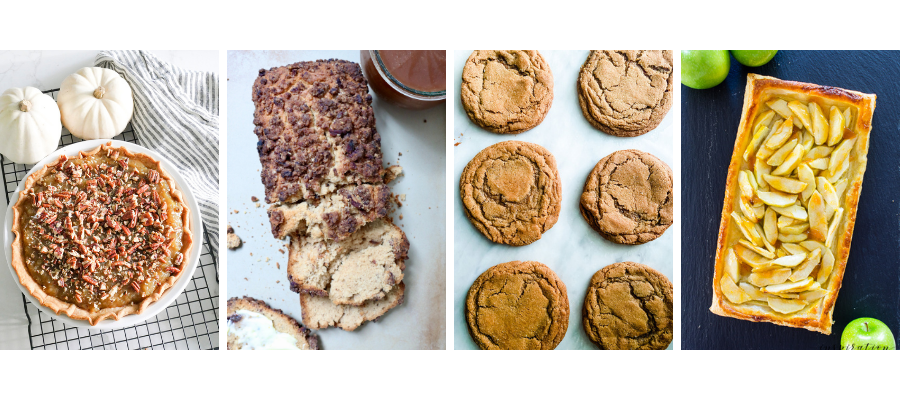 Decadent Coconut Pecan German Chocolate Pie – Grace In My Space
Apple Butter Pecan Loaf – My Sweet Savannah
Chewy Molasses Cookies – Most Lovely Things
Easy Fall Apple Tart – Inspiration For Moms
Pin the images below to your boards on Pinterest (just click the Pin button in the top left corner). You can also follow along with me on Pinterest!
For more real-time updates, follow me on Instagram @My100YearOldHome