DIY Halloween Wreath Ideas
I love my Halloween wreath … a timeless, elegant decoration that welcomes guests with festive charm. And it fits my style of decor.
Halloween isn't just about the candies and costumes; it's an opportunity to get creative, embracing the fun of the season while expressing your unique style. Crafting a DIY Halloween wreath for your door is not only a delightful DIY project but also a way to set the tone for the festivities.
A Simple DIY Halloween Wreath
With the leaves falling and a chill creeping into the air, it's clear that Halloween is just around the corner. As neighborhoods transform with pumpkins, cobwebs, and other spooky decorations, you might be wondering how to stand out while embracing the spirit of the season.
Why A Halloween Wreath?
Your front door is the first impression visitors have of your home. What better way to introduce them to your Halloween haven than with a themed wreath that exudes charm?
Furthermore, the process of making a wreath isn't just about the end result. It's a journey—a chance to indulge in the joys of crafting, to let your creativity run wild, and to immerse yourself in the Halloween spirit.
Simplicity is the Ultimate Sophistication
Who said you have to start completely from scratch? Sometimes, the most captivating creations come from repurposing and elevating existing items.
I ordered a gorgeous eucalyptus wreath from Amazon (or you can use any other basic wreath), and I was halfway there!
With a few additions, you can transform a simple wreath into a masterpiece.
DIY Step-by-Step Halloween Wreath
I decided to dry oranges for the first time and used them to decorate my Halloween wreath. After a slight mishap, I ended up with two different colored oranges. Read below to see what happened!
What you'll need:
How to Dry Orange Slices
Drying orange slices in your oven is a straightforward process.
Here's a step-by-step guide:
I dried my oranges in my air fryer and in the oven. I decided to make most of them in the oven because you can make a lot more at one time. Dried orange slices are just as easy to make in the oven!
Ingredients:
Fresh oranges (as many as you like)
Instructions:
Preparation:
Preheat your oven to its lowest setting, usually between 200°F (90°C) and 225°F (110°C).
Line a baking sheet with parchment paper or a silicone baking mat to prevent sticking.
Slicing the Oranges:
Wash the oranges thoroughly and dry them.
Using a sharp knife, slice the oranges thinly (about 1/8 to 1/4 inch thick). Make sure the slices are as consistent as possible in thickness to ensure even drying.
Remove any seeds from the slices.
Laying Out the Slices:
Arrange the orange slices in a single layer on the prepared baking sheet, ensuring they don't overlap.
Drying in the Oven:
Place the baking sheet in the oven.
Allow the orange slices to dry for about 3 to 4 hours. Every 30 minutes, flip the slices to ensure even drying and to prevent them from sticking to the sheet.
Keep a close eye on them, especially as they get closer to being done, to avoid over-drying or burning. (More about that later!) I set my phone alarm every thirty minutes.
If you have a convection setting, use it as it should cut the drying time in half!
Checking for Doneness:
The orange slices are done when they have lost most of their moisture but still retain some pliability. They should be somewhat translucent and not sticky to the touch.
Cooling and Storing:
Once dried to your liking, remove the orange slices from the oven and let them cool on a wire rack.
Store the dried slices in an airtight container. They can be used for decorations, crafts, or even as garnish in drinks or dishes.
This method is great because it uses the steady, low heat of an oven to dry out the oranges without cooking them. The result is beautifully dried orange slices perfect for a variety of uses!
How to Dry Oranges in the Air Fryer
Slice your oranges thinly, ensuring they are of even thickness.
Place the slices in a single layer in the air fryer basket. (See the option below to make them in the oven.)
Set the air fryer to a low setting, ideally around 130°F or the lowest available setting.
Dry the oranges for approximately 4-6 hours, checking occasionally to ensure they don't burn. The goal is to get them completely dehydrated without cooking them.
Once dried, allow the orange slices to cool.
My Big Mishap
Sometimes even really dumb mistakes can be a good thing.
My two large pans of orange slices had been in the oven for about four hours and needed only 15 minutes longer to cook. Dave and I were going to a wine tasting that evening and I ran upstairs, got ready, and we rushed out the door so we wouldn't be late.
About two hours into the dinner, the winemaker made a comment that the wine had a bit of an ORANGE TASTE and I screeched!
OMG, I had left the oranges in the oven! Even though they were cooking at a very low temperature, they were sure to be a bit overcooked.
Because when we came home, this is what they looked like.
Can you tell which ones in this photo were the ones I had forgotten?
I got up early the next morning and started making new dried oranges. I decided to try the convection setting on my oven which was the best because it sped the time in half! It only took two and a half hours to dry perfect orange slices.
And then a funny thing happened. I kind of liked the over-dried oranges and decided to use both on my wreath!
Finishing the Wreath
Positioning Your Oranges
Before attaching, lay out your orange slices on the wreath to decide on positioning. This allows you to get a visual idea and make adjustments as necessary.
Once satisfied with the positioning, use a hot glue gun to securely attach the dried orange slices to the wreath.
Adding Greenery or Ornaments
If you want, you can intersperse additional greenery or Halloween ornaments among the orange slices. This could include items like small faux spiders, miniature pumpkins, or even sprigs of purple or black flowers for added drama.
Secure each item with a hot gun or wire, ensuring they are tightly fastened.
Hang and Admire Your New Halloween Wreath
Once you're satisfied with your Halloween wreath, find the perfect spot on any door or spot in your home and hang it up. Step back and admire your handiwork!
Halloween Wreath Ideas
Here are some wonderful DIY Halloween wreath ideas from some of my favorite bloggers!
BLOGGER'S BEST HALLOWEEN WREATH IDEAS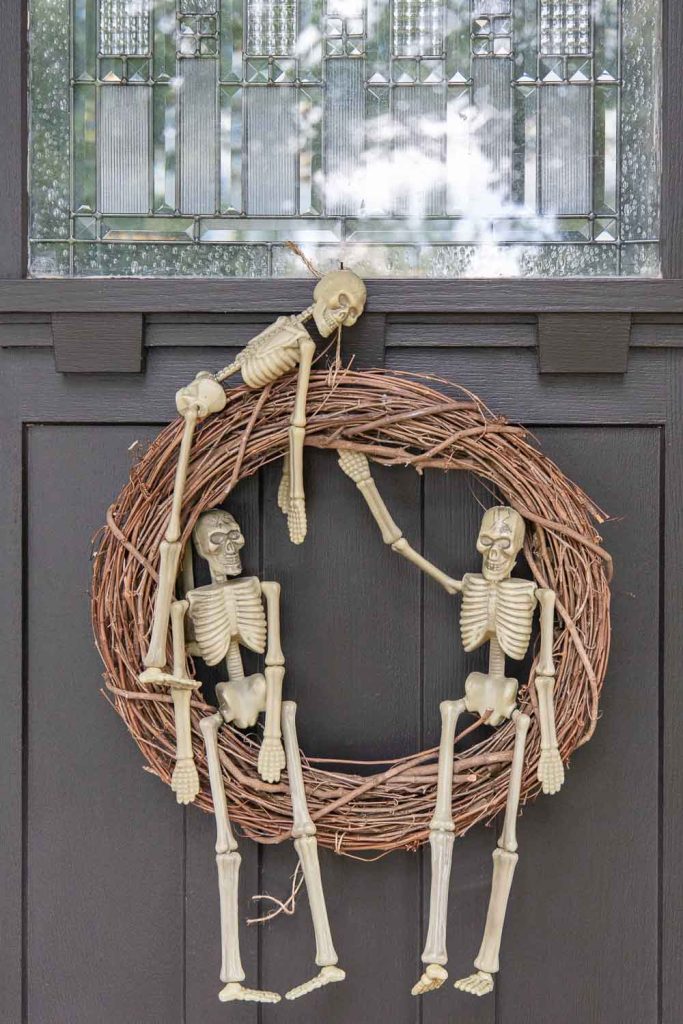 DIY Dollar Store Skeleton Wreath | Twelve on Main
How to make a Halloween wreath using dollar store skeletons! This is a quick and easy DIY wreath that anyone can make!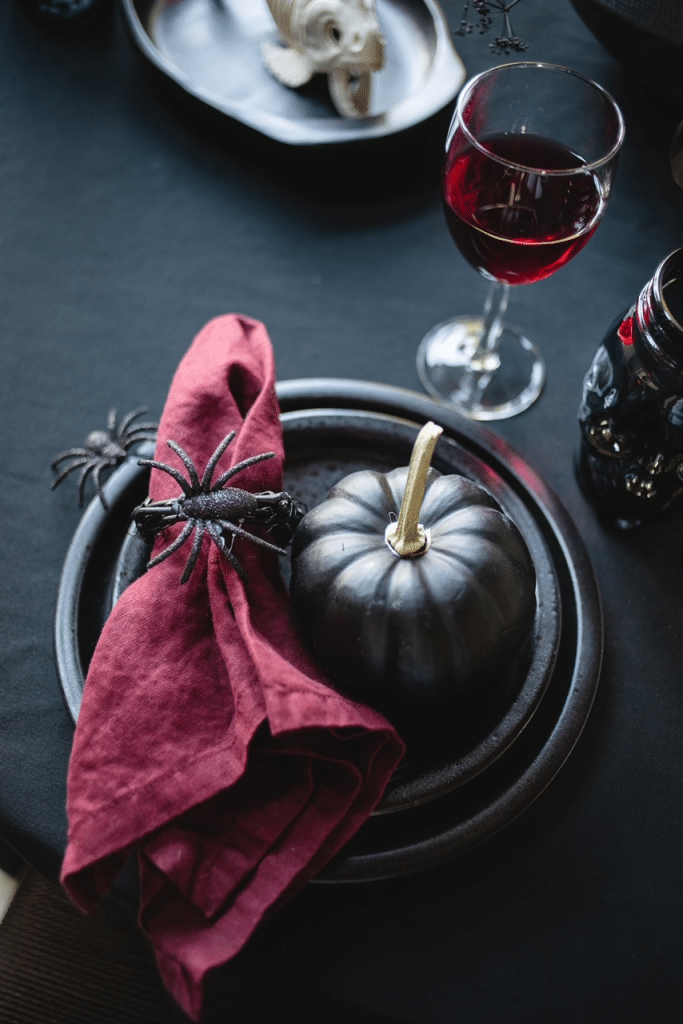 DIY Grapevine Wreath Napkin Holders for Halloween | My Sweet Savannah
Let's make these itty bitty wreath napkin holders. All you need is 4 inexpensive items to create these for your Halloween table!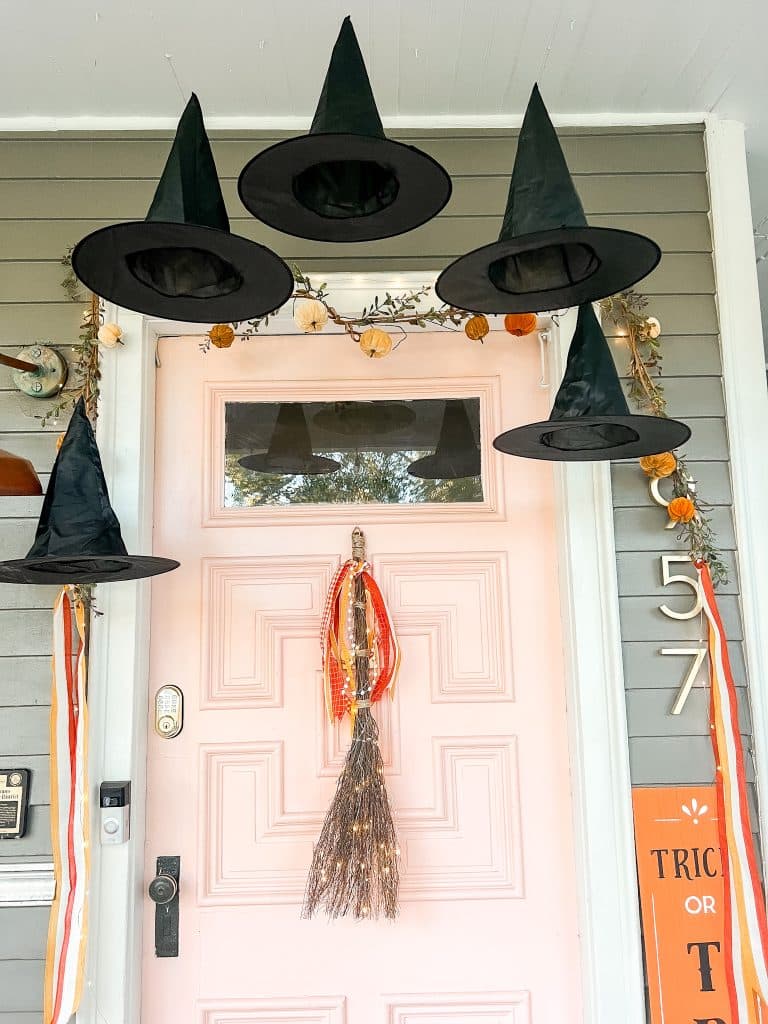 Halloween Witches Broom Wreath | Tater Tots and Jello
Cast a welcoming spell on visitors this Halloween by creating a delightful witch porch. A glowing witches broom is a whimsical wreath alternative. Battery-operated shimmering lights will light the way for guests. This is a hack on the Pottery Barn version for a fraction of the price!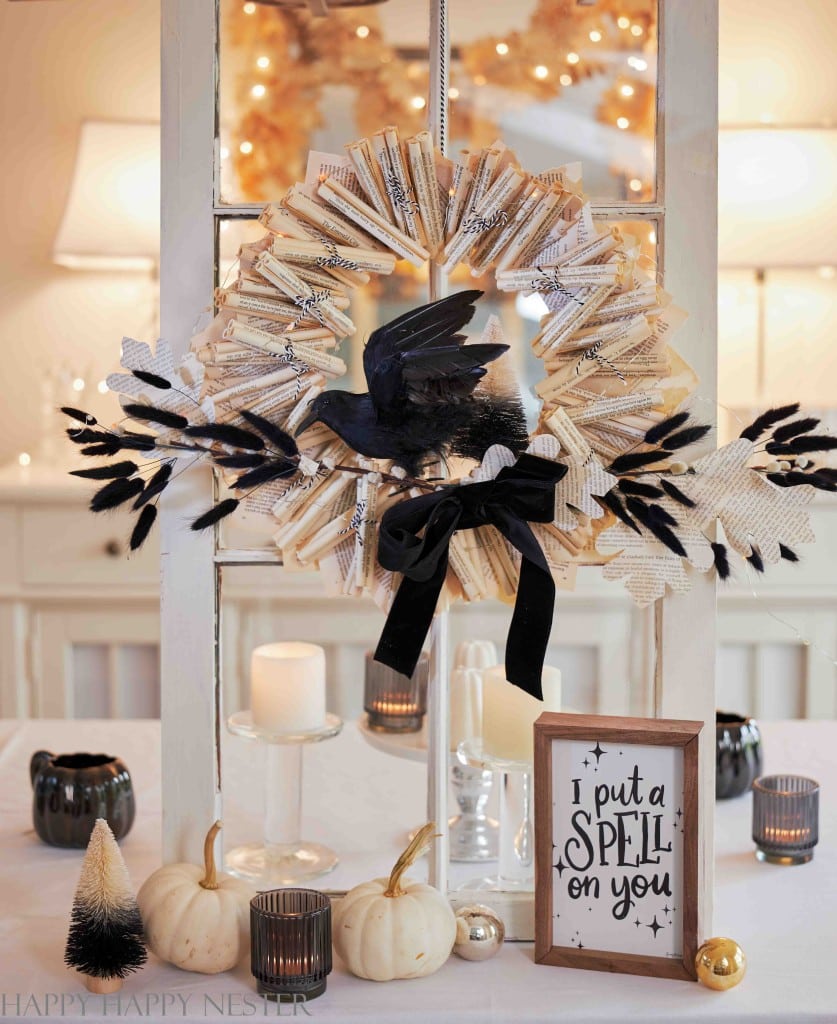 Book Wreath DIY | Happy Happy Nester
This Book Wreath is all decked out with a raven and lots of rolled-up pages. It's definitely a unique wreath. And this budget-friendly paper wreath only requires a few supplies but a little time commitment to roll the book pages.
---
Halloween is the perfect time to let your creativity shine. By taking a basic eucalyptus wreath and giving it a festive twist with dried oranges (and additional ornaments if desired), you've crafted a unique piece that will undoubtedly capture the admiration of every trick-or-treater and guest.
Happy crafting!
On this blog, I may sometimes use affiliate links, which means a small commission is earned if you purchase via the link. The price will be the same whether you use the affiliate link or go directly to the vendor's website using a non-affiliate link.
If you are enjoying my blog, you can sign up to receive my blog updates here. .
Watch My Amazon Live
Pin the images below to your boards on Pinterest (just click the Pin button in the top left corner). You can also follow along with me on Pinterest!
For more real-time updates, follow me on Instagram @My100YearOldHome