Fall Metal and Leaf Wreath DIY
I am in love with an Anthropologie fall metal and leaf wreath but I made a similar one instead. Mine cost one-fifth of the price to make and I love it!
Inspiration can be found all around and this craft is a perfect example. I am thrilled with how my metal flower and leaf wreath turned out! I had so much fun making this fall metal flower and leaf wreath. It took some figuring out but I did it! I am so excited to share how you can make one of these too! Want to learn how I made it?
The Leaf Wreath
Leaf wreath, leaf wreath, leaf wreath. Okay, try to say that three times fast. I still can't do it.
But I can make one!
Today I joined a fun group of blogger friends and we have each made a fall wreath. Be sure to check out their wreath DIYs below. Here is mine!
I absolutely loved making this wreath. Some of you may wonder where I get the inspiration for my DIYs. I spend a fair amount, maybe too much time, looking at websites like Anthropologie. As a huge fan of Anthropologie decor items, I know their prices are a bit high. I saw a wreath on their website a couple of months ago that I fell in love with, but it was $248 dollars.
That is so much more than I spend on decor items, so I promptly moved on to the eight billion other things that take up space in my head. This wreath, however, has been nagging at me. Was there a way that I could maybe make my own version of the wreath for a fraction of the cost?
When I found out that today's blog hop group topic was a fall wreath, I instantly knew what I was going to make!
The Anthropologie Leaf Wreath Hack
Below are photos of both of the wreaths. Mine is on the left and it costs about $48 to make. The one from Anthropologie on the right cost $248.
What do you think? I think I created the essence of the Anthropologie wreath, but I softened it up just a bit with the fabric leaves.
How to Make a Metal and Fall Leaf Wreath
one – I found all of my supplies online. You need a glue gun, grapevine wreath, and assorted acrylic paint colors (I used cream, orange, copper, and light brown paint). I used one package of these leaves and metal flowers you can find here and here.
two – The first step is to paint the grapevine wreath with cream paint. This is optional but I love how it turned out.
three – Using your glue gun, add the leaves all the way around the wreath. Be sure to glue them in the same direction.
four – Once you are done, they should look like this.
five – Paint the flowers in the desired colors. I mixed together a lot of the paint colors.
six – Let the flowers dry completely.
seven – This is how the flowers looked when I was done painting them.
eight – Place the flowers on top of the wreath (before gluing) to confirm the placement. Glue them on one at a time. If the larger flowers are glued only to the leaves, place more glue to secure them to the grapevine wreath. That's it!
On this blog, I may sometimes use affiliate links, which means a small commission is earned if you make a purchase via the link. The price you pay will be the same whether you use the affiliate link or go directly to the vendor's website using a non-affiliate link.
What I love about this fall wreath is that it is not the traditional orange and brown fall wreath. It's more like fall is peaking around the corner with a softened palette of burnished orange, together with antique white.
If you are enjoying my blog, you can sign up to receive my blog updates here. .
Another thing I love about this wreath is that it works so well in just about any room in our home. I hung it on the front of this shutter and I love how the textures play together. The shutter is a little bit rough and rusty and the wreath is a little bit soft with metal accents. I attached the wreath with some fishing line and a tiny nail tapped into the top of the shutter. You could hang it on a window in the same way. It's that simple.
You can also prop a wreath against something. This corbel worked perfectly.
Watch My Amazon Live
Click here to watch any of my Amazon Live shows. All shows are recorded.
I have a new Amazon Live show airing today! It's the Best Tech Ideas for Your Home. It airs at 1:00pm PST, 4:00pm EST.
Here are the amazing DIY Fall Wreaths created by 8 wonderful bloggers. Just click on the link to see more.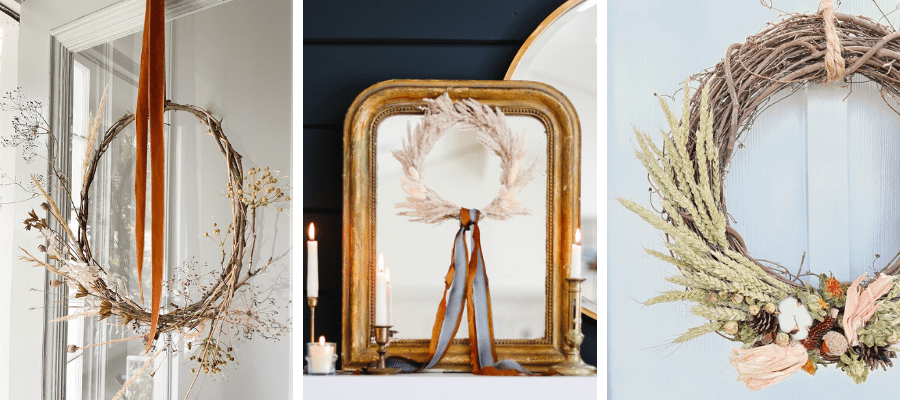 Gathered Fall Wreath // Finding Lovely
Mini Pampas Grass Wreath // Modern Glam
DIY Fall Wreath With Dried Florals // The Happy Housie
Felt Leaf Wreath Tutorial // Happy Happy Nester
Fall Metal and Leaf Wreath // My 100 Year Old Home
Dollar Store Pumpkin Fall Wreath // Tatertots & Jello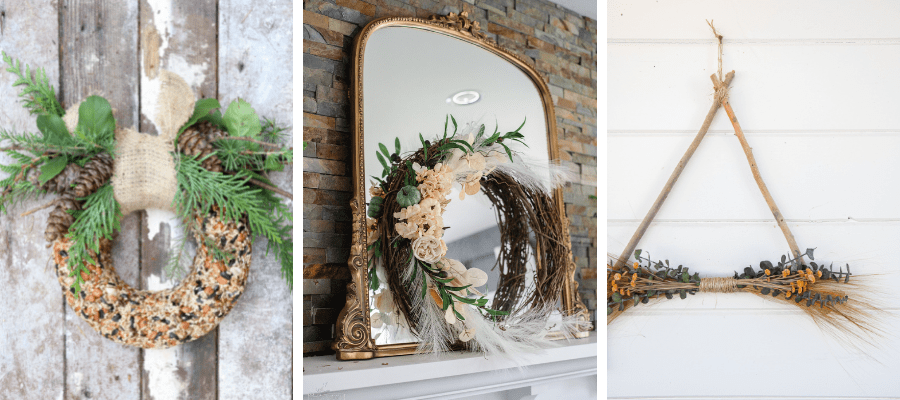 Bird Feeder Wreath // My Sweet Savannah
Romantic DIY Grapevine Wreath // The DIY Mommy
Nature Inspired Twig Wreath for Fall // Twelve On Main
Similar Posts
Shop This Post
Pin the images below to your decor or craft boards on Pinterest (just click the Pin button in the top left corner). You can also follow along with me on Pinterest!
For more real-time updates, follow me on Instagram @My100YearOldHome