How to Decorate Your Back Porch for Spring
Spring is almost here and I decided it is time to decorate our back porch. Today I am sharing my back porch ideas for spring.
The weather is starting to warm up, the sun is shining a little brighter, and the birds are chirping louder – it's getting so close to springtime. One great way to get your backyard ready for spring is to decorate your back porch. I've got some great tips for you, so read on to learn more.
Back Porch Ideas for Spring
Last month the weather wasn't great and we hardly spent any time on our back porch. But now that warmer spring weather is here, I had some fun this week and came up with some wonderful back porch ideas for spring.
I opened the back door to our porch the other day and I was like, "wow!" The porch looked terrible. It needed cleaning and sweeping and definitely some color. It just didn't look welcoming and I was hoping to set the table for a family dinner outside under the porch.
I had some work to do.
This is what our porch looked like after I cleaned it, but before I started adding some spring color. Can you see how it needed some love?
Look at the difference!
In hindsight, I should have used our leaf blower to blow all of the leaves and cobwebs and bark off the porch. Instead, I cleaned and swept and swept.
I had just bought some potted plants for my hanging pots and I decided to use them for the back porch instead. I planted Begonias in the vintage-looking terra cotta pots that I painted with garden lime last month. Adding color from planted pots is one of many back porch ideas for spring.
Setting a Spring Table on the Back Porch
Setting a bright-colored table is one of my favorite back porch ideas all year long. I love that I can head to my butler's pantry and find everything I need to set a table. I chose a pink theme to match the flowers. The placemats, copper chargers, pink napkins, and pink water glasses are all from Amazon. All of these are very reasonably priced.
The Cranberry glasses are vintage and I have been collecting Cranberry glass for years. You can learn more in my blog posts titled Collecting Cranberry Glass and My Obsession with Cranberry Glass.
I had just bought some planted pots for my backyard and I decided to "borrow them" for the back porch. So I planted the Begonias in the terra cotta pots that I painted last month.
I painted these terra cotta pots with Garden Lime and love how I "aged them"! This is such an easy DIY and you can find everything in my blog post titled How to Make Vintage Garden Pots.
I bought these Begonias and Petunias at The Home Depot. Aren't they wonderful?
It took me about five minutes to plant these in my terra cotta pots. Don't they look amazing?
I placed the small Petunia plants into my corrugated tin pots. The color is so perfect.
If you are enjoying my blog, you can sign up to receive my blog updates here. .
I placed the flowers on the back porch and what an amazing difference! I love the pink accents.
The view of our backyard is wonderful right now as everything is turning green. I wish I could leave this table set out here all spring. And summer.
Watch My Amazon Live
I love having the chance to talk with all of you about all of the things that I love.
I just posted a new Amazon Live called Kitchen Essentials Every Home Needs!
Frequently Asked Questions
How can I decorate my back porch?
A decorated porch always starts with a good cleaning. Then decorate it as if it is another room in your home. Add a rug, unique lighting, furniture, and lots of decor items. Bring some music outside to your porch. Add fresh or planted flowers for an extra splash of color.
Sharing some of my favorite ways to decorate for spring with you below!
Not a pink person? Here are some pretty ways to set a table in other spring colors!
Similar Posts
10 Gorgeous Patio Decor Ideas

How To Create An Outdoor Living Space // Modern Glam
Simple Garden Flower Arrangement // Happy Happy Nester
How to Ready Your Porch for Spring // Twelve On Main
Hanging Basket DIY // Finding Lovely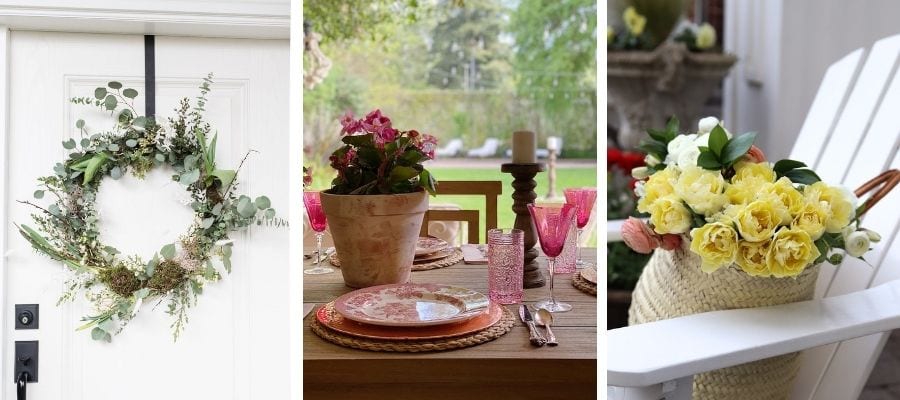 How to Refresh Your Front Door for Spring // Life Is Better At Home
How to Decorate Your Back Porch for Spring // My 100 Year Old Home
10+ Inspiring Front Porch Decorating Ideas // Lemon Grove Lane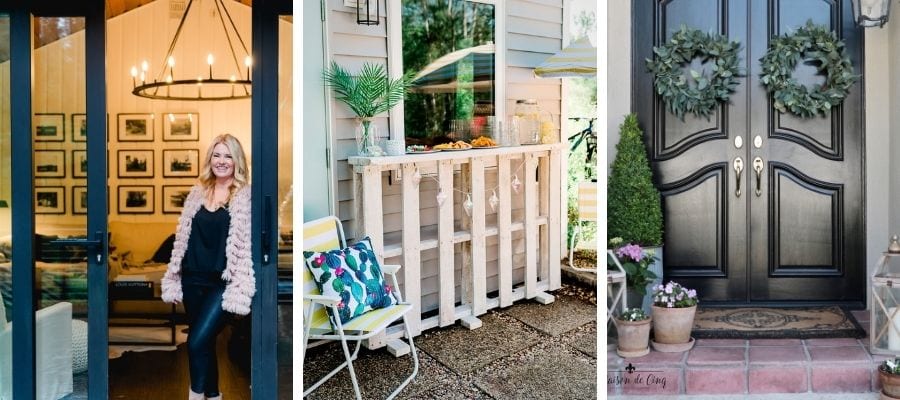 How I Decorate Our Deck For Function and Beauty // My Sweet Savannah
How to Build an Easy DIY Pallet Bar // The DIY Mommy
How to Decorate a Spring Front Porch // Maison De Cinq
Pin the image below to your decor boards on Pinterest (just click the Pin button in the top left corner). You can also follow along with me on Pinterest!
For more real-time updates, follow me on Instagram @My100YearOldHome