Salted Caramel Apple Thanksgiving Cake
I love creating non-traditional recipes for holidays. This Salted Caramel Apple Thanksgiving Cake is absolutely amazing!
Thanksgiving menus are deeply attached to memories and tradition. The foundational dishes usually do not change much, stuffing/dressing, vegetables served or not served, etc. However, where people seem open to trying new recipes is with desserts! This Thanksgiving cake recipe is one that you can happily serve alongside pumpkin pie. This recipe is one you will want to put on repeat!
This Salted Caramel Apple Thanksgiving Cake is really delicious. It would be a wonderful addition to apple and pumpkin pies at your Thanksgiving dinner.
Salted Caramel Apple Cake
A Thanksgiving Cake
I am always looking for ways to add something new to our Thanksgiving menu. While I love traditions, I also love creating new ones.
To be honest, I am thinking this Thanksgiving I want something in addition to pumpkin on our dessert table. We will of course have Pumpkin Pie, as there could potentially be a mutiny if I did not make at least one pumpkin pie. But I wanted to add something new to the menu that was fall-focused and something we had never had before as part of our Thanksgiving menu. Since I make a number of different pies for Thanksgiving dessert, I decided to create a Thanksgiving cake.
As the seasons begin to change, the grocery market begins to fill with Halloween candy. Bags and bags of it, and it's everywhere! One of my favorite items also appears is a caramel dipping sauce for apples. So this got me thinking, what if I made a Salted Caramel Apple Thanksgiving Cake? That could be super yummy and who doesn't like caramel apples?
Just so you know, I teamed up with three other bloggers who are all sharing a Thanksgiving recipe.
I set out to figure out how to make this marvelous concoction. I researched a number of different cake recipes, but couldn't find exactly what I was looking for. So, I started improvising, crossed my fingers that the chemistry baking Gods would approve, and oh my gosh, this cake was the end result. This cake is so amazing!
Some Important Tips About How to Make a Salted Caramel Apple Thanksgiving Cake
I have a few tips to share with you when making this cake. Start by making the Salted Caramel first. Do not be fearful to make this. Working with sugar can be tricky because it can scorch/burn easily. In order to make successful caramel, slow and steady wins the race.
The reason you need to make the salted caramel first is that you will need it to make the rest of the cake. First, it will be used in the salted caramel cream cheese frosting, and second, it will be drizzled/dripped down the cake. This recipe makes enough for both the frosting and the drizzle/drip and a smidge extra, oh darn!
An important tip when making this salted caramel sauce is to have all of the ingredients measured out and at hand before you start.
Do not panic if your sugar clumps together. Mine did. Sugar scorches easily, so I added the sugar slowly and kept the heat at medium, moving the pan off of the heat periodically to control any potential scorching/burning. The goal is to melt the sugar and have it turn an amber color. If it is clumpy, once you add the butter, the clumps will dissolve.
For the frosting, I prefer to use whipped cream cheese. It is much easier to mix than a brick of cream cheese, even when the brick is cut into pieces.
On this blog, I may sometimes use affiliate links, which means a small commission is earned if you make a purchase via the link. The price you pay will be the same whether you use the affiliate link or go directly to the vendor's website using a non-affiliate link.
Hodge Podge Apple Cake Recipe
Since I couldn't find a recipe for apple cake that I liked, I made this one up. It's a hodge podge of some of my tried and true recipes with the addition of applesauce and chopped apples. This might be my new favorite cake!
I wanted to make a smaller, but taller cake, so I used 6″ cake pan rounds and baked three layers of the cake with the recipe above. You could make 2 8″ rounds with this same recipe volume. It's your choice!
Start by buttering and flouring the cake pans. To ensure that the cake won't stick to the bottoms, I cut a round out of parchment paper (you can buy these already cut) and placed it on the bottom of the cake pans.
Preheat oven to 350 degrees. I also turned on the convection function on my oven, so your baking times might be slightly different than mine.
If you are making a tall cake with more than two layers, the cake may need stability so that it doesn't tip over. You can add stability or straighten your cake by adding a wooden skewer to the middle of your cake. Break off the excess and frost over the cake so that the skewer doesn't show. Tricky, right?
The Finishing Touches
Now the fun part! The drizzle/drip. Make sure that the salted caramel is warm enough to drizzle. You can pop it into a pan of boiling water to heat it up gently.
Pour the salted caramel over the top of the cake and let it drip down the sides of the cake. There is no right or wrong way to drizzle. Add as much or as little as you like and let your inner artist free!
Here is the complete recipe in a recipe card. This recipe is a keeper for sure, so you will want to save this one!
Yield: 3 6" cake rounds or 2 8" cake rounds
Salted Caramel Apple Thanksgiving Cake
The cake itself is not too sweet and has chunks of Honeycrisp apples throughout. The Salted Caramel Cream Cheese Frosting with Salted Caramel drizzled over the top makes this cake one that will become a Thanksgiving tradition at our house.
Cook Time
1 hour
30 minutes
Additional Time
30 minutes
Total Time
2 hours
30 minutes
Ingredients
Salted Caramel Sauce
2 cups of sugar
12 tablespoons of butter, cubed
1 cup of heavy cream
2 teaspoons of vanilla
2 teaspoons of sea salt
Make the Salted Caramel Sauce first. You will use this two ways, first in the frosting and second to drizzle/drip over the top of the finished cake.
Frosting:
1 cup of salted caramel sauce
16 ounces of whipped cream cheese
Cake:
2 cups of all-purpose flour
2 1/4 teaspoons of baking powder
1 teaspoon of salt
2 heaping teaspoons of cinnamon
3/4 teaspoons of baking soda
1 1/4 cups of brown sugar
4 large eggs
15 oz applesauce
1/2 cup of heavy cream
2 Honeycrisp apples, cored and diced
Instructions
Salted Caramel Sauce

In a medium saucepan over medium heat, add a few tablespoons of sugar and stir as the sugar melts. Keep adding sugar to the pan and stirring while the sugar melts. Pull the pan off of the heat periodically to control any potential scorching/burning.
My sugar clumped up, if yours does, do not panic. The key is to keep the sugar from scorching while it carmelizes and turns a dark amber color. Error on the side of less heat and a longer cook to avoid scorched sugar and starting over.
Continue to add sugar until all 2 cups are melted and amber colored.
Add butter and stir the mixture together. The butter will melt and if you have any sugar clumps, they will dissolve in the warm butter. Mix until completely combined and smooth.
Remove the pan from heat and slowly add heavy cream. Mix, mix, mix and then keep mixing. If the mixture seizes up (clumps) move back over low heat and stir, stir, stir.
Add vanilla and sea salt and continue stirring until caramel is completely combined, smooth.
If lumpy/clumpy, move the pan to low heat and stir until all of the clumps disappear.
Once the caramel is combined and smooth, pour it into a glass jar (I use 16 oz mason jars for this).


Frosting

Mix one cup of the salted caramel sauce together with 16 oz of whipped cream cheese until combined and smooth. Set aside until you are ready to frost the cake.


Apple Cake

Preheat oven to 350 degrees. I used the convection setting on my oven, so my baking times may be different from yours.
Butter and flour your baking pans. I also cut a round out of parchment paper and placed it at the bottom of the pan to keep the cake from sticking. Parchment rounds can be purchased also.
In a medium bowl, mix the flour, baking powder, salt, cinnamon and baking soda until combined.
In a larger bowl, beat the brown sugar and eggs with a hand mixer until combined.
Add the applesauce and the chopped apples, mix with a wooden spoon to keep apples intact.
Add the heavy cream and mix thoroughly.
In batches, add the dry ingredients to the apple mixture until combined.
Pour the batter into the prepared pans.
Bake for about 35-40 minutes or until a knife inserted into the center of the cake comes out clean.
Let the cakes cool in pans for about 20 minutes before inverting onto wire a cooling rack to cool completely.


Cake Assembly

Once the cakes are completely cooled, place the bottom layer of cake onto a cake stand or cake platter, whichever you will serve from.
Frost the top of the cake layer with the Salted Caramel Frosting.
Add the second layer of cake on top of the frosted layer.
Frost the top of the second layer of cake.
Add the third layer of cake on top of the frosted second layer.
For stability, I inserted a wooden skewer into the three cake layers and broke off the extra skewer length.
Frost the top of the third layer of cake.
Frost the sides of the assembled cake as thickly or thinly as desired.
Warm the Salted Caramel Sauce by placing the glass container in a small pan with boiling water. Gently warm the caramel so that it will pour easily.
Drizzle the caramel over the top and down the sides of the cake.
If you are enjoying my blog, you can sign up to receive my blog updates here. .
A Home to Share, by Leslie Saeta
More Thanksgiving Recipes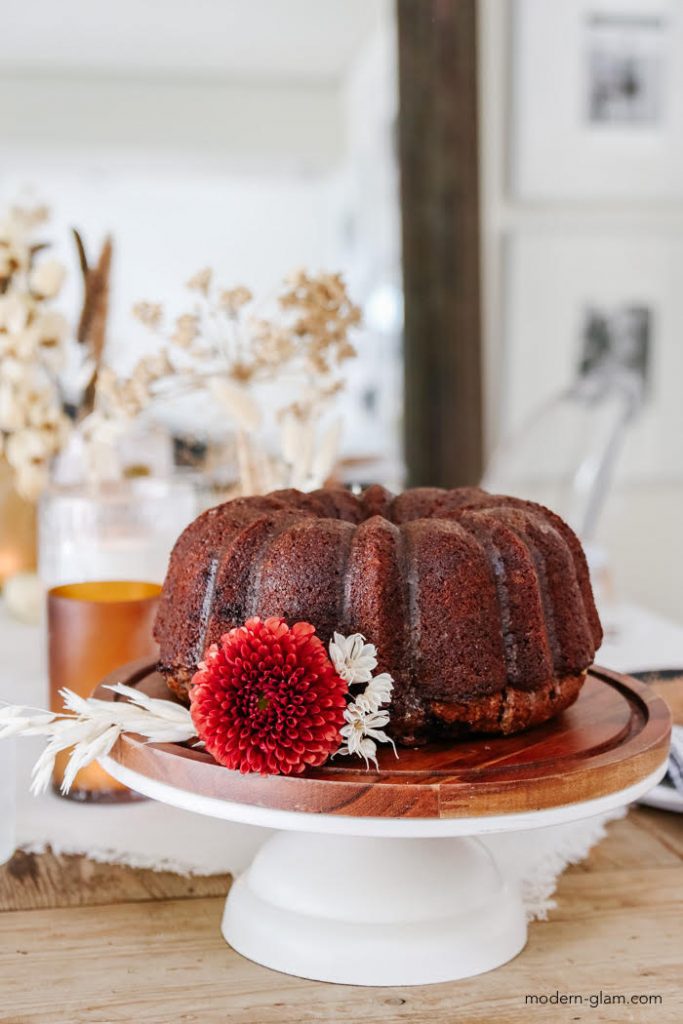 Easy Pumpkin Bundt Cake | Modern Glam
This Pumpkin Bundt Cake is so easy! Made with Trader Joe's pumpkin bread mix, I added a sweet espresso swirl to the cake and a coffee glaze on top for an easy and super yummy Thanksgiving dessert.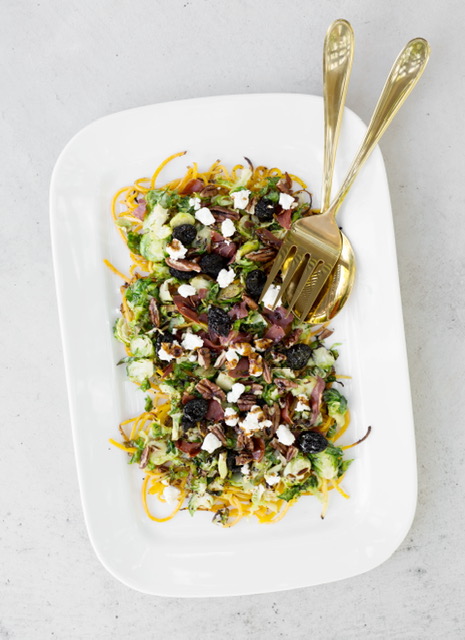 Roasted Brussel Sprout Salad with Maple Balsamic Glaze | To Have + To Host
One of my most requested recipes for fall and winter is this incredible roasted brussel sprout salad which combines the best seasonal veggies like brussel sprouts and butternut squash with other ingredients for a dish that is satisfying enough for a meal, yet equally qualified for an elegant Thanksgiving side dish.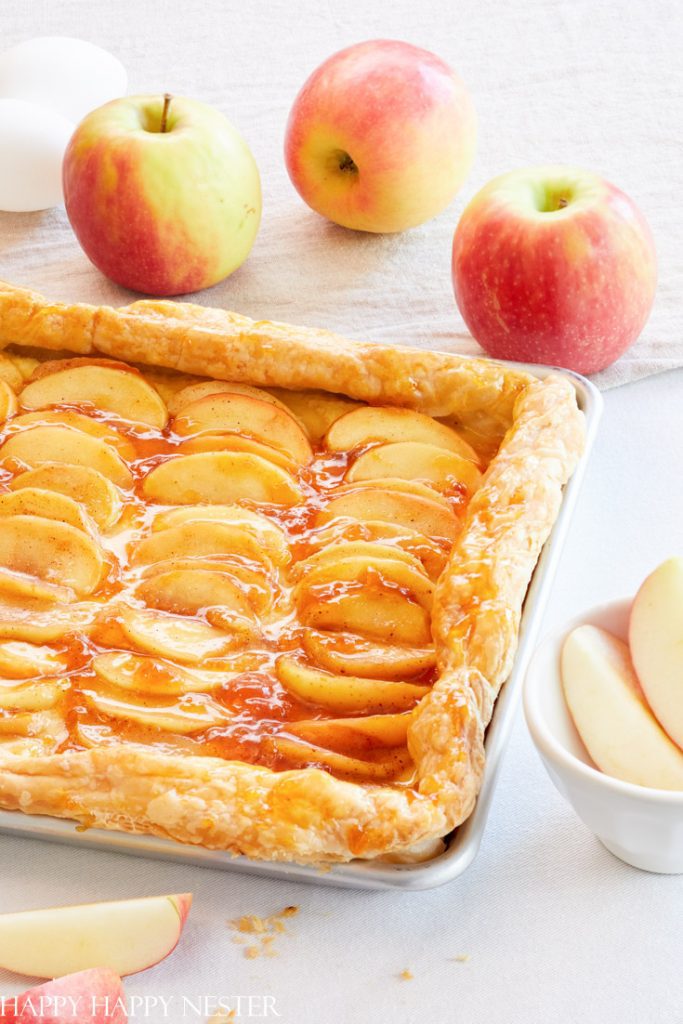 Puff Pastry Fruit Tart with Custard | Happy Happy Nester
While visiting Paris France, we ordered a Puff Pastry Fruit Tart with Custard that was amazing. The custard combined with apples topped with a cinnamon and nutmeg sauce is delicious and is a perfect fall dessert. Here is my version of this French pastry.
Pin the image below to your decor boards on Pinterest (just click the Pin button in the top left corner). You can also follow along with me on Pinterest!
For more real-time updates, follow me on Instagram @My100YearOldHome