I love to bake and I just made these Easter flower cupcakes. They are wonderful. Can you guess what I used to make the flowers?
I love all of the spring flowers that arrive around Easter. Today, I thought I would create flower cupcakes to celebrate spring colors and spring flowers and I think they turned out so cute! Ready to learn how to make them?
Marshmallow Flower Cupcakes
I am always looking for new ways to decorate cakes and cupcakes. With Easter right around the corner and the weather starting to warm, I was inspired by spring flowers when creating these adorable Easter flower cupcakes.
This time I used marshmallows to make the flowers!
How to Make Easter Flower Cupcakes
The recipe for the flower cupcakes and frosting is very easy to make. I used a basic white cake recipe and my buttercream frosting recipe. Both recipes are below.
I used pastel cupcake liners to amplify the pastel spring colors and popped them into the cupcake tin.
Using a ladle, I carefully filled each of the cupcake liners to about 3/4 full. Here is a trick to help fill the cupcake liners are cleanly as possible: scrape the bottom and sides of the ladle against your whisk to remove any batter that may drip onto your cupcake tin.
On this blog, I may sometimes use affiliate links, which means a small commission is earned if you make a purchase via the link. The price will be the same whether you use the affiliate link or go directly to the vendor's website using a non-affiliate link.
Once the cupcake liners were all filled, into the oven they went. While the cupcakes were baking, I made the frosting and divided it into four small bowls.
Yield: 18 Cupcakes
Basic White Cupcake Recipe
These cupcakes are light and also moist. Enough batter to make two cake rounds.
Ingredients
2 Sticks (8 oz) Unsalted Butter at room temperature
1 3/4 Cups Granulated Sugar
6 Large Egg Whites (room temperature)
1 3/4 Cups Flour
2 1/2 TSP Baking Powder
1/2 TSP Salt
2 TSP Vanilla Extract
10 oz Milk (room temperature)
2 oz Vegetable Oil
Instructions
Preheat oven to 350 degrees
Line cupcake tin with cupcake liners
In one bowl, combine wet ingredients: milk, oil and vanilla
In a separate bowl, combine your dry ingredients: flour, baking powder and salt
In stand mixer with paddle attachment or a separate bowl with hand mixer, cream butter until consistency is smooth. Add sugar gradually and mix until combined.
Add the egg whites, one at a time, to the creamed butter and sugar bowl. Mix on low and combine thoroughly before adding each egg white.
Once the egg whites and the creamed butter and sugar are thoroughly combined, add a 1/3 of the dry ingredients and combine.
Next add a third of the liquid ingredients and combine.
Continue alternating until all ingredients are combined.
Using a ladle, spoon the batter into the lined muffin tins.
Bake for approximately 20 minutes or until toothpick comes out clean from center of cupcake.
Allow cupcakes to cool completely before frosting with Buttercream Frosting
Yield: 18 Cupcakes
Buttercream Frosting for Easter Flower Cupcakes
This Buttercream Frosting recipes is great for cakes, cupcakes, and more. Its unique flavor is just the best.
Ingredients
1 cup nonsalted butter (do not warm)
4 cups powdered sugar
1 tsp vanilla
4-6 TBL coconut milk (I like Tha Kitchen Organic)
Instructions
Cream the butter until soft in a mixer for about two minutes.
Add the sugar, vanilla, and three TBL of coconut milk.
Add the remaining TBL of coconut milk as needed.
When frosting cupcakes, make sure cupcakes are completely cooled. You can place them in the freezer for about an hour before decorating.
Frosting the Easter Flower Cupcakes
Because I wanted the frosting colors to be soft pastels, I added just a small drop of food coloring to each of the bowls. The colors ended up being baby pink, lavender, mint green, and orangesicle. You can use whatever colors you like, but I love how these colors turned out.
Since I had four frosting colors to choose from, I divided up the cupcakes so that there would be an even number of each color and then frosted the cupcakes in pretty pastel colors.
If you are enjoying my blog, you can sign up to receive my blog updates here. .
Marshmallow Flowers with Jelly Bean Centers
Creating the marshmallow flowers was the most challenging part of creating these cupcakes. Marshmallows are sticky, so it is important to work with clean dry tools and hands.
I could only find mini marshmallows or large marshmallows, so I trimmed the very large marshmallows down so that they would fit onto the top of the cupcake. If you can find regular-sized marshmallows, use those, if not, trim the big ones down.
In order to create the flower, the marshmallow needs four cuts to create five petals. You will cut on the longest side of the marshmallow, not the ends.
Important note: if you trimmed your marshmallow down, cut into the side of the marshmallow that is not trimmed so that your petal edges are nice and round.
Another important note: sometimes marshmallows have a hole running through them from an air bubble. You won't know if there is a hole until you cut it. It's a good thing that there are a lot of marshmallows in each bag!
Now for the sticky/tricky part. Once your marshmallow has four cuts you are ready to make the flower. Twist the marshmallow so that the cuts open up to create the petals and gently push together the two ends and hold so that the stickiness keeps the flower shape. It may take a few attempts to get the ends to stick together so be patient.
As soon as the marshmallow flower petals are sticking together and the flower is holding its shape, place a jelly bean into the center.
Once the marshmallow flowers are all made and they all have jelly bean centers, they need to dry. I placed mine on a parchment-lined cookie sheet, placed a layer of parchment paper on top of them, and then another cookie sheet for weight and let the marshmallow flowers dry overnight.
When the marshmallow flowers have dried, place them on top of the frosted cupcakes and voila, you have the cutest easter flower cupcakes ever!
Watch My Amazon Live
More Easter Dessert Ideas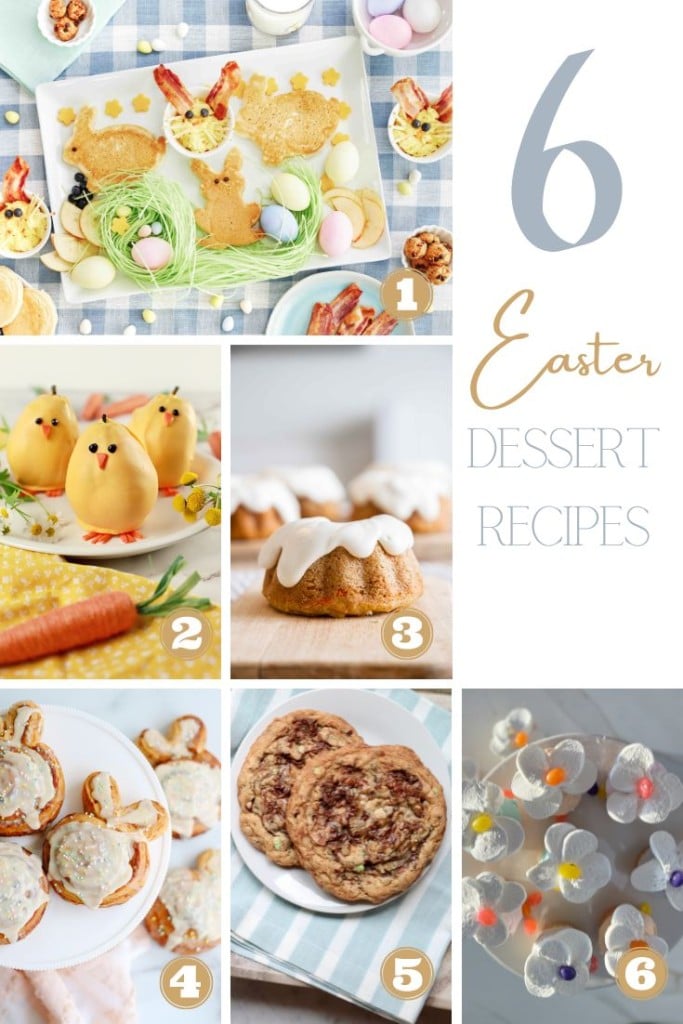 Blogger's Best Easter Dessert Recipes
Pin the image below to your boards on Pinterest (just click the Pin button in the top left corner). You can also follow along with me on Pinterest!
For more real-time updates, follow me on Instagram @My100YearOldHome