DIY Herb Pots For Your Kitchen
Summer gardening doesn't only have to take place outdoors. Today I am sharing how to make DIY herb pots to grow fresh herbs in your kitchen!
I made these herb pots with terracotta pots and paper napkins. They are so easy to make and the perfect colorful container to grow fresh herbs in your kitchen.
DIY Herb Pots
Adding fresh herbs to your culinary repertoire not only enhances the flavors of your dishes but also brings a touch of nature into your kitchen. Imagine plucking vibrant basil leaves or fragrant rosemary sprigs straight from a beautifully decorated terracotta pot right at your fingertips.
I love DIYs and especially using paper napkins to decorate just about anything. I made these napkin-covered terracotta pots in just a few hours!
Choosing the Right Herbs
The first step in growing herbs in your kitchen is selecting the right varieties that are suited to your cooking preferences and growing conditions.
You might want to consider these popular and versatile herbs:
Basil: This aromatic herb is a must-have for any kitchen garden. Its fresh leaves are perfect for adding a burst of flavor to Italian and Thai cuisines.
Mint: With its refreshing and invigorating taste, mint is ideal for teas, cocktails, and as a garnish for desserts.
Parsley: A versatile herb, parsley adds a fresh and slightly peppery flavor to a wide range of dishes, including salads, soups, and marinades.
Rosemary: Known for its distinct aroma and robust flavor, rosemary is an excellent choice for seasoning roasted meats and vegetables.
Dill: This herb adds a distinct flavor to various dishes and pairs well with roasted fish, lemon, and chicken.
The Advantages of Terracotta Pots
Terracotta pots are an excellent choice for growing herbs due to their numerous advantages.
Here are a few reasons why:
Terracotta is a porous material that allows air and moisture to circulate around the roots, promoting healthy growth and preventing overwatering.
Terracotta provides natural insulation, keeping the soil temperature stable and protecting the roots from extreme heat or cold.
When properly cared for, terracotta pots can last for years, making them a sustainable choice for your herb garden.
On this blog, I may sometimes use affiliate links, which means a small commission is earned if you purchase via the link. The price will be the same whether you use the affiliate link or go directly to the vendor's website using a non-affiliate link.
Decorating Your Terracotta Pot
Decorating your terracotta pot is a delightful way to personalize your herb garden and add a touch of beauty to your kitchen. One creative and very inexpensive option involves covering the pot with a paper napkin.
Here's the DIY.
Gather the Materials
You'll need a terracotta pot, a paper napkin with a design of your choice, decoupage glue, a brush, white acrylic paint, and scissors. You might want to paint the pot white first. Here are two pots I made, one which I painted and one which I did not.
Which one do you like better? It's up to you!
Prepare the Pot
Ensure that your terracotta pot is clean and dry before starting the painting process. Paint the outside and inside with white acrylic paint. Let it dry completely.
Cut the Napkin
Carefully separate the layers of the paper napkin and cut a piece (or pieces) to cover the pot. If you want, you can cut out pieces of the napkin design to cover the surface of the pot.
Apply the Decoupage Glue
Using a brush, apply a thin, even layer of decoupage glue (Mod Podge) to the surface of the pot. I always water down the mod podge to thin the glue a bit.
Attach the Napkin
Gently place the cut napkin onto the glued surface of the pot. Smooth out any wrinkles or air bubbles using your fingers or a soft brush. If you accidentally tear the napkin while adding the mod podge, just tear a small piece of the napkin to patch the hole!
Fold the napkin over the top and cut the napkin edge about an inch below the top. Adhere with the mod podge.
Seal the Design
Once the napkin is in place, apply another layer of decoupage glue over the top, carefully sealing the edges and ensuring that the entire surface is covered.
Allow the pot to dry completely, following the instructions on the mod podge bottle. Once dry, the pot is ready for planting your chosen herbs.
Growing herbs in a decorated terracotta pot brings the beauty of nature and the delight of fresh flavors right into your kitchen. By carefully selecting suitable herbs and utilizing the advantages of terracotta pots, you can create a thriving herb garden.
I can't wait to add the leftover living herbs I buy at the grocery store to my herb pot. I never know what to do with them!
Remember to position your herb garden in a sunny spot and provide the necessary care such as regular watering and occasional fertilization.
So, why not embark on this delightful journey of cultivating your own kitchen herb garden? Experience the joy of plucking fresh herbs for your cooking, savor the delightful aromas, and elevate your kitchen aesthetic with a beautifully decorated terracotta pot.
Happy herb gardening and happy cooking!
More Summer Gardening Ideas
Blogger's Best Summer Gardening Projects!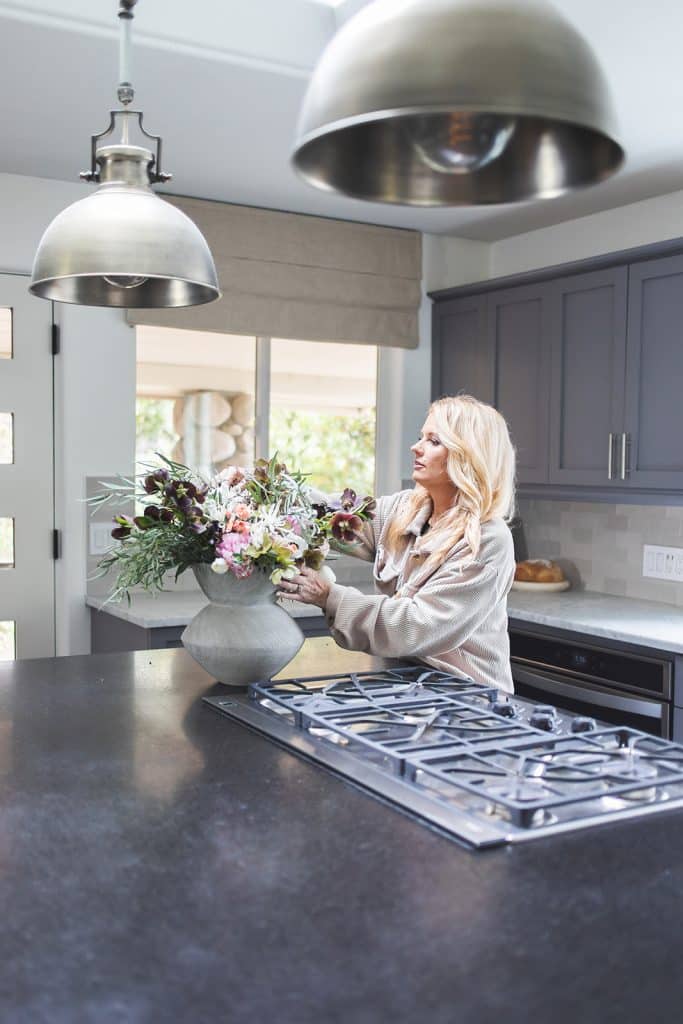 DIY Summer Flower Arrangement | My Sweet Savannah
Learn how to make the most beautiful summer flower arrangement.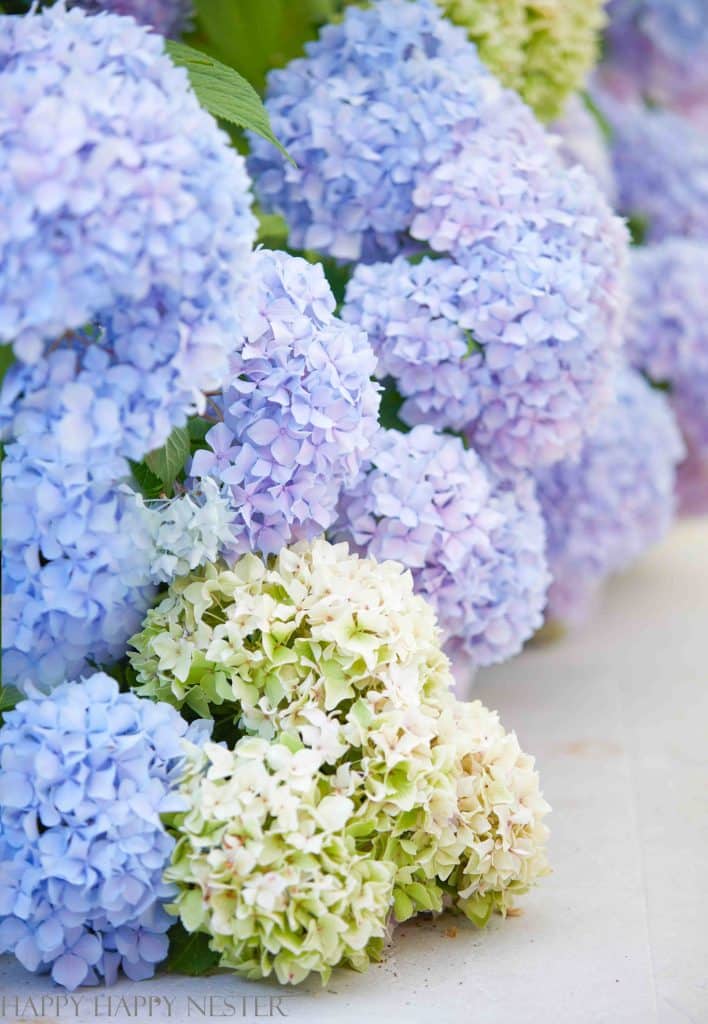 Pruning Endless Summer Hydrangeas | Happy Happy Nester
When it comes to Pruning Endless Summer Hydrangeas, it's pretty important to keep them healthy and looking good. Come on over to this post, and let's dive into what you need to know when it's time to prune these gorgeous perennials.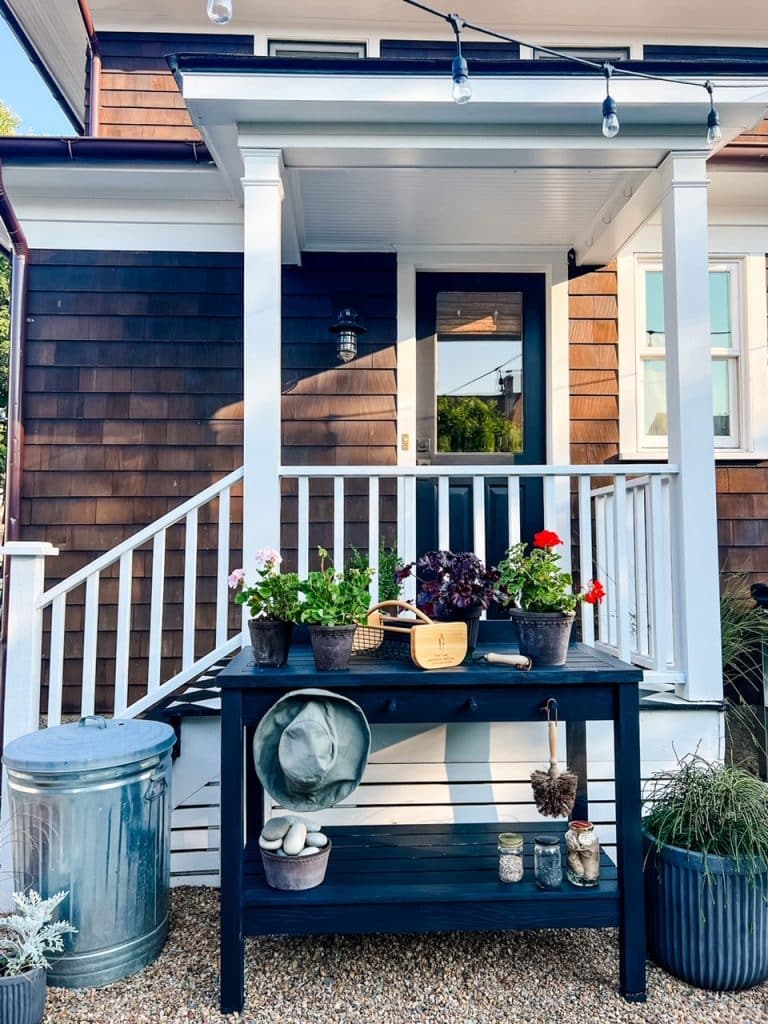 How to Make an Old Potting Bench Look New | Most Lovely Things
How to take an old and weathered potting bench and turn it into something beautiful that can serve as a potting bench and a drink station when entertaining.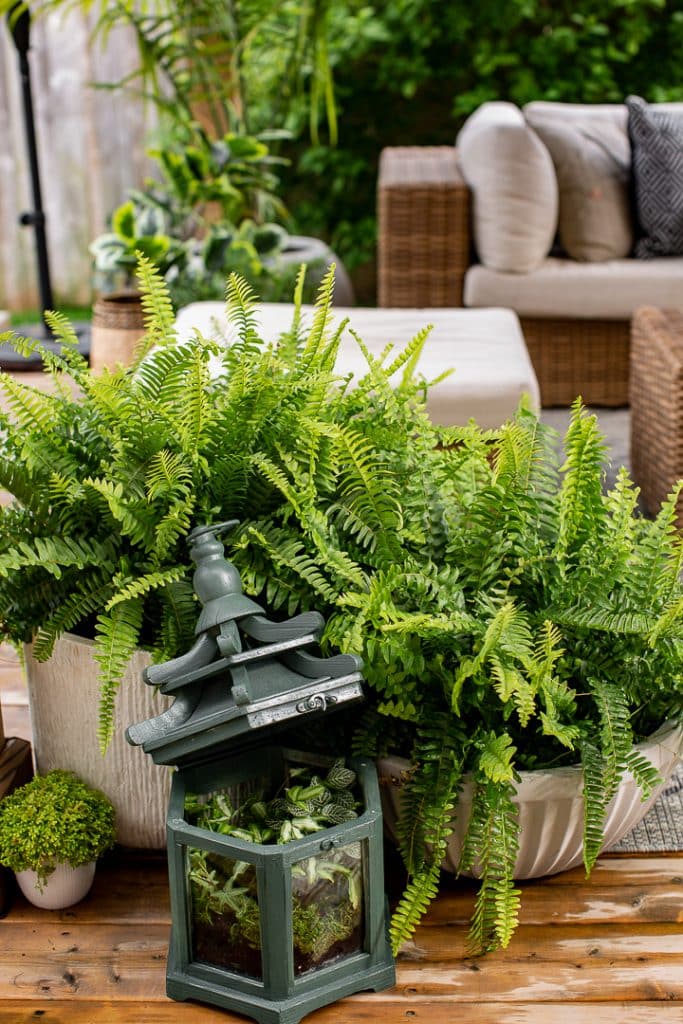 Lantern Turn Planter | Craftberry Bush
Turn your regular garden lantern into a whimsical planter with a few simple tweaks. Make this stunning terrarium-like planter that will bring a touch of lush greenery to your summer patio.
If you are enjoying my blog, you can sign up to receive my blog updates here. .
Pin the images below to your boards on Pinterest (just click the Pin button in the top left corner). You can also follow along with me on Pinterest!
For more real-time updates, follow me on Instagram @My100YearOldHome