How to Organize a Small Bedroom for Guests
Today, I am sharing some tips on how to organize a small bedroom to create a functional and comfy guest bedroom.
Organizing a small bedroom for use by your guests can be a daunting task, but with a little creativity and some smart planning, it is possible to create a space that your guests will love. In our guest bedrooms, I like to create a room where my guests feel like they are at home.
Tips for Organizing a Small Bedroom
Here are a few tips for organizing a small bedroom:
Utilize vertical space: Make use of under-bed storage and wall shelves to maximize space.
Declutter: Go through your room and get rid of anything you don't need or use. This will free up space and make it easier to organize the remaining items.
Use furniture that has multiple functions: A chest at the end of the bed can be used to store extra pillows and blankets and also be a place for guests to rest their suitcases or travel bags.
Make use of small storage solutions: Use small boxes, bins, and baskets to organize smaller items, so that they don't get lost or fall onto the ground.
Keep frequently used items easily accessible: Keep items you use often, such as your phone charger, light switch, and power outlet within reach so that your guests can reach them all easily.
Keep the room clean and tidy: Regularly put things back where they belong, and take a few minutes each day to tidy up and you are always ready for a guest!
On this blog, I may sometimes use affiliate links, which means a small commission is earned if you make a purchase via the link. The price will be the same whether you use the affiliate link or go directly to the vendor's website using a non-affiliate link.
If you are enjoying my blog, you can sign up to receive my blog updates here. .
How to Organize a Guest Bedroom
Start by decluttering and removing any unnecessary items from the room.
Choose a color scheme and decor that will make the space feel warm and inviting.
Invest in a comfortable bed and high-quality linens.
Leave a steamer in the room so that your guests can easily rid their clothing of any wrinkles from packing.
Include a reading light and a pair of blue light glasses for reading a book or their phone in bed.
Add a few personal touches such as fresh flowers to make the space feel welcoming.
Make sure the room is well-lit and has plenty of outlets for guests to charge their devices.
Create a space for guests to hang their clothes or store their suitcases.
Last but not least, leave a small welcome note with information about the wifi password and how the coffee maker works in case they are up before you are.
A free standing clothing rack in our guest bedroom makes it easy for our guests to know where to hang their clothing and coats. The rack also holds a steamer so that they can get rid of any clothing wrinkles they may have picked up during their travels. I also add a fluffy robe so that our guests can feel right at home.
These days, having an easy-to-find, multi-functional charging station is a must, so I keep this one right next to the bed. Additionally, for easy access, the remote, dimmer, and charger are all in one place.
Guest Bath Must-Haves
Every guest bathroom should have these items:
Fresh bath towels, hand towels, and washcloths
Body wash, shampoo, and conditioner
Toothpaste and a disposable toothbrush
A hairdryer
Extra toilet paper
Disposable razor
A trash can
While organizing a small bedroom can be a challenge, with a little creativity and some smart planning, it is possible to create a functional and stylish space that will be inviting to your guests. A little bit of effort will go a long way in creating a comfortable and inviting small guest bedroom.
Watch My Amazon Live
More Organizing Ideas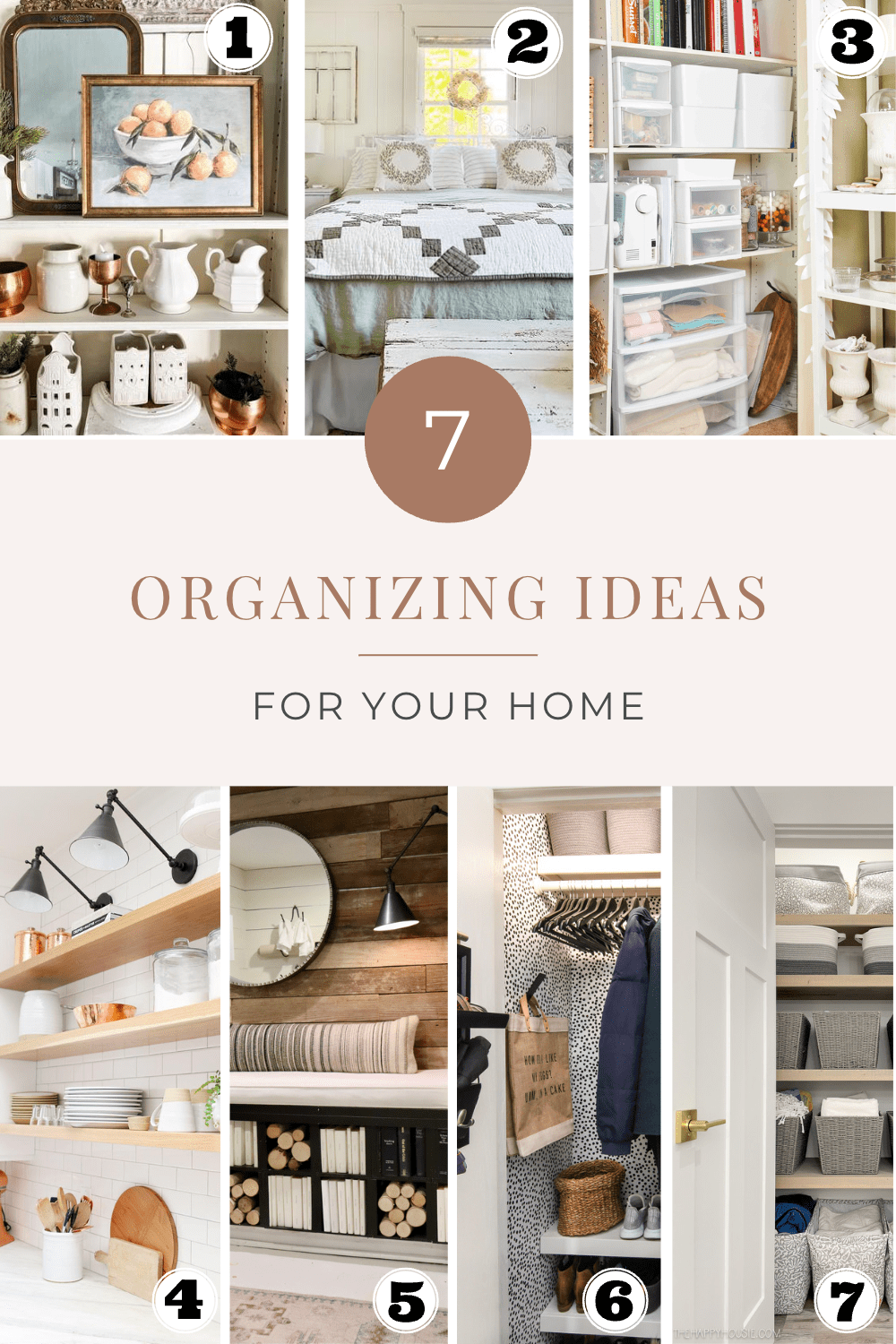 How to Organize a Dining Room in 3 Easy Steps // Robyn's French Nest
How to Organize a Small Bedroom for Guests // My 100 Year Old Home
DIY Storage Closet Ideas to Double Your Storage // Happy Happy Nester
How To Create A Clutter-Free Kitchen // Modern Glam
Basement Organization // My Sweet Savannah
Easy DIY Hall Makeover // Inspiration For Moms
Organizing Your Whole Home // The Happy Housie
Pin the images below to your boards on Pinterest (just click the Pin button in the top left corner). You can also follow along with me on Pinterest!
For more real-time updates, follow me on Instagram @My100YearOldHome