Strawberry Coconut Mini Tart Recipe
It's time to whip up some summer desserts! And what better way to celebrate than my irresistible Strawberry Coconut Tarts Mini Tart Recipe?
Ah, summer – the season of sunshine, flip-flops, and the vibrant burst of flavors that only fresh berries can offer. When those juicy, plump strawberries are in season, it's time to get creative in the kitchen and try my Strawberry Coconut Mini Tart Recipe.
Strawberry Coconut Mini Tart Recipe
These sweet and summery Strawberry Coconut Tarts are a delightful treat for berry lovers.
Trust me, these treats are as delicious as they sound and will have you reaching for seconds in no time. So, gather your ingredients and prepare for a tropical taste sensation!
I found these adorable mini tart pans which are the perfect size for individual desserts.
I wanted to make a new tart that had both of my favorite summer flavors: berries and coconut!
On this blog, I may sometimes use affiliate links, which means a small commission is earned if you purchase via the link. The price will be the same whether you use the affiliate link or go directly to the vendor's website using a non-affiliate link.
The Crust: Buttery and Flaky
Let's start by creating the foundation of all tarts—the crust. Picture this: a buttery, flaky crust that cradles the sweet strawberry-coconut filling. Sound yummy? It is!
To achieve this flaky perfection, combine all-purpose flour, cold cubed butter, powdered sugar, and a pinch of salt in a food processor. Give it a whirl until the mixture resembles those delightful coarse crumbs we all love.
Now comes the fun part—pressing the crust mixture into tart pans. Whether you go for individual tart pans or opt for a larger tart pan, make sure to create an even layer. It doesn't have to be perfect but trust me, the golden-brown crust will be a sight to behold!
The Filling: A Tropical Tango of Flavors
Once your crust is ready, it's time to make the luscious filling. Imagine the juiciness of fresh strawberries mingling with the sweet, toasty flavor of shredded coconut. These are two of my favorite flavors and that is why I love this tart so much!
In a medium bowl, combine your sliced strawberries and shredded coconut. Next, in a separate bowl, whisk together granulated sugar, eggs, and a dash of vanilla extract. Keep whisking until you achieve a harmonious blend and then gradually add all-purpose flour to the egg mixture, whisking until it's silky smooth. This magical concoction will give your tarts that perfect consistency.
Baking: The Countdown to an Amazing Tart
Preheat your oven to 350°F (175°C), and place your tart pans on a baking sheet for easy handling. Fill each tart pan with the strawberry-coconut filling and pop them into the oven and bake for 25-30 minutes.
As the tarts bake, keep an eye on the oven, waiting for the filling to set and the crust to achieve its golden-brown perfection. Once they've baked, remove the tarts from the oven and let them cool.
The Finishing Touch: Whipped Cream Wonder
Now that your Strawberry Coconut Tarts have had their time to cool, it's time to put the finishing touches on these divine creations. If you want to take the flavor experience to the next level, consider topping your tarts with a generous dollop of whipped cream or, for our coconut enthusiasts, coconut whipped cream. Yum!
Final Thoughts: A Slice of Summer Bliss
These tarts are not just a dessert; they are a celebration of the season. Share them with loved ones at a backyard barbecue, surprise your friends at a potluck, or simply treat yourself to a moment of indulgence. Their vibrant colors and irresistible aroma will make them the star of any gathering, leaving everyone asking for seconds—and maybe even the recipe!
What makes these Strawberry Coconut Tarts even more irresistible is their versatility. Feel free to experiment with different berries, such as blueberries or raspberries, to create your own berry symphony. You can also add a hint of citrus zest or a sprinkle of toasted almonds for an extra layer of complexity. Let your imagination run wild and customize these tarts to suit your taste.
The recipe is simple, the flavors are divine, and the memories you'll create will last a lifetime. Don't be surprised if these tarts become a staple in your summer repertoire—they are destined to steal hearts and taste buds wherever they go.
Yield: 6 servings
Strawberry Coconut Tart
Ingredients
For the crust:
1 ½ cups all-purpose flour
½ cup unsalted butter, cold and cubed
¼ cup powdered sugar
Pinch of salt
For the filling:
2 cups fresh strawberries, hulled and sliced
1 cup sweetened shredded coconut
½ cup granulated sugar
3 large eggs
1 teaspoon vanilla extract
¼ cup all-purpose flour
Whipped cream or coconut whipped cream, for topping (optional)
Instructions
Preheat the oven to 350°F (175°C).
In a food processor, combine the flour, butter, powdered sugar, and salt. Pulse until the mixture resembles coarse crumbs.
Press the crust mixture into the bottom and up the sides of individual tart pans or a tart pan with removable bottom. Ensure an even layer.
In a medium bowl, combine the sliced strawberries and shredded coconut.
In a separate bowl, whisk together the granulated sugar, eggs, and vanilla extract until well combined.
Gradually add the flour to the egg mixture and whisk until smooth.
Pour the egg mixture over the strawberry and coconut mixture. Stir gently to combine.
Divide the filling evenly among the tart pans.
Place the tart pans on a baking sheet and bake for 25-30 minutes, or until the filling is set and the crust is golden brown.
Remove from the oven and let the tarts cool completely.
If desired, top with whipped cream or coconut whipped cream before serving.
Serve and enjoy these delightful strawberry coconut tarts!
More Berry Dessert Recipes
Today I joined some of my favorite bloggers and here are their berry recipes!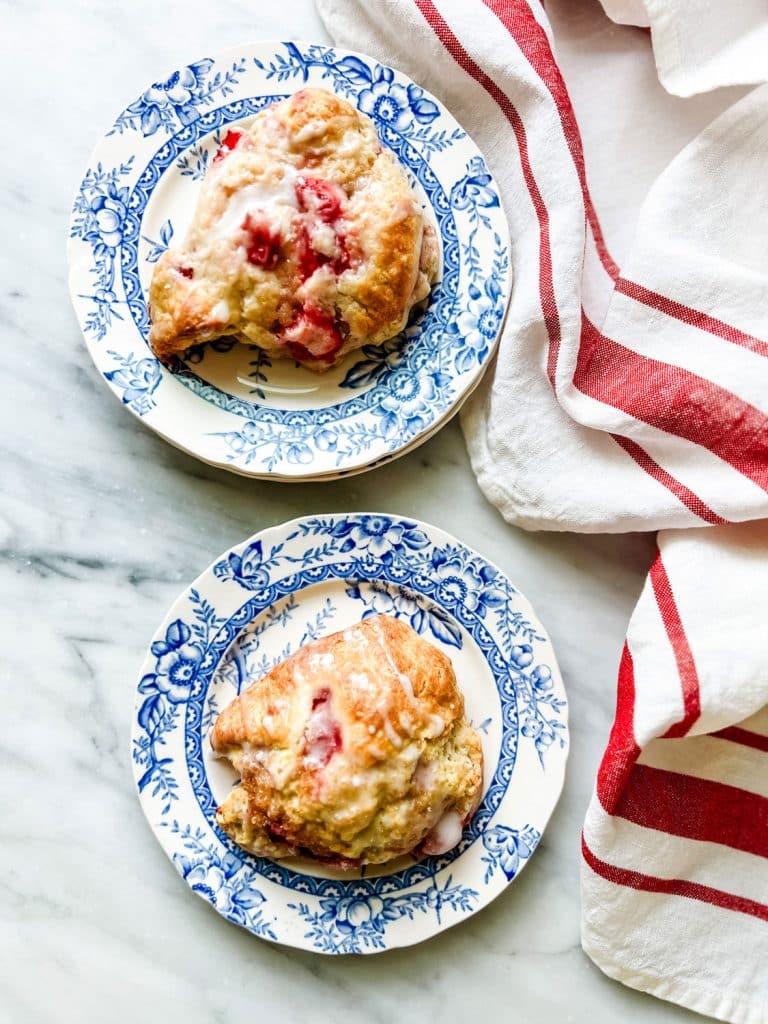 Strawberry Scones | Most Lovely Things
There are few recipes where a seemingly ordinary ingredient has the power to create extraordinary results. Who would guess that shredded, frozen butter is the fail-proof trick that turns good scones into perfect scones?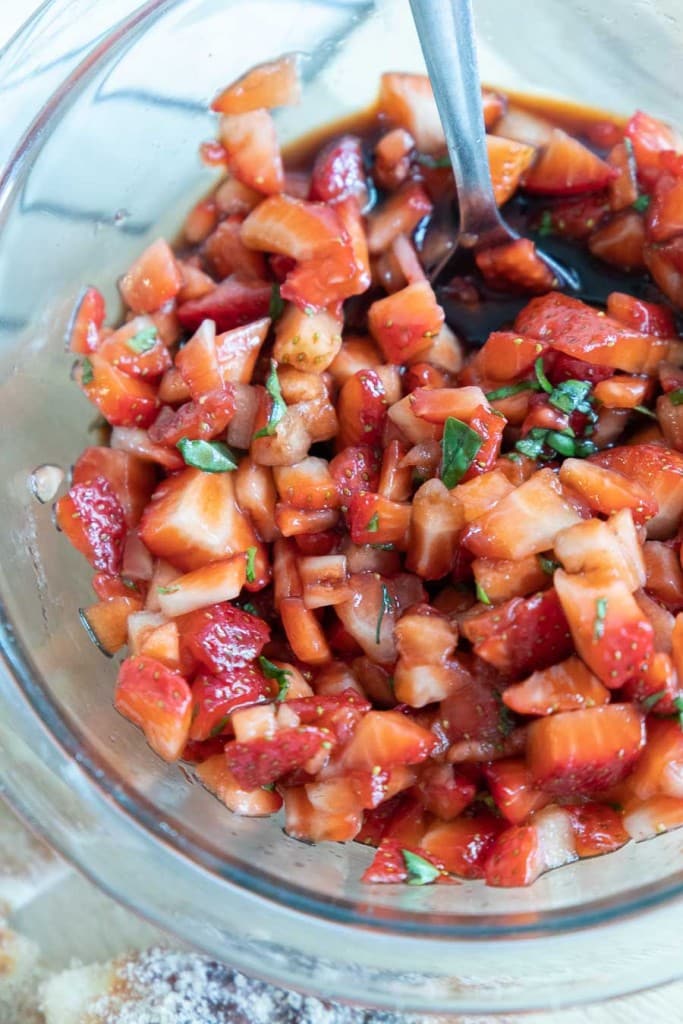 Easy Fresh Strawberry Salsa | Twelve on Main
A combination of fresh strawberries, herbs, balsamic vinegar, and brown sugar creates an amazing and fresh take on a summer dessert. Enjoy this strawberry salsa with cinnamon and sugar chips, sweet breads, cakes, and more.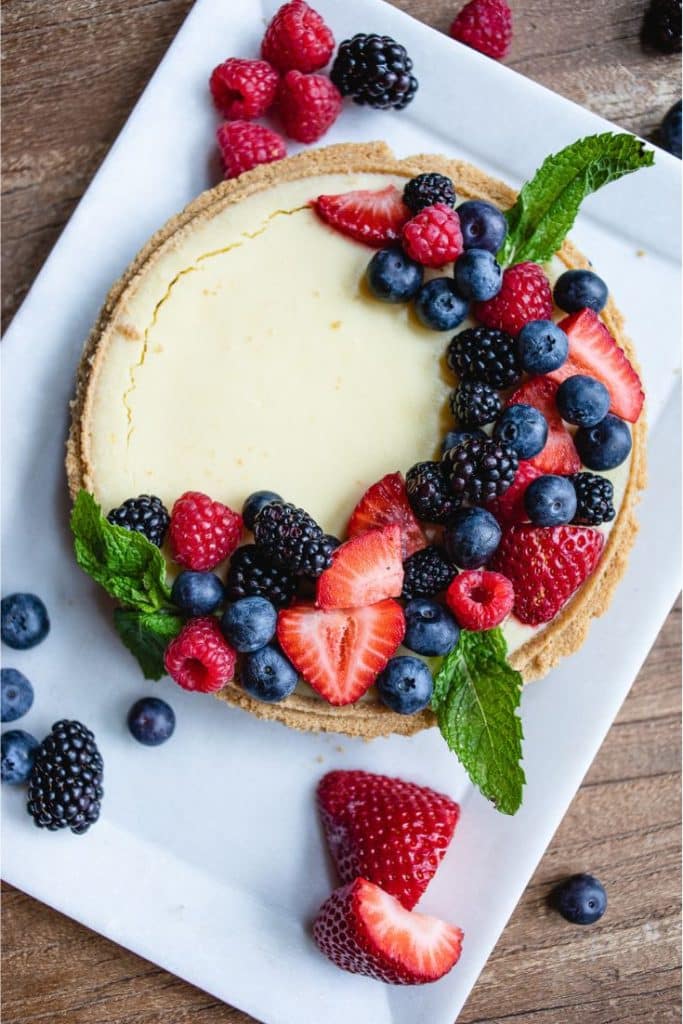 No Bake Fruit Tart | My Sweet Savannah
Celebrate summer with a fresh no bake berry tart. This tart has a graham cracker crust and whipped filling topped with fresh berries, it makes the perfect summer treat. A little sweet and a little tart, I hope you enjoy this delicious dessert!
Almond Flour Blueberry Muffins Recipe | Happy Happy Nester
This gluten-free Almond Flour Blueberry Muffins recipe offers the delightful taste of a regular gluten muffin. The secret lies in combining almond flour with other gluten-free ingredients to achieve a moist and flaky texture. Incorporating fresh or frozen blueberries into the recipe adds a burst of flavor and moisture, resulting in a perfect little treat.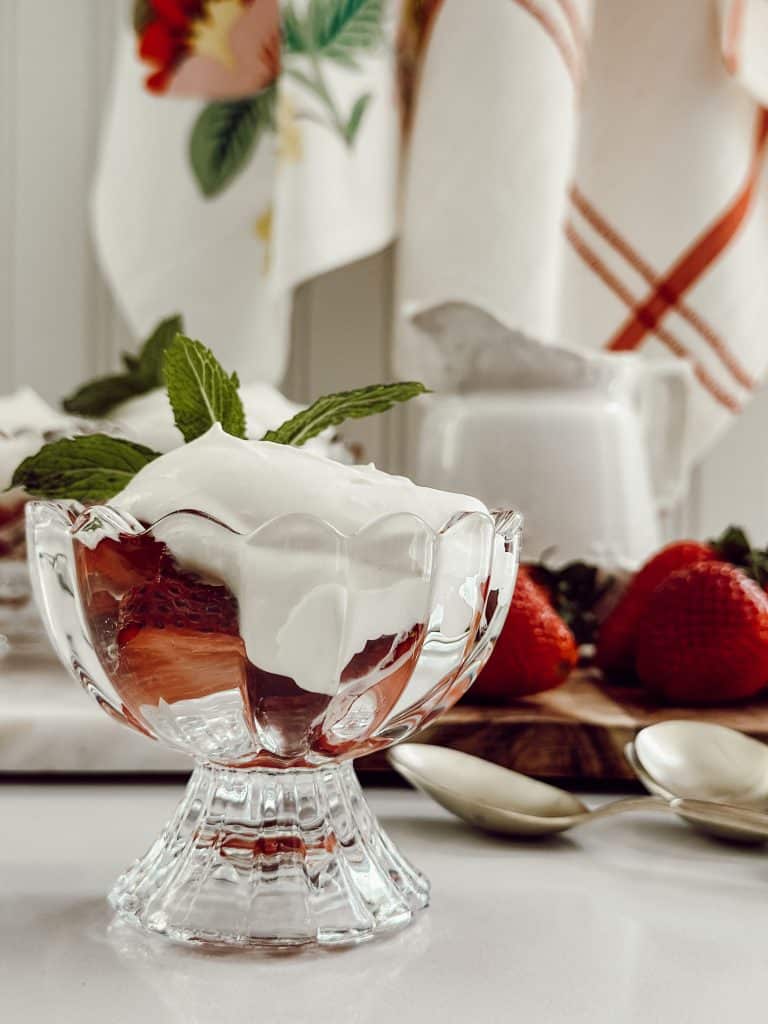 Easy Wimbledon Strawberries and Cream Dessert Recipe |
Eleanor Rose Home
Treat yourself to an easy to make, delicious, and iconic dessert this summer with this Wimbledon strawberries and cream recipe. Discover why this traditional treat is loved by both tennis fans and British royals alike, and learn how to create your own refreshing strawberries and cream at home.
If you are enjoying my blog, you can sign up to receive my blog updates here. .
Watch My Amazon Live
Click here to watch any of my Amazon Live shows. All shows are recorded.
I want to share this show with you, titled Fun Summer Deals for Your home. It airs today at noon pst, so join me here!
Pin the images below to your boards on Pinterest (just click the Pin button in the top left corner). You can also follow along with me on Pinterest!
For more real-time updates, follow me on Instagram @My100YearOldHome