Pantry Cabinet Ideas for Fall Organization
I thought it might be fun to share some pantry cabinet ideas for fall. I have some organizational tips and some fun ideas to enhance the items in your pantry!
Apparently organizing in the fall is a popular thing. I thought it might be fun to share some pantry cabinet ideas for fall.
But here's the thing. To be honest, I organize my pantry in the fall with one goal. That is to get ready for the holidays!
Pantry Cabinet Ideas
I am not kidding. All of my pantry cabinet ideas are about getting ready for holiday entertaining.
Generally speaking, we have a small pantry. This is it.
We do have a beautiful butler's pantry but you probably are aware that it is full of dinner plates, glassware, napkins, and more.
So I am a bit limited on space which leads me to this.
Every few months my pantry gravitates to this style of organization. Or lack of organization. How does this happen?
It is because I have been cooking dinner five to six nights a week for over a year.
Cleaning was not difficult. I checked the expiration dates on everything, reorganized a lot, and looked for traces of pantry moths. I don't know about you but we do struggle with these obnoxious moths. Somehow they can get inside a Ziploc bag. I use the sticky pantry moth traps and they do an amazing job.
My pantry is different than most because I have a lot of homemade items in my pantry.
Homemade? Huh?
Personalized Pantry Jars
A few years ago I made labels for my pantry jars. You can make your own or buy them. Of course I made mine!
How to Make Your Own Personalized Pantry Jars
Click the photos below for everything you need to make your own personalized pantry jars! All tagged items are under $40!
Homemade Vanilla
I make homemade vanilla every year. I use it all year long and also give it away as hostess gifts.
Homemade Vanilla Extract Bottles and Labels, Hostess Gifts Made Easy!
Why You Should Make Homemade Vanilla
Homemade Infused Olive Oil
I love to make infused oils. I went out to my garden and clipped some fresh basil, tarragon, oregano, and rosemary. It is so easy to make these because all you do is place the clean herbs in the bottles and fill them with olive oil.
Here are the key things you need to know.
When you clean the herbs, wipe them off and let them dry (for a few hours) if there is any water on the herbs.
Store in an airtight container.
While olive oil lasts about 24 months, infused olive oil only lasts a week at room temperature. I use my oil to make homemade salad dressings and store in the refrigerator for weeks.
How to Make an Olive Oil Dispenser
I made my own oil dispensers and also used a vintage decanter. These are so awesome!
Making your own infused olive oil is easy and such a great gift. Click the photos below for everything you need to make the bottles. Just add olive oil and herbs!
An Organized Pantry is a Good Thing
I love how clean my pantry is now!
I went through my entire pantry and made sure I had everything I need for entertaining my family during the holidays. I checked all of my spices, bottles of vinegar, oils, and baking items. Then I ordered a few of my favorite items I need to make some of my special holiday baking recipes.
See the Butternut Squash on the second shelf? I had no idea I had it and it's good until after Thanksgiving. I use it to make my Roasted Butternut Squash Ravioli with Sage Brown Butter Sauce and Butternut Squash Soup. I will be ordering more for the holidays
If you are enjoying my blog, you can sign up to receive my blog updates here. .
I am sharing some of my favorite wicker vases and faux fall florals below. Just click the photos to check them out. Everything is under $20!
More Fun Fall Organizing Ideas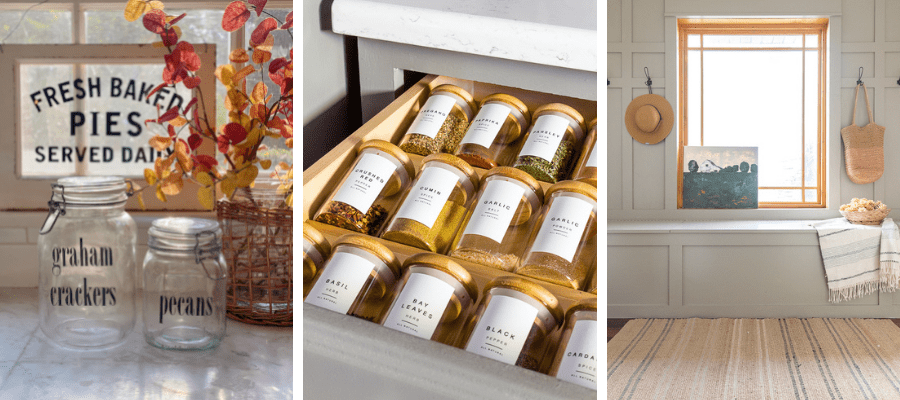 Organizational Tips and Some Fun Ideas to Enhance the Items in Your Pantry! // My 100 Year Old Home
Spice Drawer Organization Tips // Inspiration For Moms
10 Organizing Tips to Help You Tackle Fall // Twelve On Main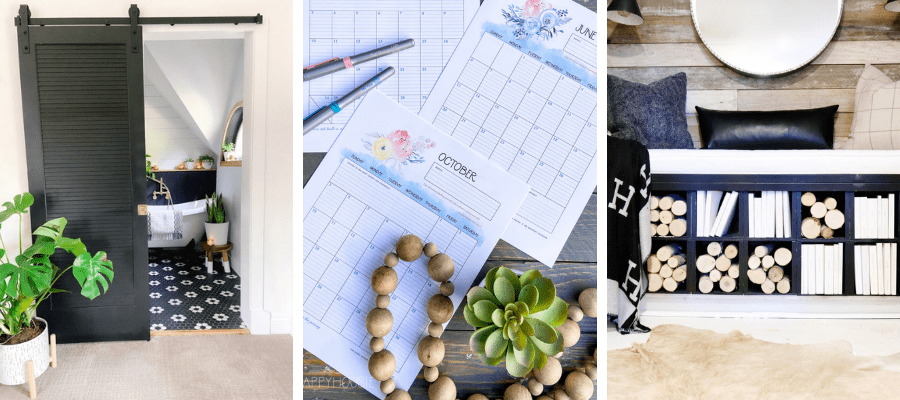 A Small Bathroom That's Big On Organization // Tatertots & Jello
Free Printable Family Planner Academic Year Calendar // The Happy Housie
Don't Judge A Book By It's Cover // My Sweet Savannah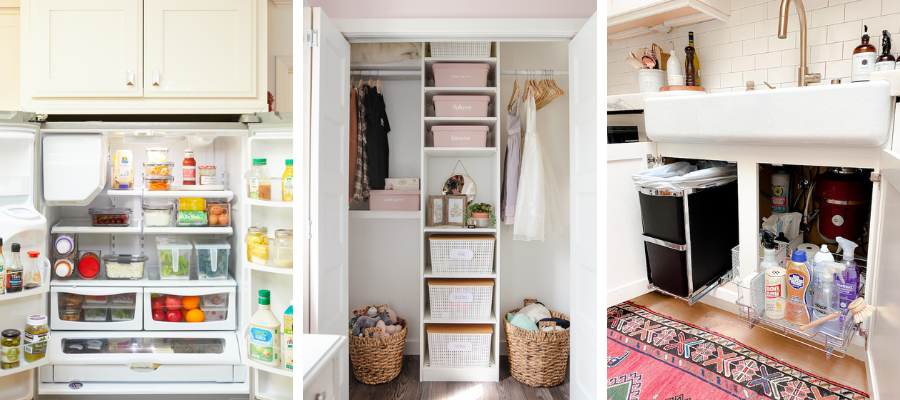 How to Organize a French Door Refrigerator // Happy Happy Nester
5 Quick Kids' Closet Organization Ideas to Start The School Year Off Strong! // The DIY Mommy
Under Kitchen Sink Organization Ideas // Modern Glam
Pin the image below to your decor boards on Pinterest (just click the Pin button in the top left corner). You can also follow along with me on Pinterest!
For more real-time updates, follow me on Instagram @My100YearOldHome