Fall Table Decor Ideas for Your Dining Room
I just transformed our dining room from summer to fall. I can't wait to share the fresh and faux fall table decor items I used!
Have you ever mixed fresh and faux? I do it all of the time, especially when I am setting a table. The table decor in our dining room is new and different and I love it.
Today I am also joined by ten other bloggers today who are sharing their easy and fun fall decor ideas. Be sure to scroll down to see them all!
My new book, A Home to Share, is available for Pre-order now! Click here for more details!
A New Look in Our Dining Room
Don't laugh but I feel like this year's fall decor feels more grown-up. The colors are a bit more intense and regal. I know you are probably laughing by now, but I really like the look of the dining room. There is copper, burgundy, green, pink, and orange.
More grown-up colors. Right?
All of the colors all work together so well. Plus, the style of the table is elegant but also a bit rustic, but it is not overdone. It's simple with a pop of deep, rich color.
On this blog, I may sometimes use affiliate links, which means a small commission is earned if you make a purchase via the link. The price you pay will be the same whether you use the affiliate link or go directly to the vendor's website using a non-affiliate link.
When you look up close, you can see the rich colors in the dinnerware, flowers, fruit, and pumpkins.
Mixing Fresh and Faux Table Decor (the Scatter)
What I like most about this table is how we mixed fresh and faux decor!
The fresh items are the flowers, figs, and plumcots (which must be a hybrid of plums and apricots). The faux items are pumpkins, small metal roses, and pomegranates.
And don't worry, I promise to taste the plumcots today and share my thoughts on Instagram stories later today!
Mixing fresh and floral items is something we do all of the time. Often I make floral arrangements with fresh and faux flowers. I have never read that you shouldn't do it and even if I had, I wouldn't pay any attention. You know me, I never follow the rules!
You might already know that we refer to all of the extra fresh and faux decor on the table as "the scatter". I truly believe that this is what makes a table really special. More times than not we use fresh fruit! Don't you agree that the scatter is the jewelry on the table?
Choosing the Fall Table Decor Look
More Fall Decor in the Dining Room
It's fun to decorate the entire dining room and not just the dining table. Here are a few vignettes also styled for the new fall look.
Fresh Floral Arrangements
The flowers are from Trader Joe's and I mixed four different colors of roses (two different shades of pink and orange), Safari Sunset Protea (the dark burgundy flower), and seeded eucalyptus.
You can see in this overhead view that the four different colors of roses work perfectly together. Don't be afraid to mix colors. I am pretty sure there was a time when pink and orange did not go together! That is not the case in this house as that might be my favorite color combination ever.
If you are enjoying my blog, you can sign up to receive my blog updates here. .
Watch My Amazon Live
Click here to watch any of my Amazon Live shows. All shows are recorded.
Today I am sharing all of the items from this table on my Amazon Live! Join me anytime after 11:00am PST here!
More Fall Decor Ideas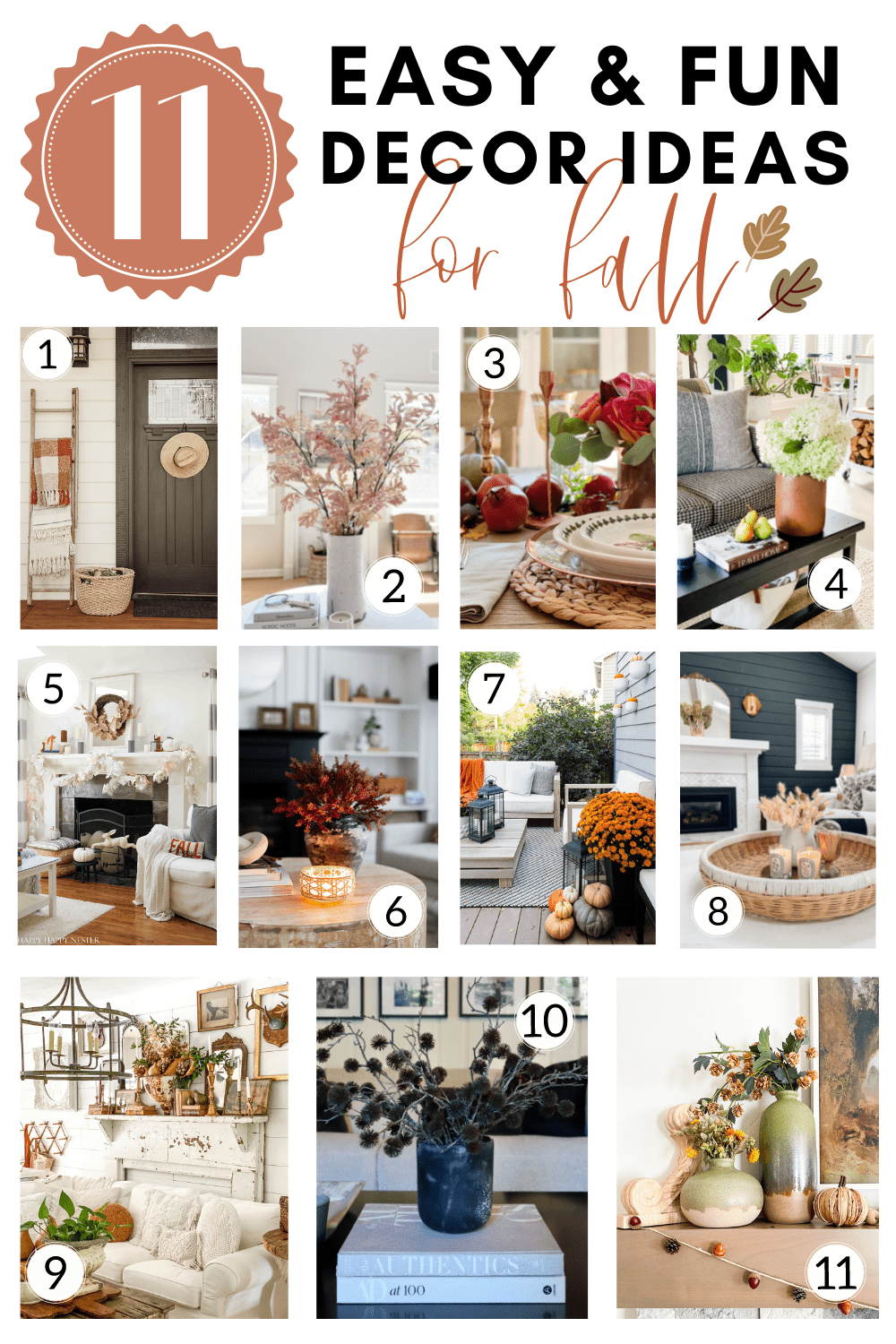 Minimal Fall Porch Decor by Twelve on Main
Simple Fall Decorating Ideas to Get Excited About by Pasha Is Home
Fall Table Ideas For Your Dining Room by My 100 Year Old Home
Four Simple Things to Refresh Your Home For Fall by Most Lovely Things
Paper Wreath DIY by Happy Happy Nester
Touches Of Fall by Craftberry Bush
Minimalist Fall Decor Ideas by Inspiration For Moms
Super Easy and Minimalist Fall Decor Ideas by Modern Glam
Create Simple Fall Mantel Decor with 3 Unique Accessories by Robyn's French Nest
Minimalist Fall Decor by My Sweet Savannah
Simple Fall Mantel Decor Ideas by The Happy Housie
Pin the images below to your boards on Pinterest (just click the Pin button in the top left corner). You can also follow along with me on Pinterest!
For more real-time updates, follow me on Instagram @My100YearOldHome