Dining Room Fall Table Decor Ideas
Today I am sharing lots of dining room fall table decor ideas. This fall table is highlighted with fresh flowers in my fall palette colors.
But there is a little twist! I added faux greenery to my fresh floral centerpiece. Can you tell which flowers are faux?
Fall Decor Ideas
I love transforming our dining room into a cozy and inviting space that reflects the beauty of the fall season. One of my favorite ways to do this is by setting up a fall dining table adorned with a fall color palette and an array of fresh and faux flowers.
Today I want to share a variety of fall table decor ideas that will help you create a truly enchanting ambiance for your fall dining gatherings.
To get started, let me reshare my fall palette again to remind you how much I love these colors!

The essence of fall lies in its rich and warm color palette. You can incorporate hues like deep oranges, rustic reds, golden yellows, and earthy browns into your table decor. I was inspired by a Pottery Barn catalog and used their photo to determine my color palette.
My colors are lighter and less traditional for fall but I love them!
My fall table decor ideas started with my color palette and the fresh flowers I purchased at Trader Joe's. And look what I ended up with!
To create your table decide on a color palette. Then decide if you want a tablecloth or runner that resonates with your season's colors. Consider layering different textures and patterns for added depth and visual interest. If you have neutral or wooden furniture, these autumnal shades will pop beautifully.
I rarely use tablecloths as I really like the wood table in our dining room. So I started with some placemats, added chargers and plates, and then created my centerpiece.
On this blog, I may sometimes use affiliate links, which means a small commission is earned if you purchase via the link. The price will be the same whether you use the affiliate link or go directly to the vendor's website using a non-affiliate link.
Fall Table Decor Ideas: Embracing the Season with Color Palette and Fresh Flowers


Fresh flowers are nature's exquisite gift, and they play a pivotal role in creating an inviting fall table.
Select the flowers for your table that align with your fall color scheme, such as sunflowers, dahlias, chrysanthemums, and roses in warm tones. I picked tulips and roses. I know they aren't traditional fall flowers but they were at the grocery store and were perfect.
You can create a centerpiece with fresh flowers, faux flowers, or a combination of both.
I chose the latter.
You can create a stunning floral arrangement in various-sized vases, mixing heights and shapes to add dimension. You can also intersperse the flowers with branches, berries, and foliage for a more organic and rustic touch.
Of course, I added some faux flower foilage because I wanted to make sure my arrangement felt and looked like fall.
How to Create a Fall Floral Arrangement with Fresh and Faux Flowers
I selected a few faux branches and then headed out to Trader Joe's to find the fresh flowers for my arrangement.
When I buy my fresh flowers for an arrangement I try to get three different types of flowers and a few greens.
This is what I found.
As you might have guessed, the faux florals are at the bottom of this photo. I picked them because the gold and rust colors looked great with my fresh flowers.
I put some wet floral foam in the base of my copper vessel and added the flowers as you can see below.
It took me less than 30 minutes to make this arrangement.
Here is my finished centerpiece:

There is one final step I always like to add to my centerpiece and this is the scatter down the center of the table.
Scatter is a word I made up for fun things you throw on the table to make it more fun and interesting! Here I used flower petals, peaches, and pink apples.
Crafting a captivating centerpiece is the heart of your fall table decor. Just don't forget the scatter! I have more ideas for scatter which could include items like pumpkins, gourds, pinecones, and acorns to enhance the autumnal charm. You can even hollow out small pumpkins to serve as vessels for candles or miniature flower arrangements.
Arrange your scatter elements artfully down the center of the table, creating a visually pleasing focal point that encapsulates the spirit of fall.
Textures and Layers

Layering is key to achieving a visually appealing and cozy fall table. You can introduce textures through placemats, napkins, and tableware. Consider using woven placemats or burlap runners to infuse a rustic touch. Then mix and match different tableware pieces in complementary colors to create an eclectic and inviting table.
I used three plates on my table: a charger, a dinner plate, and a salad plate. I also didn't have eight matching salad plates so I mixed two different patterns.
Since I love to mix items on my table, I also mixed gold goblets with pink water glasses.
Isn't this inviting and fun?
Personalized Place Settings

For a thoughtful touch, create personalized place settings for each guest. Use small decorative cards or tags tied to a sprig of fresh herbs or a mini pumpkin. This not only adds a charming detail but also makes your guests feel truly welcome.
I made these name tags with my Cricut machine. I used copper card stock and cut them out with my Cricut and have used them so many times!
If you would like to make these place cars, go to my blog post here.
With the arrival of fall, your dining room can undergo a beautiful transformation that embraces the season's colors and natural beauty. By utilizing a carefully chosen fall color palette and incorporating fresh and faux flowers, you can create a dining table that radiates warmth, comfort, and elegance.
Remember to blend textures, incorporate seasonal elements, and craft an alluring centerpiece that captures the essence of autumn. With these fall table decor ideas, your dining area will become a captivating haven for memorable gatherings and delightful feasts.
More Fall Tablescape Inspiration
Blogger's Best Fall Tables!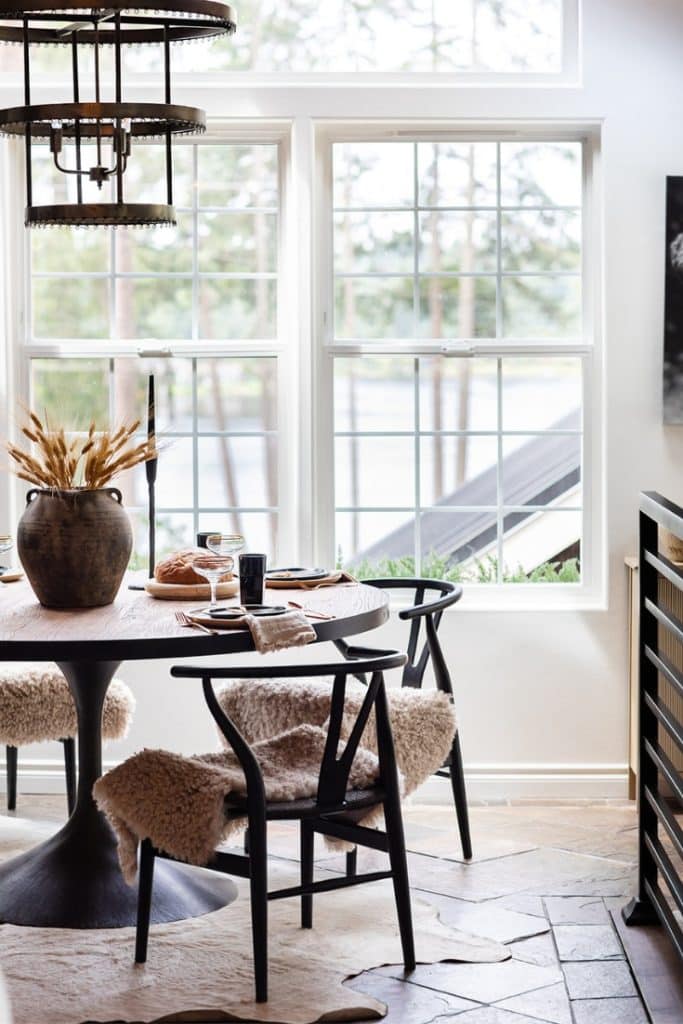 Organic Modern Fall Table Setting | My Sweet Savannah
Create an organic modern table setting for fall. Whether you are hosting a dinner party, or simply having a family meal together, my tips will help you create a cozy vibe that everyone will love.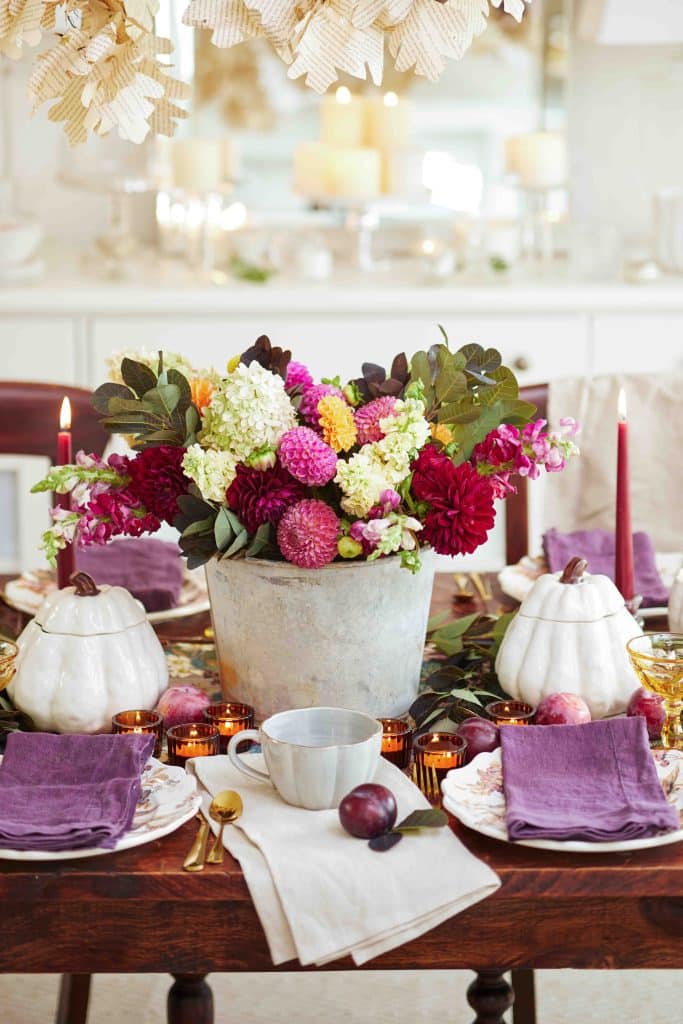 Fall Dining Room Table Decor | Happy Happy Nester
You can feel that autumn is on its way, and I've already started adding charming fall vibes to our home with the perfect Fall Dining Room Table Decor!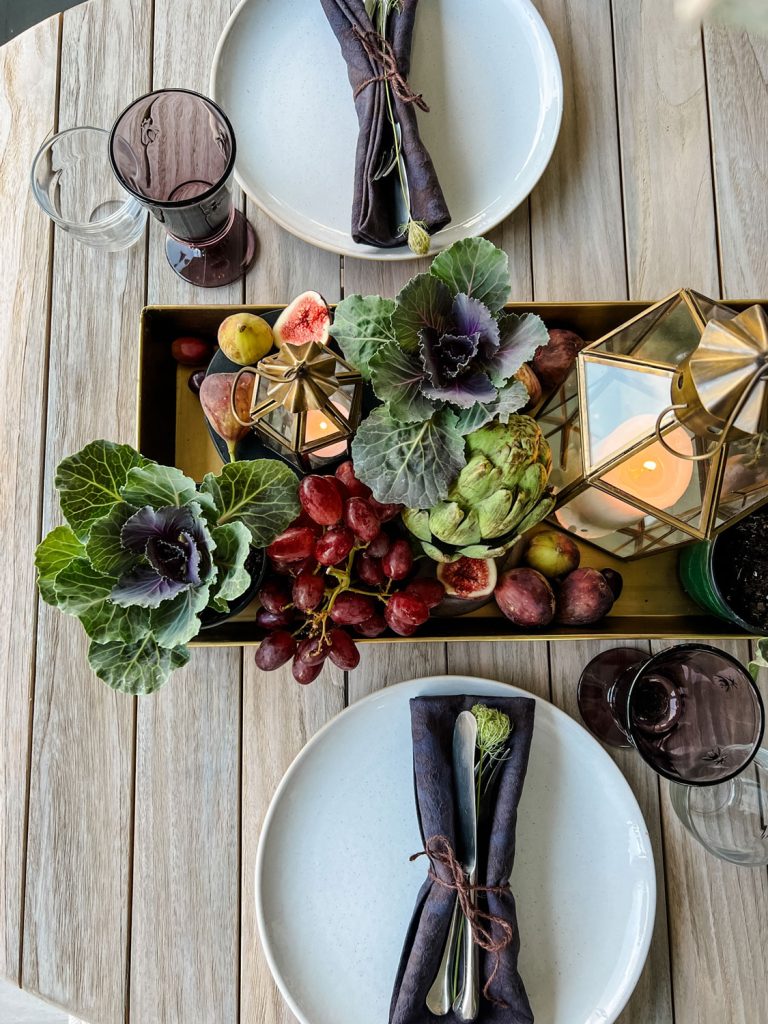 How to Create a Beautiful Organic Fall Tablescape | Most Lovely Things
Inspired by Terrain: create an earthy organic fall tablescape for dinner on the porch.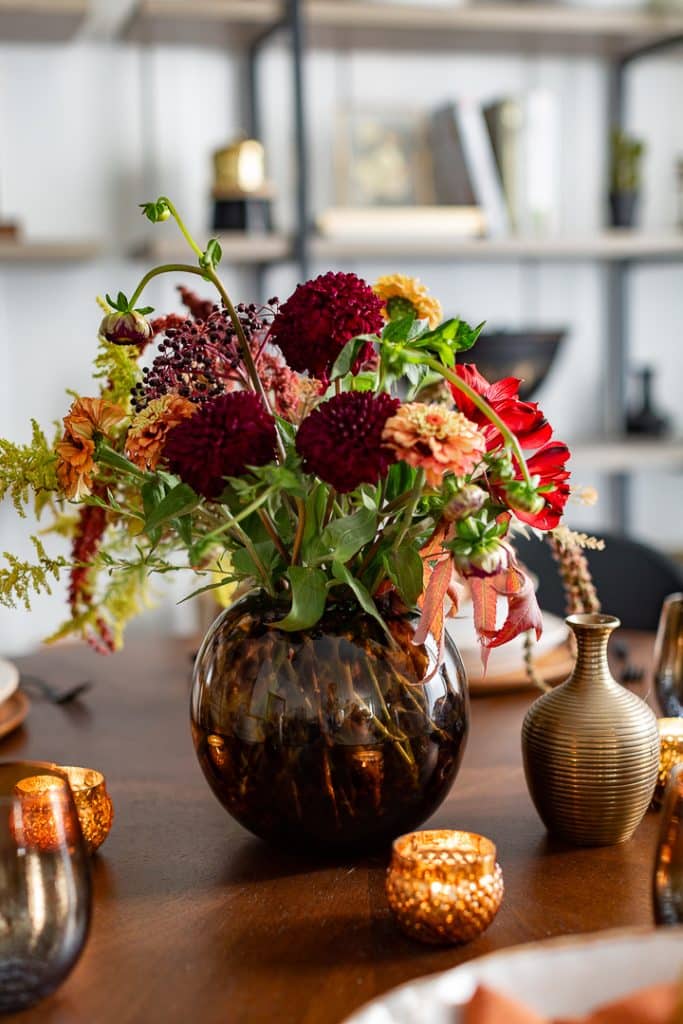 Fall Tablescape Ideas | Craftberry Bush
Elevate your dining experience with Fall Tablescape Ideas, where warm hues, rustic elements, and seasonal decor come together to create a cozy and inviting atmosphere.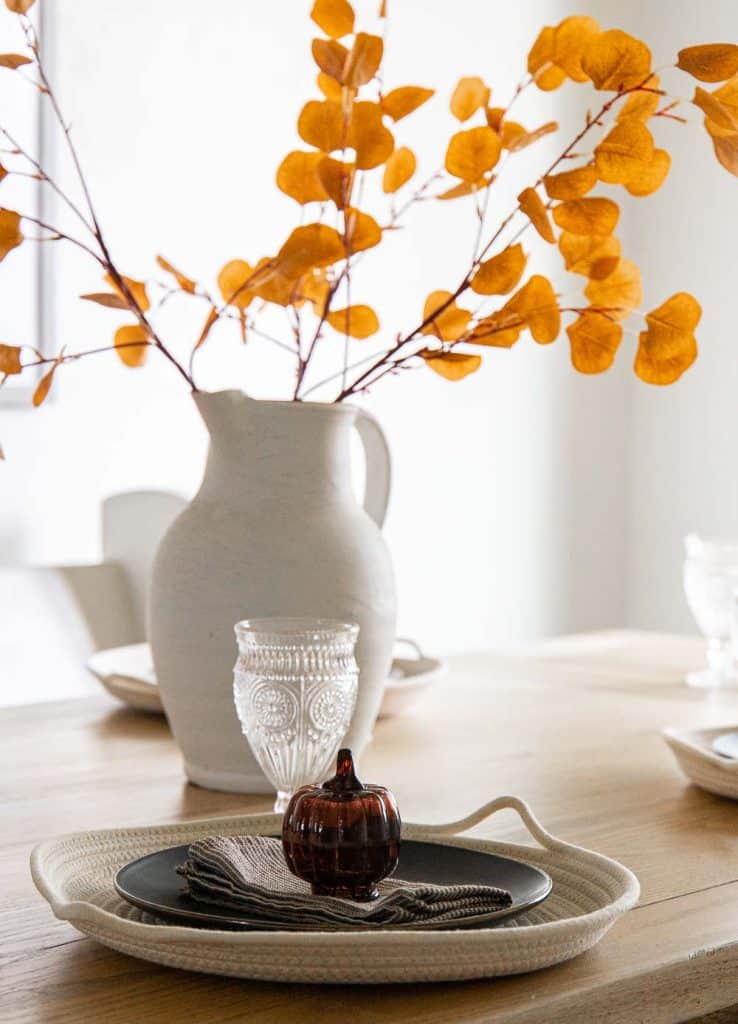 Fall Table Decor Ideas Using Target Dollar Spot Decor | Twelve on Main
I created a fall tablescape using items I found at the Target Dollar Spot! They had some amazing items that I was able to add to my aesthetic and it turned out amazing!
If you are enjoying my blog, you can sign up to receive my blog updates here. .
Watch My Amazon Live
Pin the images below to your boards on Pinterest (just click the Pin button in the top left corner). You can also follow along with me on Pinterest!
For more real-time updates, follow me on Instagram @My100YearOldHome